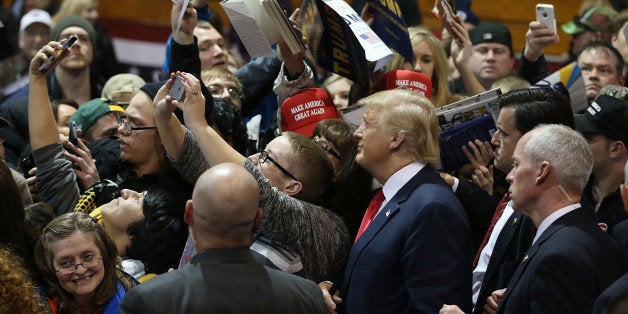 RINDGE, N.H. -- If the media's Trump Obsessive Compulsive Disorder reflects the ultimate electoral choice of the citizen body, it will be a triumph of celebrity over reason. But voters throughout the nation, including here in New Hampshire, where I have been based as the Fitzwater Fellow at Franklin Pierce University, will have the final say.
Together, New Hampshire PBS, Franklin Pierce, and the Live Free or Die Alliance, the statewide civic nonprofit organization, designed "Primary Dialogue" as a prospective antidote to the spiral of incivility dumbing down political discourse. We proposed neither a "debate" nor a "forum" nor a "town-hall meeting" but rather an open cross-partisan dialogue focused on three policy challenges on the minds of voters.
Inspired by the Fred Friendly Seminars, we imagined a formula, absent the usual partisan pandering, that could engender constructive discussion while also de-stigmatizing the primary process for New Hampshire voters. When considering these problems, I would ask questions grounded in the first-hand experiences of New Hampshire voters - driving the conversation toward reasoned exchange, cooperation and consensus so the viewers can see how the candidates might actually behave in the seat of power.
Across the region there is a wide-ranging concern about the heroin and drug epidemic, the Northern Pass power transmission and natural gas pipeline projects, and the continued mass shootings in communities across the country. In considering potential paths forward on each issue, the role of government and its citizens will be the focal point. The candidates would share their ideas, react to those of their fellow candidates, and consider areas of common ground.
Last autumn we invited all candidates from both parties to join this event. Despite interest among several campaigns, there was uncertainty about whether the candidates could technically participate, given that this is not a sanctioned DNC or RNC debate. Thus, the candidates have been noncommittal, but we continue to urge them to participate.
Under these party dictates, the relentless drive for ratings, readers, and clicks has compromised the Fourth Estate. Trump has been the obvious beneficiary. "Trickle-down economics" perpetuates a contemporary caste system that has the effect of bloating government and shrinking the middle class. "Trickle-down discourse" is what partisan politicians and the media use to dim the nuances of public policy in ways that further polarize blue and red base voters. We're getting poorer and dumber.
Publishing his seminal prophecy in 1985, media critic Neil Postman warned America that she was amusing herself to death, and that the blowback on society would be lethal. It's as if he predicted the Donald Trump phenomenon, and with its attendant rubric of infotainment, the demise of civil discourse.
"We move rapidly into an information environment which may richly be called trivial pursuit. As the game of that name uses facts as a source of amusement, so do our sources of news," Postman wrote. "It has been demonstrated many times that a culture can survive misinformation and false opinion. It has not yet been demonstrated whether a culture can survive if it takes the measure of the world in twenty-two minutes. Or it the value of its news is determined by the number of laughs it provides."
So instead of exploring Trump's connections to the New York mob, "60 Minutes" does a song-and-dance personality profile on the star of "The Apprentice." Instead of probing his scandal-plagued adult education business, Trump beat reporters play puppet to his every word. Across the airwaves, daily discussions analyze the legitimacy of Trump's latest harangues against women, immigrants, Muslims, and -- in a classic case of biting the hand that feeds you--the media.
Perhaps it's futile to re-litigate the decision of news divisions to cover Trump excessively despite the fact that his poll numbers have yet to be tested in an actual primary or caucus. But the media have not learned to distinguish between bigoted ad hominem attacks and self-promoted, even outlandish, political incorrectness. More eyeballs should not justify promoting indecency in the town square.
The digital paradigm has not always wrought a stain on the American character but it increasingly means that we learn about our government through funnymen instead of newspapers. The dawn of 2016 brought us President Obama getting coffee with Jerry Seinfeld. As the White House demonstrated in its Affordable Care outreach to nontraditional media, this is the reality of the new viral age.
Despite being lampooned for his lack of foreign policy expertise, Ben Carson has at times defied the trend of trickle-down discourse by acknowledging the complexity of public opinion. On "Meet the Press," a Facebook user asked him what Chuck Todd deemed a simple question: "Does the Bible have authority over the Constitution?"
In an aberration from campaign-style retorts, Carson replied: "That's not a simple question."
He's right. And when asked to justify his antiwar streak in one of the first GOP debates, Carson offered another nuanced answer. "I have no argument with having a strong leader, and to be aggressive where aggression is needed. But it is not needed in every circumstance. There is a time when you can use your intellect to come up with other ways to do things. And I think that's what we have to start thinking about."
Carson was on point in that answer, too. This election year, only the Fourth Estate can guard against a politics that will amuse American democracy to death.
Calling all HuffPost superfans!
Sign up for membership to become a founding member and help shape HuffPost's next chapter