Wanda Sykes recently dubbed the experience of black queer women as a "trifecta of discrimination," but I think our challenges are better described as a "quadfecta of discrimination."
Women of color exist on the outskirts of LGBTQ advocacy. Being shut out by both the African-American community and the queer community is a common way of life for us. Not only are we constantly pushing for recognition and visibility as women, as African Americans, and as lesbians among society, but we have to fight for our existence to be validated by the major powers within the LGBTQ community at large. White men have dominated the bullhorn within the queer community for years. We as a community rally for equal rights, yet we practice discrimination within our own house. There is a huge separation among queer people that must be mended. This exclusion of queer women of color means that it's even more important for us to create safe spaces of our own.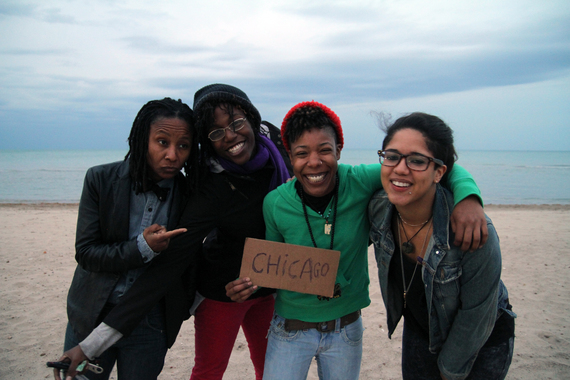 Screenshot from Women and the Word: The Revival Movie
As a social advocate and media producer for LGBTQ media organizations, I've learned that the community is often a boys' club, leaving women like me fighting for scraps at the table. Once, at a meeting with a major organization, I spoke up in favor of a new approach to the group's event planning method. I proposed a more socially conscious strategy, having the organization interact with local community partners on issues of LGBTQ homeless youth, youth media-making, and social outreach with other LBGTQ groups. I thought we were doing too many internal social activities without creating any significant social impact. In response to my input, one of my colleagues told me to "stop being an angry lesbian." I wish that wasn't verbatim, but sadly, it's true. I was confused, but I kept working with them because I felt a part of something. Later I learned that they had developed the youth media program; they just hadn't included me. I was floored. I walked away from that group after years of dedicated service because I realized I had merely been their workhorse but never their partner.
Having a place where queer women of color can be seen and heard is vital for our well-being and critical for our collective voice. In 2009 I witnessed the perfect example of a safe space created by, and for, queer women of color. It is a space that encourages our expression, champions our growth, and works tirelessly to maintain our survival. This space is called THE REVIVAL, and it has become a community that I've now dedicated my life to.
Back then, I wasn't a steady fixture on the queer scene. I had been creating a Web series about gay men and was immersed in that world from 9 to 5. I rarely had the opportunity to interact with women. By chance that year, I was introduced to an art space called Black Church Maraca, founded by Jade Foster of Cereus Arts. I received an invitation to a poetry performance held inside someone's apartment in Brooklyn, N.Y. It was freezing that night, and my partner and I walked up the stairs of the brownstone building and stepped into a warm space -- literally and figuratively. It was a moment of discovery for me. Being immersed in this new world was both inviting and intriguing. There was a cute girl in the corner serving up a bowl of punch, lit only by candlelight. Others were gathered in little groups around the room, laughing, chatting, and connecting. That night I snuggled into a stranger's apartment and watched as a group of poets and musicians deliver art that uplifted my spirit. I came alive that evening. I'd finally found my home.
I later learned that Cereus Arts' THE REVIVAL was a traveling, salon-style show that gathered in private homes in cities across the United States, connecting groups of women through the power of words. I thought the idea was magical, and I had to be a part of it. The following year, I was compelled to document the tour so that queer women around the world could witness the beauty of sisterhood and solidarity through art. What followed was a two-year journey, driving across the nation to film my first documentary, Women and the Word: The Revival Movie.
I've now gathered thousands of hours of footage that captures the synergy that occurs when queer women of color feel accepted and welcomed. I've documented the creativity, honesty, and collaboration that bloom when we allow ourselves to gather and exchange stories. For the last four years, THE REVIVAL has given women the freedom to bond over their shared experiences through language and cultural memory. By hosting the event in a supporter's living room, the show pays tribute to the longstanding tradition of salon gatherings as incubators of artistic, intellectual, and political innovation.
Salons have historically served as inclusive refuges where often-ostracized artists could come together to spark conversation and social change. This community-powered tour continues this tradition by fostering a nationwide engagement where women of all ages can gather, trade tales, and find courage through commonality. It is a new movement in literary arts, and it's my current mission to advance the visibility of queer women of color by sharing this intimate experience with the world.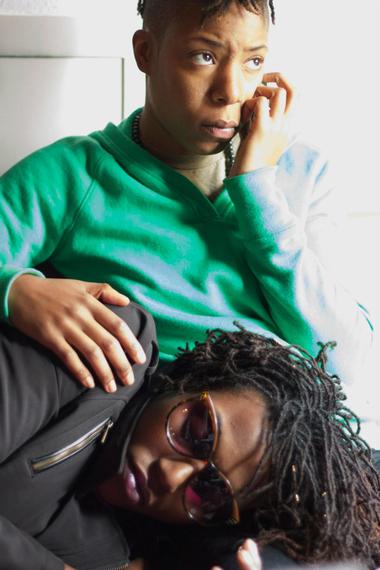 Our "trifecta of discrimination" should instead be seen as a triple advantage. It is instead a trifecta of power, or even a quadfecta of power. We are queer black women with a message and with the talents to put movements in motion. We have the power to unite and engage LGBTQ communities around the globe whose existences have been silenced. Through the simple act of delivering a poem on stage, THE REVIVAL has the potential to reshape the hostile climate and unforgiving conditions that queer women, especially queer women of color, continue to face around the world. We may all come from different backgrounds as queer people, but our experience as lovers, survivors, and fighters is the same. The freedom to express our emotions creatively is a primer for healing, and this documentary film is a balm and a conduit for change.
Although queer women of color are the forgotten sisters of the queer community, Women and the Word: The Revival Movie can help all of us move us forward, create an exchange, establish a bond, and develop clear calls to action. It has the potential to be a medium for revolution.
I want more movies from Dee Rees, director of Pariah, and I want our faces to be the lead instead of the supporting role in major motion pictures and series. There are lots of gay characters on TV, but few queer people of color. I want to congratulate ABC Family for taking the leap this year with The Fosters, an original look at a biracial lesbian couple fostering children. Netflix's Orange Is the New Black, which features numerous queer women of color, shows signs of change. This is only the beginning. We need layered stories. We need different images of all types. We need to take the lead without being the sassy sidekick. We are here to change that. I am here to change that. It is the time. The time is now.
Related
Popular in the Community