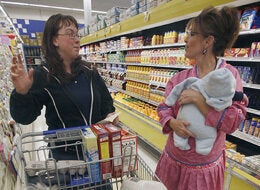 See Trig Palin Photos***When Sarah Palin gave birth on April 18th to son Trig Paxson Van Palin, she issued the following statement:
"Trig is beautiful and already adored by us. We knew through early testing he would face special challenges, and we feel privileged that God would entrust us with this gift and allow us unspeakable joy as he entered our lives. We have faith that every baby is created for good purpose and has potential to make this world a better place. We are truly blessed."
But she did not tell anyone, other than her husband, that Trig Palin would be special needs.
Initially Palin hid her pregnancy - and her pain - from both the public and her children, son Track, now 19, and daughters Bristol, 17, Willow, 14, and Piper, 7.

"Not knowing in my own heart if I was going to be ready to embrace a child with special needs," she reveals, "I couldn't talk about it."
Gov. Palin's opted to board a jet from Dallas in April while about to deliver a child. Gov. Palin, who was eight months pregnant, says she felt a few contractions shortly before she was to give a keynote speech to an energy summit of governors in Dallas. But she says she went ahead with it after her doctor in Alaska advised her to put her feet up to rest. "I was not going to miss that speech," she says.

She rushed so quickly from the podium afterwards that Texas Gov. Rick Perry nervously asked if she was about to deliver the baby then. She made it to the airport, and gave birth hours after landing in Anchorage to Trig, who is diagnosed with Down Syndrome. "Maybe they shouldn't have let me fly, but I wasn't showing much so they didn't know," she says.
The Palins found out last year that Trig would likely have Down Syndrome:
The doctor's announcement in December, when Palin was four months pregnant, presented her with a possible life- and career-changing development.

"I've never had problems with my other pregnancies, so I was shocked," said Palin.

"It took a while to open up the book that the doctor gave me about children with Down syndrome, and a while to log on to the Web site and start reading facts about the situation."

When he was told, Todd Palin quickly said, "We shouldn't be asking, 'Why us?' We should be saying, 'Well, why not us?'"
As Todd and their three daughters gathered around the bedside (Track, an Army private, listened in by phone from his base in Fairbanks), Willow said of the new arrival, "He looks like he has Down syndrome."

Palin, who says her own qualms were laid to rest "the minute [Trig] was born," felt a lump in her throat. "If he does, you know you will still love him, Willow. It'll be okay."

Willow pressed: "But why didn't you tell us?"

Palin admitted she didn't know how to break the news. "I was a little shocked," says Willow "but I don't care - he's my brother and I love him."
Despite rumors, Trig Palin is Sarah's son, and not her grandson via daughter Bristol.
"When we first heard, it was kind of confusing," Palin, 44, said. She called the revelation "very, very challenging" and said she initially felt sad.
The grandfather says Trig is named after his great uncle, a Bristol Bay fisherman, while the name Paxson comes from the well-known snowmachining area.
Scroll down to see photos of Palin with Trig. Or click here to see more photos of Trig Paxson.
Todd and Sarah Palin with Trig. (AP)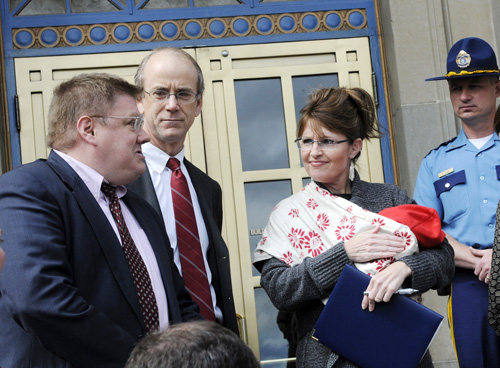 Palin holds her youngest child Trig during a bill signing for Senate Bill 265, the omnibus crime bill, on the Capitol steps, in Juneau, Alaska Thursday, June 5, 2008. (AP)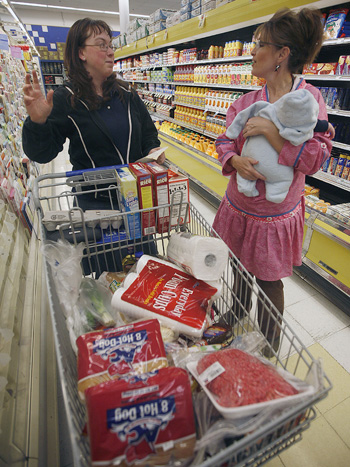 Laurie Serino, left, talks about the high food prices with Alaska Gov. Sarah Palin in Barrow, Alaska on Monday, June 30, 2008. (AP)
Trig made the cover of People: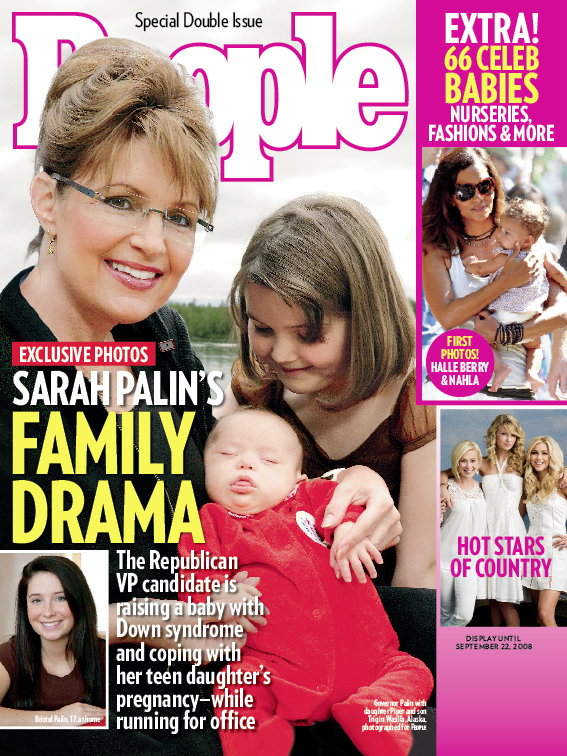 Newsmax thinks Trig Palin saved McCain's pro-life candidacy.
Popular in the Community