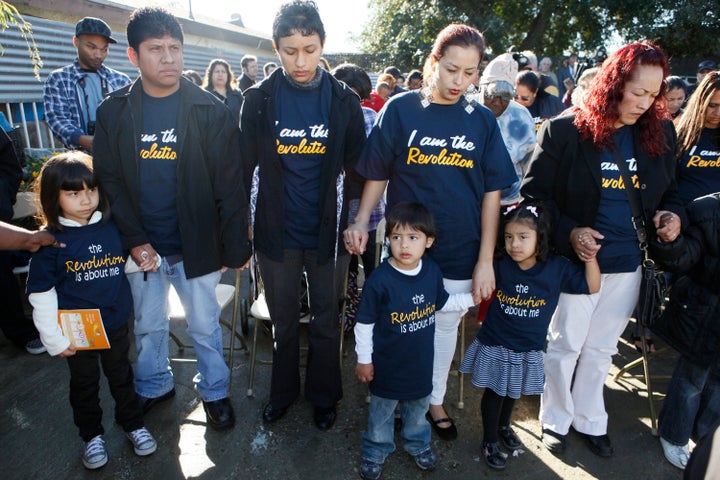 It's been seven months since the brave parents at McKinley Elementary School approached Compton Unified and handed in the petitions that sounded off a revolution that has the entire country talking. Today, they know that, starting this fall, they will get the quality education they fought so hard to get for their children and only a couple of blocks from McKinley Elementary and that this movement is growing rapidly.
While McKinley parents wait for the judge's decision, they gathered May 25 to celebrate an important victory: as they wait for the final decision by the judge, Celerity Educational Group will be opening a school two blocks from McKinley Elementary at Church of the Redeemer, where so much of this movement began. Now, because of an independent petition that was approved by the L.A. County Office of Education, parents that signed the petition will be able to send their children to the great school that they have been fighting for all along. And while they are not done fighting to transform McKinley Elementary school for all kids in their neighborhood, at least now, parents don't have to wait yet another year for grown-ups to put kids first.
As parents in California were celebrating their new school, parents across the country, inspired by McKinley parents, are taking action. In Texas, parents and legislators stood together and demanded change, and were able to become the third state in the country to empower parents with a Parent Trigger law. Their purpose was clear as Democratic Representative Mike Villarreal, the bill's sponsor in the state's House of Representatives said, "My goal is to empower parents to turn unacceptable campuses or schools located in an unacceptable district into high-performing, innovative and creative learning environments for our children." Despite the best efforts of defenders of the status quo to block this bipartisan legislation through dishonest attacks, parents at failing schools throughout Texas will now finally have the right to transform their child's school through community organizing. Parents wasted no time forming their very own Texas Parents Union, and will now have the power to work together towards making public education in their state focus on the needs of children, not adults. With education on the forefront of Texans' minds, Texas legislators took a bold step to empowering parents and are only waiting on their governor to sign the final bill.
And out in Buffalo, N.Y., where only 25 percent of black male students successfully graduate from high school, a grassroots parent empowerment movement has taken their city and their state by storm. Just last month, the parents of Buffalo organized a massive boycott, holding their children out of school for a day, to demand the power to fix their broken schools with the Parent Trigger. Their work has persuaded representatives in both houses of the state legislature to introduce Parent Trigger legislation and Wednesday, parents and their allies marched to Albany to demand that all state legislators pass this law. Parents, clergy, and community leaders are standing together and speaking with one voice to demand change for the children of New York.
It is hard to imagine three more different places than California, Texas, and upstate New York, across our country, parents everywhere are finding out that they have more in common with each other than they do with the defenders of the status quo. As Time magazine reported, parents in every community and corner of the country are waking up to the fact that our schools are failing because they simply weren't designed to succeed, and that the only way to truly fix them, is to give parents power over the education of their own children, because parents are the only stakeholders who care only about children. As Rep. George Miller, one of Congress's leading progressives and top Democrats in the House Education and Workforce Committee, said, "The fact of the matter is, when we look at developing a model for real change and improvement in public education, it's pretty hard to do without parents."
Now, the third Parent Trigger law is in place, parents across the country are demanding Parent Trigger laws for their own communities, and progressive education leaders, like Miller, are standing for Parent Trigger as part of "real, systemic change" that recognizes the urgent "needs of our children, our communities, and our nation," we are witnessing a true grassroots revolution. Parents in every community are done waiting for change, and are organizing to obtain great schools for their children by any means necessary. Whether they live in California or Texas, in Buffalo or Mississippi, parents only have one chance to give their children the education they need for the future they deserve.
As one brave father said: "Our goal isn't to fight. It is to work together to improve education for our kids."
Related
Popular in the Community