Despite the media scare stories, trigger warnings are not widely used by college professors across the country, according to a survey released in full on Tuesday. They're not even widely demanded by students. And when they are used, the warnings address both liberal and conservative concerns.
The nonscientific survey, conducted by the National Coalition Against Censorship, is the first of its kind to gather data on the actual use of trigger warnings in college classes. The conclusion: While professors are fretting about the possibility, there is "no crisis."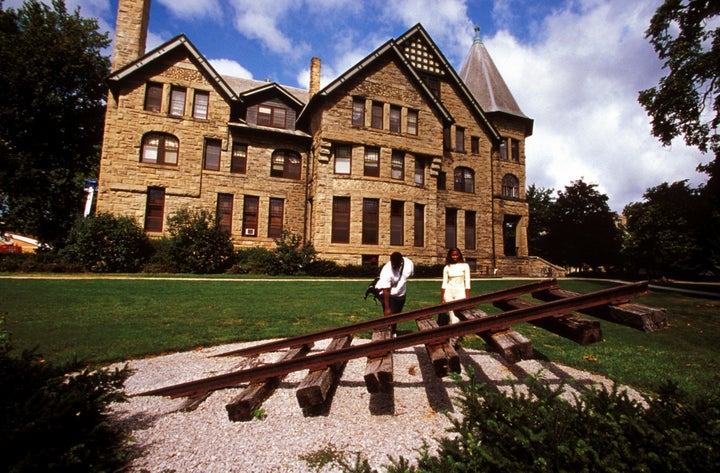 Trigger warnings advise readers that the content ahead addresses sensitive subjects, such as child abuse, rape and racist violence, that may evoke personal trauma. The warnings, which became popular on blogs over the past decade, are typically placed at the beginning of reading material or stated verbally. A debate has emerged in recent years about their use in the university setting.
Yet, as the NCAC survey shows, the fears stoked by some in the media have gone well beyond the on-campus reality.
The Huffington Post first reported the statistics from the survey in June, showing that virtually no college required the use of trigger warnings. The full release of the results on Tuesday included testimony from some of the 800-plus current teaching professors who were surveyed. The project was conducted with help from the Modern Language Association and the College Art Association.
Eighty-five percent of faculty surveyed said they had never received a request from students to use trigger warnings. Ninety-two percent said there was no student-initiated effort to require them at their school. Some pointed out that such requests may come from parents watching their children leave the nest.
More than half of those surveyed had voluntarily used trigger warnings, although less than a quarter had used them "several times" or "regularly."
They disagreed about what constituted such a warning. If they simply gave students a heads-up about emotionally challenging or difficult content in course descriptions or noted it at the beginning of the semester -- rather than before an individual lesson -- some called that "full disclosure."
A majority -- 62 percent -- think trigger warnings have a negative effect on academic freedom. About 17 percent think they have a positive effect on classroom dynamics.
Many in the NCAC survey who opposed required warnings questioned whether it was appropriately their role to advise college students of what could be "triggering."
"I'm all for involving psychological counseling, when useful," one survey respondent said, "but I didn't prepare myself to be a counselor, and that should not be my role in the classroom."
The NCAC said there is a media narrative that trigger warnings are being demanded by "coddled" liberal students. But the survey found that actual requests for warnings come from across the political spectrum.
One instructor said trigger warnings are used for "foul or sexual language, sexual content, or violence in order to allow our very conservative students to feel more in control of the material." Another said requests for warnings about "homoerotic content in art history" had come from presumably conservative students.
Sometimes, survey respondents said, students want warnings about bloody scenes in horror movies, images of dead bodies or spiders.
The lack of any widespread push for trigger warnings doesn't mean faculty aren't worried about the possibility. They said they fear that professors might be scared away from covering certain subjects or that they might lose their jobs if they discuss something that offends students.
Related
Popular in the Community