WARREN, Maine (AP) — The triggerman in the Pamela Smart murder case — one of the first high-profile trials about a sexual affair between an instructor and a student — has been released from prison after serving nearly 25 years.
William Flynn was 16 and known as "Billy" in 1990 when he and three friends participated in what prosecutors said was Smart's plot to kill her husband in Derry, New Hampshire. Flynn pleaded guilty to second-degree murder and served his sentence in Maine.
Scott Fish, a spokesman for the Maine Department of Corrections, confirmed Thursday morning that Flynn was released. He was granted parole in March.
Flynn got married while behind bars, has a teen stepdaughter and has earned his GED and electrician's helper license.
Also being released on parole Thursday in New Hampshire is Patrick "Pete" Randall, who restrained Gregg Smart while Flynn shot him in the head.
Pamela Smart, who was 22 when her husband was killed, is serving life in prison without the chance of parole. She admitted to seducing Flynn but said she didn't plan her husband's murder.
The trial was a media circus and inspired the Joyce Maynard novel "To Die For," which in turn was made into a movie starring Nicole Kidman.
The board granted Flynn parole on his first attempt, on his 41st birthday. He told the board that he'd always be haunted by the killing.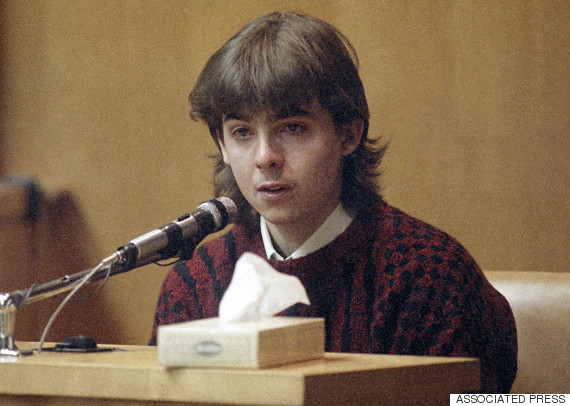 In this March 13, 1991 file photo, William "Billy" Flynn, testifies on his 17th birthday in court in Exeter, N.H., how he shot Gregg Smart in the head and killed him in Derry, N.H., in 1990. Flynn was convicted and sent to prison for killing Gregg Smart, the husband of his lover, Pamela Smart. Flynn was released from prison in Maine on parole Thursday, June 4, 2015 after serving nearly 25 years. (AP Photo/Jim Cole, File)
"I will always feel terrible about what happened 25 years ago," he said in March. "Parole will not change that."
He said finding a job will be his biggest challenge, noting that employers will immediately search his name on the Internet.
"The first they learn about me is the worst thing I've ever done," he said.
According to trial testimony, Smart was media coordinator at Winnacunnet High School in Hampton when she first seduced Flynn when he was 15. She told him she needed her husband killed because she feared she would lose everything if they divorced.
Flynn testified in Smart's 1991 trial that she threatened to break up with him if he didn't kill her husband.
On May 1, 1990, he and 17-year-old Randall entered the Smarts' Derry condominium and forced Gregg Smart to his knees in the foyer. As Randall held a knife to the man's throat, Flynn fired a hollow-point bullet into his head.
Randall got 28 years to life. Two other teenagers served prison sentences and have been released.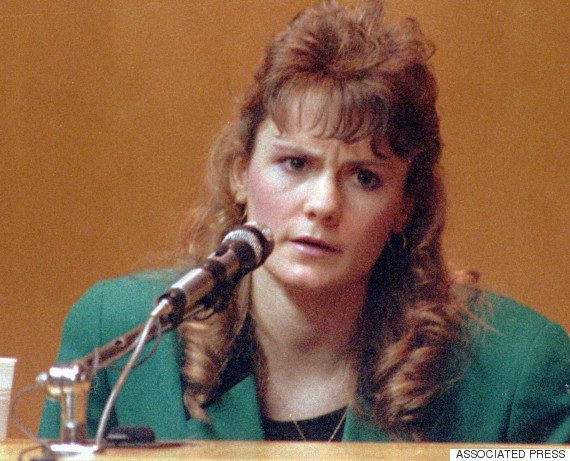 In this 1991 file photo, Pamela Smart testifies in Rockingham County Superior Court in Exeter, N.H. Smart was convicted of conspiring with her then 15-year-old lover, William "Billy" Flynn, to kill her 24-year-old husband, Gregg Smart. Smart is serving a life without parole sentence. (AP Photo/Jim Cole, File)
Calling all HuffPost superfans!
Sign up for membership to become a founding member and help shape HuffPost's next chapter
BEFORE YOU GO
PHOTO GALLERY
Pamela Smart Case