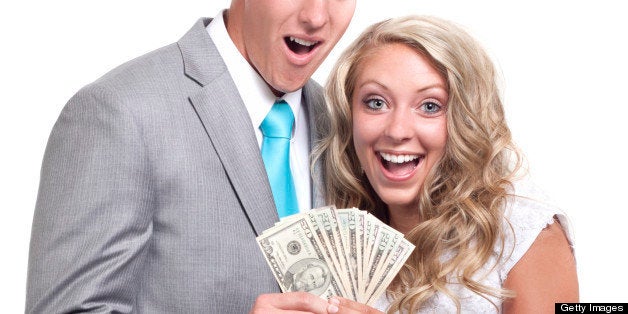 Weddings have always been big business, but I was shocked to see how expensive they've become in the 17 years since my wife and I got married. According to the annual Real Weddings Study conducted by TheKnot.com and WeddingChannel.com, the average wedding in the U.S. now costs $28,427, and that doesn't even include the honeymoon.
Among the more than 17,500 surveyed brides who got married in 2012, the average amount paid for a wedding dress was $1,211. On average they also spent $204 per wedding guest and dropped $12,905 for the reception venue.
There are many ways to rein in wedding-related costs while still having a memorable event. Here are a few suggestions:
Create a budget. Unless you're a professional wedding planner, you'll probably be floored by how many expenses weddings can amass, including: wedding and engagement rings, invitations, postage, marriage license, clergy and location fees, flowers, bridal gown and groom's tuxedo, rehearsal dinner and reception, photography, catering, DJ or band, limousine, parking attendants, gifts for wedding participants and honeymoon expenses.
And don't forget to budget for tipping the caterers, limo driver, photographer and other laborers -- 15 to 20 percent of their total bill is reasonable for good service. Many good wedding budgeting tools are available including these at TheKnot.com, RealSimple.com and WeddingDetails.com.
Shop around
. Bridal expos are a good way to meet a lot of vendors and gather ideas. Just don't get caught up in the excitement and commit to anything before you've done follow-up research. Some tips:
Bring along someone from the wedding party as well as a trustworthy friend who isn't emotionally and financially connected to the wedding.
You may feel pressured by vendors to sign contracts or put down deposits, but it's probably wiser to take their contact information and research them first. Check with the Better Business Bureau and social media sites like Yelp or Facebook.
Create a separate email account for wedding vendor communications. Once you sign up for one offer or contest, believe me, your inbox will be swamped.
After you've settled on vendors, get everything in writing. Contracts should specify dates, products, prices, deposit and payment terms, cancellation policies, liability insurance responsibility and whether tax and gratuities are included. Make sure all parties involved sign.
Pay with a credit card so if there's a problem, you'll be better protected during dispute resolutions.
Here are a few suggestions for trimming costs:
Limit the guest list. Will inviting people you barely know make your wedding more enjoyable, or would you rather spend more time with the people you love?
Date flexibility. You'll get more bang for your buck offseason -- a June wedding might cost 20 to 30 percent more than one in April or October.
Have your florist use in-season flowers.
Daytime weddings are often cheaper than evening events, especially if the photographer and DJ can leave early enough to make a second gig that night.
Instead of a hotel, consider less-costly alternative reception venues like community centers, museums, city park clubhouses or other public facilities looking to earn extra income. Ask whether they have their own tables, chairs, sound and lighting systems; if not, add equipment rental costs into the equation.
A buffet dinner reception could save you $15 or more per guest compared to a plated dinner, because you're not paying for table service. Save even more by hosting an afternoon reception and serving lunch or hors d'oeuvres.
If you're hosting a large reception, have a smaller display cake for the cutting ceremony, with a sheet cake stored in the kitchen.
Serve wine, beer and one signature cocktail, instead of offering a full bar.
Consider renting or buying a second-hand wedding dress from a consignment shop, or an online specialty site like BravoBride, Once Wed or PreownedWeddingDresses.com. The same goes for groomswear.
Design and print your own invitations. Many sites like Paper Source and Exclusively Weddings sell invitation software and high-grade stationery for home-printing.
Hiring a disc jockey instead of a live band will save hundreds of dollars; plus you get a broader selection of music and a built-in emcee to move things along.
And don't be afraid to negotiate on prices for photographs, flowers, food and other items. A good wedding planner can more than pay for him- or herself by bargaining on your behalf.
Play it safe. You wouldn't invest $28,000 in a car and not insure it, so consider wedding insurance that can protect you in cases where severe weather, family illness or other situations force cancellation or postponement. Ask your insurance agent what's available and carefully check policy details for what is and isn't covered.
And don't forget liability coverage, in case Uncle Albert has one too many glasses of champagne and trips. For more on this topic, see my previous blog, Should You Buy Wedding Insurance?
One last budgeting tip: Limit the number of guests to ensure you can have a meaningful interaction with each. Remember, spending just one minute apiece with 300 guests would take five hours.
This article is intended to provide general information and should not be considered legal, tax or financial advice. It's always a good idea to consult a legal, tax or financial advisor for specific information on how certain laws apply to you and about your individual financial situation.