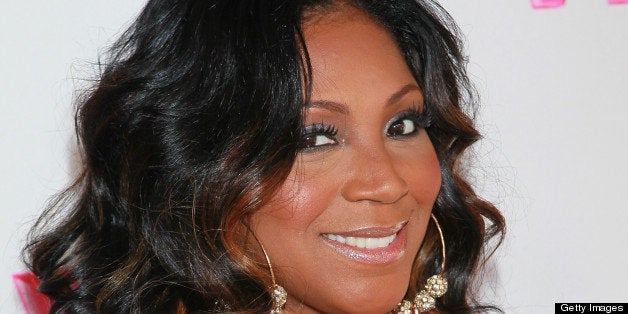 Following ten years of holy matrimony, Toni Braxton's sister, Trina, has finally filed for divorce in a Georgia court from husband Grabriel Adrian-Solis citing citing the marriage was "irretrievably broken," according to TMZ.
The estranged couple, who tied the knot in August 2003, reportedly separated and have been living apart since March. The pair's marital woes, including infidelity, have been a reoccurring issue in recent years and showcased on the popular WE Network reality series, "Braxton Family Values."

Aside from Trina and Gabe both admitting to extramarital affairs (not to mention Gabe's reported internet relationship with a transgendered woman), the second youngest Braxton sister admitted that she was separated from her husband during an August 2012 interview with VIBE.
"I am not officially divorced quite yet, but I am officially separated. I am not officially, or legally, divorced," she explained. "It's not something that easy to delve in to, especially when you have children involved."
"So it's nothing I'm going to jump into lightly. I want to exhaust all of my options, and really think it through. And let it be my choice and my decision or what people think I should do because at the end of the day, people are living their lives and I'm stuck with the decision you made for me. So that doesn't work for me. I need to make my own decision and own mistakes."
The 38-year-old mother is seeking a "total divorce" with a financial agreement to divvy up the former couples' assets and debts.