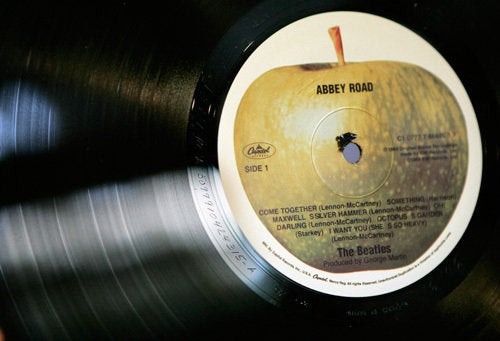 On February 9, Massive Attack returns with its fifth album, Heligoland. The new record rejects the dense, over-produced sound of 2003's 100 Windows and returns to simple, spooky, elegance. With Massive Attack's first two albums, 1991's Blue Lines and 1993's Protection, the UK production collective inadvertently drew up a blueprint for what would become known as trip-hop. The sound: eerie atmospheric downbeat incorporating elements of reggae and dub, hip-hop and soul, samples and breaks, electronic sounds and live instruments. These days, Massive -- the core of which comprises Grant "Daddy G" Marshall and Robert "3D" Del Naja -- is probably best known for providing the theme song to TV's House ("Teardrop," from their third album, Mezzanine), but that's mostly due to the fact that they last released an album seven years ago. It's all about to change with Heligoland.
We spoke to Daddy G about the album.
(Download a free remix of "Girl I Love You" here. Listen to "Paradise Circus" below the interview, or watch the NSFW video here, at Massive's own website.)
TM: This record has a very cohesive feel to it. Given that you guys aren't exactly known for your chummy working relationship, how did you achieve that?
DADDY G: We went down to the studio and re-recorded what was not such a cohesive album and made it into one. We had started another album, slated to be called Weather Underground. We took that on tour with us in 2008 after taking a few years to work on it. That album was basically made in two studios -- D was making it in his studio and I was making it another studio. We put the two versions -- or two halves -- of the album together as one. By the time we got back from tour, we were bored with the tracks and also weren't sure the album held together sufficiently. So we stripped all the tracks back to ground zero, went into Damon Albarn's studio in September, 2008, and started re-recording them. We came up with some new tracks, too -- just started from scratch. Then we went to Brooklyn to work with Tim Goldsworthy from DFA. Finally we brought it all back to Bristol and worked together in 3D's studio for about eight months after that, into the summer of 2009. That's how we created the new version, which is now Heligoland.
TM: It's interesting to hear you use the term "stripped" to describe the process, because the sound of the album could be described that way as well.
DADDY G: That's exactly what we were trying to create. 100 Windows was steeped in a lot of layers and effects, and it was kind of a hard album to get into. We tried to make this album completely the opposite. Warmer, more communal, more song-based. Hopefully listeners can sink themselves into it more because the production is less forbidding. It's more raw, more organic, less complicated. It lets you get into the songs, get into the music, and see where we were coming from.
TM: Did that decision come with re-recording, too?
DADDY G: We were always going to keep it quite simple, though the re-recording was key to achieving it. If you look at 100 Windows and this one, it's like two houses next door to one another. One house has the door closed, the windows shut, and maybe the curtains drawn as well. The other one, somebody's left the door open and there's a fire in the fireplace and some wine on the table. It's quite welcoming. That's something we wanted to do.
TM: You said this one is more song-based. How does the song creation process work--do fully-formed songs pop into your head, or do you start with loops?
DADDY G: I think D, because he's such a perfectionist, will sometimes have a complete song mapped out, and will even have an idea of the lyrics even though they're not yet written. He has great vision about how a song has to be shaped. He'll say, It doesn't sound like much now but the vision I have for it is to do this, this, and this. I'm more spontaneous. I don't have that sort of mind, that sort of vision for what things should be when they are finished. With me it's more a case of experimentation and mistakes. I still work from a DJ perspective. Though the funny thing is neither one of us is an archetypal musician, and that makes it more exciting because we don't really play instruments as such. Maybe a little keyboard, but we've never really been that qualified in playing our instruments. I can play recorder and that's about it. So our songs aren't necessarily looked at from a musician's point of view. It's all about imagination and working with people who can see your vision. And that's probably another reason why Massive Attack music is so different.
TM: How much input do the various guest vocalists have?
DADDY G: There's so many different ways. Every track has got a different personality to it. The entry points for vocalists have been at different points. Usually we have an idea of someone we want to work with and maybe a skeletal idea of what we want. Earlier we would sometimes present people with almost finished tracks -- you know, "Could you sing on this, please?" Although that's worked in the past, we also found there wasn't much room for experimentation. There's a lot more flexibility if you give someone the seeds of an idea and then work with them from the ground up. It's great to knock on people's doors. And it's great that they've always answered. And the collaborations have always worked.
TM: Anyone ever not answer the door?
DADDY G: Patti Smith is the only person who hasn't responded to us asking her to collaborate. We wanted her to collaborate with us last year and she didn't ever get back to us. But I look at it as her loss, not mine.
TM: How do you know when a track is finished?
DADDY G: That's the whole thing, we don't know. And we never like to let go of anything. We're the most procrastinating band around. Maybe the six or seven years' wait isn't a question of our not being done, but more that we're too scared to let anything go. It is hard to know when something's finished. But at some point you have to draw a line in the sand and say, OK, this is it.
TM: Do you two ever disagree on when a track is done?
DADDY G: We've known each other for 27 years, and we disagree on more than just tracks. We disagree on life. We've had brotherly love and brotherly hate. The thing about it is that those sentiments and emotions can't be helped sometimes. And that sometimes spills over into the studio. And that can be quite frustrating -- when we start to disagree about where things are going or whatever. But the thing about myself and D is, although we work together, we don't tend to work hand in hand on each other's ideas. He'll start an idea, and may follow it through to fruition. Or he might call me in for some advice or vocals. But we don't usually swap creative juices as we work. This album was different, though, as we were both present in the studio when it was all being re-done.
TM: Is it fair to say this is more of a true collaboration than some of your past work then?
DADDY G: Yeah, I think so. To be honest, while we were working on Weather Underground we stayed in communication -- but not much. Until we had a body of tracks that we could work on. And then it was, "Let's have a listen to yours and then you listen to mine." But in the end that wasn't the process once we went into the studio to re-record what became Heligoland. Because at that point we were in the studio together and there was a communal feel.
TM: Once you decided the new entity needed a new title, how did you come up with Heligoland?
DADDY G: The word means "holy land." It's an island situated in the North Sea. It's been held by the British, the Danish and the Germans. After World War II, the Royal Navy used it as a bombing range and set off an explosion there -- called the Big Bang -- that was one of the biggest non-nuclear explosions ever. When they were getting ready to do it, there was talk of the island actually disappearing. And as far as the navy was concerned, it was, So what? We came across the episode in a book, and it became a topic of conversation for a week or so in the studio. We were quite disgusted by the fact that they didn't know and didn't care what was going to become of the island. In the end, it didn't disappear, but the explosion did alter the shape of the island.
Massive Attack, "Paradise Circus"
Here's an audio-only clip of the song, which features vocals from Hope Sandoval of Mazzy Star fame. Watch the NSFW video, directed by Toby Dye and featuring porn actress Georgina Spelvin talking about her infamous 1973 film The Devil in Miss Jones, here.
Popular in the Community