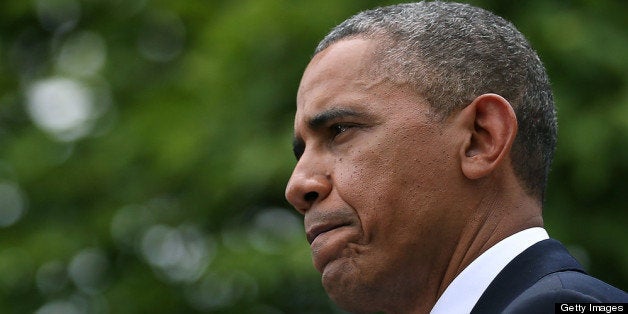 WASHINGTON -- The Obama administration is seeking to curb efforts to exempt the world's poorest countries from expansive trade rules that would substantially increase the price of life-saving medicine and other products.
The regulations would extend intellectual property rules currently used in developed countries to a few dozen nations currently classified by the United Nations as "Least Developed Countries" (LDCs), including Haiti, Bangladesh, Rwanda, Somalia, Chad and several other nations in sub-Saharan Africa. Because many of the nations classified as least developed exhibit very high rates of HIV and AIDS, the proposed rules have raised concerns among human rights advocates who note that higher drug prices will result in lower treatment levels.
Worldwide, less than 50 percent of HIV-positive adults currently receive treatment, while less than 25 percent of HIV-positive children do, according to the U.N. Global Commission on HIV and the Law. Nearly one-third of all HIV positive people live in LDCs, according to UNAIDS.
"There are many reasons for this [HIV] treatment gap. But a major one is the result of recent bilateral and multilateral trade agreements that have undoubtedly increased the power of pharmaceutical patent holders to control the prices of drugs on global markets. Governments, especially in low- and middle-income countries, cannot afford them," wrote the U.N. Global Commission in July 2012.
The rules currently being debated by international negotiators stem from the World Trade Organization's Agreement on Trade Related Aspects of Intellectual Property Rights, known as TRIPS. The treaty requires countries to abide by a host of U.S.-style intellectual property standards, including patent criteria that grant pharmaceutical companies long-term monopolies on medicines. Protected by these monopolies, companies routinely charge extremely high prices in pursuit of profit maximization, locking the global poor out of treatment. While TRIPS rules explicitly include a host of important terms that allow countries to produce or import cheaper, generic medicines, the U.S. and European governments have repeatedly pressured nations against using those exemptions to treat their citizens.
"The HIV epidemic has exposed the serious problems of applying TRIPS to medicines and other pharmaceutical products," the U.N. Global Commission wrote.
When the TRIPS treaty was signed in 1994, it granted LDCs 20 years to comply with its terms. While some countries have witnessed substantial economic improvement and "graduated" out of their LDC classification, many remain essentially poor. A coalition of those nations is currently negotiating with other WTO nations to extend this exemption until countries have economies robust enough to be considered "lower-middle income" rather than "least developed."
Last week, five House Democrats, including Reps. Henry Waxman (D-Calif.) and Barbara Lee (D-Calif.), wrote a letter to the Office of the U.S. Trade Representative urging the agency to abide by the nations' request.
"We are concerned that if LDCs are required to fully implement TRIPS while still 'least developed' this could limit access to quality, affordable medicines to fight HIV, malaria and other diseases," the lawmakers wrote.
But USTR opposes this plan, and is pushing to limit an extension of the LDC exemption to five years, according to sources familiar with the negotiations. In addition, USTR is seeking to ban countries from rolling back any existing intellectual property standards that may help lower the cost of drugs. Many nations implemented TRIPS-like policies during the colonial era, while others adopted them under more recent pressure from the U.S. and Europe.
"The proposal about which we're expressing questions is from some of the LDCs requesting a permanent exclusion for LDCs from TRIPS obligations," USTR spokeswoman Carol Guthrie told HuffPost. "We want LDCs to be able to participate more fully in, and benefit more broadly from, the global trading system, sending positive messages about their innovation climates to draw investment and jobs, rather than being permanently excluded."
The implication of USTR's position is that that TRIPS will help LDC countries to develop, but that by refusing to implement the treaty, countries have been relying on a global safety net rather than growing their economies.
In April, 130 academics specializing in development economics signed a letter urging USTR to agree to the LDCs' request. "Existing empirical evidence does not support the proposition that heightened intellectual property protections have had positive impacts on foreign direct investment, local innovation, technological capacity-building, or even development more broadly in LDCs," wrote the academics, who included professors from Yale, New York University and the University of California, Berkeley.
"Suggestions that least developed countries -- the poorest and most economically vulnerable countries in the world -- are somehow trying to stay poor to take advantage of WTO rules is ridiculous," said Matthew Kavanagh, director of U.S. Advocacy for the Health Global Access Project. "Do U.S. officials think LDCs are not doing everything they can to end the poverty, famines and disease they face?"
The short-term extension, moreover, does not allow countries to devise long-term public health treatment projects, particularly for diseases like HIV, which require decades of treatment.
"We are disappointed that the U.S. Trade Representative's office has chosen to deny a request by the world's poorest countries that is fair, sensible and takes into account the multiple challenges these countries face, including a heavy burden of infectious diseases such as HIV and AIDS and [tuberculosis]," said Rohit Malpani, director of policy and analysis at Doctors Without Borders's Access Campaign. Doctors Without Borders is a humanitarian organization that won the Nobel Peace Prize in 1999. "Unsurprisingly, the approach adopted by the U.S. Trade Representative is not too different from the approach preferred by the multinational pharmaceutical industry."
The Obama administration has spent over a year pressuring the Indian government to abandon its policy of providing a less expensive generic version of a new cancer drug. India, which features a per capita income of about $1,400 a year, is not considered a least developed country, but rather a "lower-middle-income country" and, as such, is required to comply with WTO treaties.
Although TRIPS requires countries to issue pharmaceutical patents and implement a host of other standards that give drugmakers greater pricing power, the treaty explicitly protects countries' rights to produce generic versions of medications under a variety of circumstances.
In India, Bayer was charging $5,000 a month for its cancer drug -- a price so high that only 2 percent of Indian patients who needed it could afford it. When the government licensed a generic producer to provide the medicine for $157 a month, the Obama administration declared in a congressional hearing that the move was an "egregious" TRIPS violation.
Support HuffPost
The Stakes Have Never Been Higher
Popular in the Community