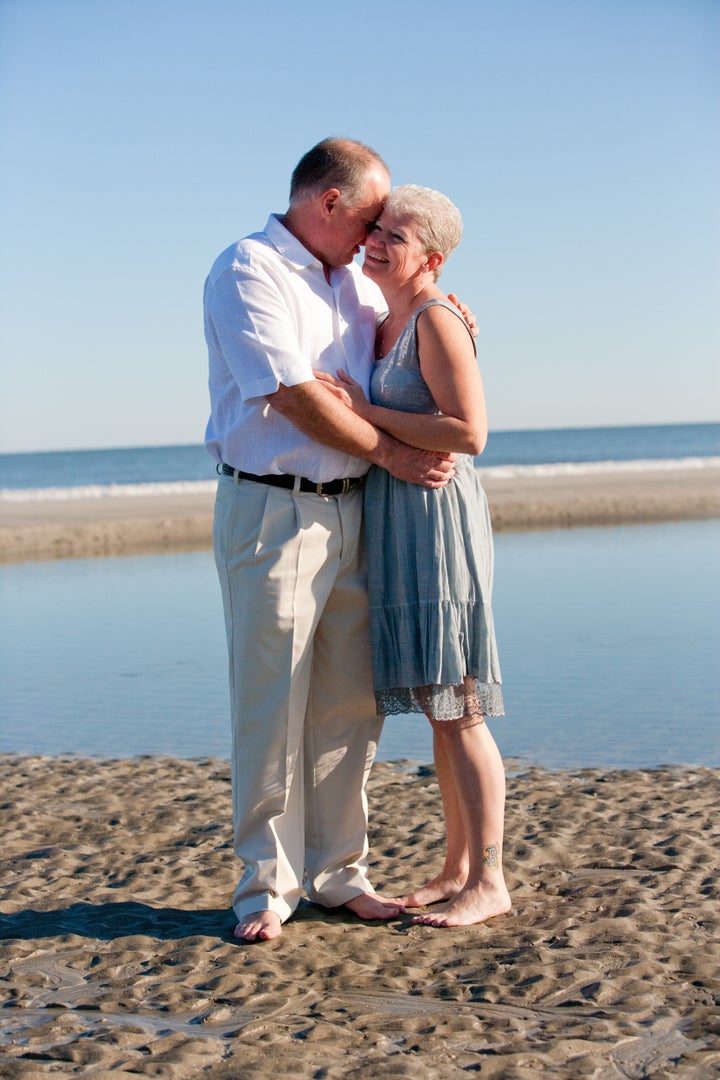 Online dating has made the idea of meeting a complete stranger a little more palatable. But would you start dating someone you met through a casual game of the Scrabble app Words With Friends? What about marrying them?
For Trish and David Palmer, it's a no-brainer. That's because the newlywed couple found each other through playing the word game on their phones. It's a unique "meet cute" story that the Palmers say seems to be fated. After David's daughter traded in his "brick phone" for an iPhone, he started playing Words With Friends and used the game's "random" function to find more competitive players than his daughter and her friends.
"I randomed someone and it ended up being Trish," David said. "She was the first person I randomed."
What began as a friendly in-game text exchange for two people sharing their life stories (both left marriages after 18 years and had two children), quickly turned into a romance.
Gaming led to texting, which led to the pair meeting each other for the first time in October 2010 for a romantic beach weekend in Texas. Trish and David Palmer took turns visiting each other every other month -- she lived in Atlanta, he lived in Houston -- before their November beach wedding in Hilton Head, South Carolina (scroll down to the slideshow below for pictures from the big day).
Trish, 41, and David Palmer, 52, spoke with HuffPost/50 about the unique way they found each other, how kismet helped them overcome the obstacles of their long-distance relationship and why Words With Friends isn't a dating service.
What was that first game like?
Trish: He totally kicked me butt. (laughs) I had actually only been playing Words With Friends for only a couple of weeks when we had our first game together, so I wasn't really that good yet. I think I had 200 points and he had close to 500 points. It was definitely a one-sided game.
After he beat me I hit "rematch." After about three or four games, I sent him a message and asked him where he was from. I had no idea if I was playing against a guy or a girl. I was just curious. He replied back that he was in Houston. And we just kind of started messaging each other via the game.
What were your first conversations like?
Trish: "Where are you? What do you do?" At one point I figured out it was a man that I was talking to. I asked if he had any kids and he said "I have two, but I'm divorced" and I said, "Oh, I have two as well and I'm separated." Little conversations back and forth. Simple, really basic "how do you do" stuff. It just kind of progressed from there obviously.
Trish: I think at some point we talked about the fact that I'm from Rhode Island and he said, "Oh, I've never been to Rhode Island!" I said, "Oh, it's beautiful! If you want, I can send you some pictures." He gave me his email address, I sent him some pictures and we started emailing each other.
So then [he asked] "Where are you in the process in your divorce? I went through it, mine was horrible. But if you have any questions, let me know, I'd be happy to talk to you." We exchanged cell phone numbers [and] we started texting each other as opposed to just texting through the game.
The first month that he and I started texting each other, I had over 9,000 texts. I actually beat my [then] 16-year-old daughter in texting for the month!
How were you feeling at the time? Were you having any romantic feelings or did you feel like this was a great friendship you unexpectedly stumbled upon?
Trish: I want to say that the romantic feelings actually started happening pretty early on. I just couldn't wait to turn on my phone in the morning to see if he had texted me. It was kind of crazy. We were an hour apart ... but I'd still stay up and we'd text until midnight.
David, how were you feeling?
David: It was just a matter of how refreshing she was. Her perspective, her thoughts… it was like somebody telling you "You're ok, too."
When did it transition from texting to actually seeing each other?
Trish: One night I was telling him [where I was going for work] and he said, "Well, when are you going to visit me?"
A day later I saw I had a weekend free in October 2010. It turned out to be his birthday weekend. We both had feelings for each other and we knew we actually had to meet face to face to see if this was truly going to work. So I got a ticket, I flew to Houston and since we both love the beach, he planned a weekend out in Galveston.
Trish: I remember the flight there, I had butterflies the whole two-hour flight. It was very hard to sit still in the seat. I just remember landing and texting him, "Ok, I landed!" And then just walking up and seeing him [in person] for the first time.
David: I'm not a very nervous type, but I was at the airport an hour and a half before she was supposed to arrive. Finding the perfect spot to stand so when she came around the corner she could see me. It was really nerve racking, just waiting for the plane to land.
Trish: I just remember coming down the hall of the airport and seeing him for the first time…
David: And I went wow! She's perfect. We had a terribly awkward first kiss. I think I missed half of her mouth and got her nose.
Trish: Then we drove to Galveston. We spent some time on the beach. He brought a bottle of wine and on our first night we sat on some steps that led to the ocean. There was a full moon, we drank the wine right out of the bottle and made shapes in the clouds. It was fabulous.
After the weekend, did you know you wanted to make it official?
David: [On the drive back home from the airport] I had to pull over because I was crying so hard. I broke down crying, [thinking about] how much I missed her, not knowing if I would ever see her again.
Trish: We knew that this was it. We knew we wanted to see each other again. We knew that the relationship was what we wanted. So we planned for him to come to Atlanta to spend New Year's Eve with me. That was our next trip. We had a countdown, it was 69 days from the time I left to the time he was going to come. Every day we counted: it's 68 days, it's 67.
David: We had talked about how I was not going to ask her to marry me. If she wanted to get married, she was going to have to ask me. She picked me up at the airport and took me to this special place downtown here in Atlanta. She's got an incredible voice and she started singing the Train song, "Marry Me" to me in the restaurant. How can you say no to that?
You can't! What happened next?
David: I applied for several jobs, some four hours from where she lived, some six hours away, some an hour away and I didn't get them. We had planned a family vacation where our kids would actually meet in Florida in Disneyworld. That was in June 2011.
Then I had an interview for a store that was extremely close, it was like about 25 minutes away. I found out right before we went to Florida for our family vacation that I had gotten the job. Florida was so awesome because our families met for the first time and she knew I was turning around and going back to Texas, packing things up and heading straight back to here. We decided to move in together.
Trish: It was absolutely fabulous. We had actually planned the wedding date before I proposed to him. Eleven is my lucky number and so 11/11/11 just seemed so fitting.
David hadn't seen some of his family in 20+ years, but they came. They made their journeys from Arkansas and Pennsylvania. His best friend from Texas came in and some of my girlfriends from work. One of the doctors I work with happened to be an ordained minister, so he came to Hilton Head for the weekend and married us! And we were all there sitting on the beach because that's exactly what I wanted.
I was really concerned it was really chilly that morning because we got married in November, it's so hard to predict what the weather is going to be like. But by the time the wedding started, the sun was out, it was probably about mid 60s, not a cloud in the sky. It was perfect. It was just another one of those things that was just meant to be.
That's so sweet! Is there anything else you'd like to add?
Trish: It's funny because when some of my friends find out we met playing Words With Friends they started playing. It's not a dating service. You never know where you're going to find love. If you believe in fate, karma, or whatever, everybody has a soul mate out there. I just had to play a random game of Words With Friends to find my soul mate.
Before You Go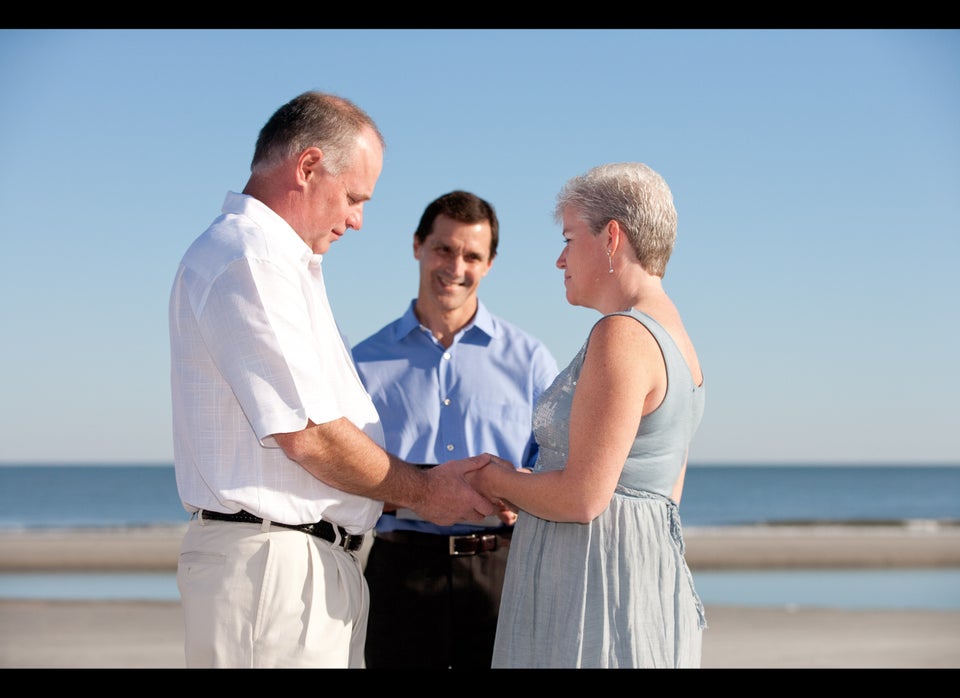 Words With Friends Couple Wedding Day
Popular in the Community