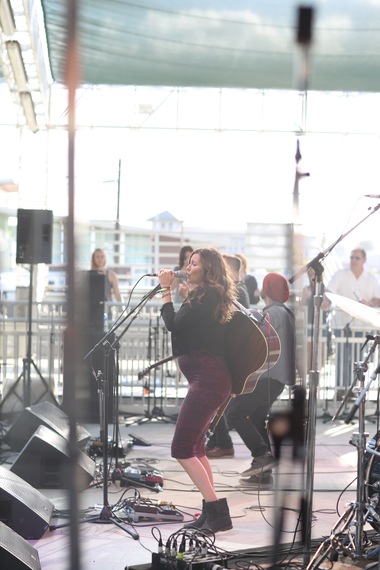 Tristan Prettyman's initial singing and songwriting success has been attributed to her audience's huge response to her sadness and heartache. Prettyman's hit songs shared an authentic vulnerability in which listeners could relate.
So how will her fans identify with the jubilantly in love and now pregnant version of their Prettyman?
"At first I felt scared to be happy, then I felt guilty for being so happy, " Prettyman shared with me. "Once I was able to accept that I deserve this joy with a good man I realized that my audience would hopefully relate to this part of my life experience, too."
Prettyman expressed her willingness to share the ups and downs of her emotional life openly and honestly with her fans as the only way she can just be herself. Following her heart has been the story of Prettyman's life.
A self-taught guitar player, by the time she entered college, Prettyman was encouraged by family and friends to play and share her music in her hometown of San Diego. She embraced her love of music and performing and moved fearlessly into the music world in her 20's.
Whether it was her early years selling CD's from a coffee cart, jumping at a chance to go on tour or getting engaged in 2014 to her now husband venture capitalist Bill Maris, Prettyman lives life wholeheartedly. Her life story seems to be a perfect combination of luck, timing and lots of hard work.
This next chapter of melding motherhood into her musical life is still a bit of a mystery to Prettyman. At age 33, (hubby's 40) and always wanting a family, she is absolutely delighted to be pregnant. She thought that during her pregnancy (due in August- it's a boy!) she would be bursting with creative ideas and spending days writing music. So far she has yet to write one note of music and lightheartedly confesses that perhaps all of her creative energy is momentarily being directed at baby making. This experience reaffirms Prettyman's belief that music and creativity happens on its own--organically.
But just because she's not creating new music doesn't mean she's not performing. Prettyman has been performing throughout her pregnancy and when I met her in May at BottleRock in Napa, California, the growing belly did not seem to slow her down or stifle her guitar playing.
"Being the best version of myself as a mother and role model for my son is important to me now," she told me. "Writing music, singing and playing guitar has always fed my soul. My happiest times have always been when I am making music and I plan to continue to write and play and perform after the baby."
Prettyman describes her life as a constant reminder to stay on one's own timeline and stay true to whatever one's heart desires. Just as her beginner dive into the world of music, Prettyman feels the same excitement now being pregnant for the first time and about to have a child. Prettyman wants to dispel any stereotype that as a woman she will leave her music career because she has children.
"While it is different for every woman, I want to honor the process as it comes, to slow down and be present and be in the moment and honor this special time. And perhaps write a lullaby or two for the new baby," Prettyman said.
Calling all HuffPost superfans!
Sign up for membership to become a founding member and help shape HuffPost's next chapter