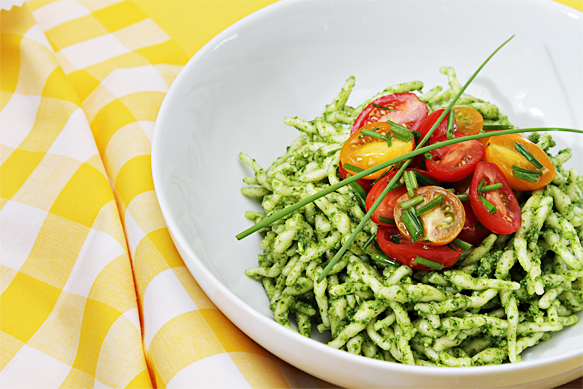 For years, my fashion career would take me on annual trips to Florence. My husband would tag along and, once business had been taken care of, we'd escape to the hills of Tuscany for a few restorative days. The place we headed for was a remote, enchanting medieval hamlet called Borgo Pretale, now an exquisite hotel.
Before long, Borgo Pretale and the charming people who run the place had become good friends and even part of our "summer" family. One evening, Daniele Rizzardini, the brilliant and endearing manager of the hotel, joined us for dinner on the lavender-lined terrace. On the menu that night were trofie, handmade little pasta squiggles.
"Do you know about 'sexy pasta'?" Daniele asked. I looked at him, incredulous, wondering if he was pulling my leg. "Let me tell you a story," he went on. "In the old days, the women of sea villages would get together in the afternoon. They would gather near the port, bringing with them a bowl of pasta dough and a chair, and casually roll trofie while waiting for their husbands to return from their fishing trips. The best part is that they rolled the pasta on the side of their knees... Sexy pasta!"
I thought the story was enchanting. Suddenly my bowl of trofie had acquired a glow and I dove right in. Sexy or not, the pasta was sublime.
A few weeks later, I found myself in my own kitchen, with a beautiful pasta dough I'd just made, trying to roll trofie on the side of my knee and feeling more than a bit ridiculous. It took a few tries for me to figure out that you had to be a fisherman's wife for this to work.
Nowadays, I'm more inclined to buy my trofie already made, but every time I take a bite of the enticing squiggles, I can't help but think of Daniele and of the sexy knees of the fishermen's wives.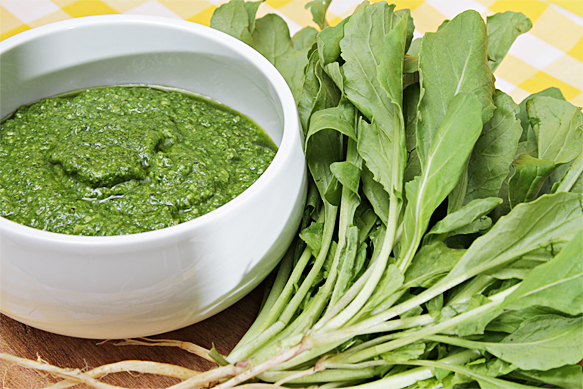 Trofie with Arugula Pesto and Flash-Sautéed Cherry Tomatoes with Garlic Scapes
Serves 4
Active time: 30 min
For the pesto
4 oz (115 g) arugula - rinsed and spun dry
1 large garlic clove - skinned
1/3 cup blanched, sliced almonds
1/4 cup freshly grated Reggiano Parmesan
1/2 cup freshly grated Pecorino Romano
1/2 teaspoon sea salt or to taste
freshly ground black pepper to taste
1/2 cup extra virgin olive oil
Step 1: To make the pesto - Place all ingredients in the bowl of a food processor. Process until it forms a creamy paste, about 2 to 3 minutes, scraping the sides of the bowl once. Transfer to a bowl, cover and keep refrigerated until ready to use.
Cook's note: Refrigerate the pesto for up to 3 days, or freeze for up to 1 month.
Step 2: Bring 6 quarts of water to a boil. When the water is boiling, add the salt and the pasta. Cook pasta until tender but still al dente. Drain well.
Step 4: When the pasta is drained, transfer to a large bowl. Spoon the arugula pesto over the pasta and toss well. Spoon pasta in bowls. Garnish with the warm cherry tomatoes and the chive tips. Finish with freshly ground black pepper if desired and serve immediately.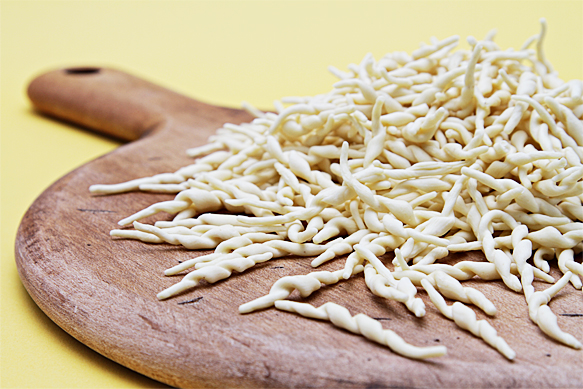 Related