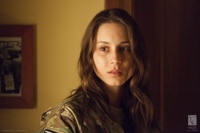 Troian Bellisario is absolutely mesmerizing as the lead in the web series Lauren, playing a young solider who is brutally raped by three comrades in arms.
"Army to the bone" Lauren fights to find the path to justice in a world full of regulations, intrigue and, yes, roadblocks to reporting sexual violence. A world where if you tell the truth, you may well face the consequences rather than your attacker. While watching the story unfold with all its nuances and complexities, I had no idea that Bellisario stars in ABC's hit series Pretty Little Liars, all I saw was a phenomenal actress, giving a much needed heart and soul to an issue, which until very recently has been a very ugly "military secret".
While Lauren is an awe-inspiring drama filled and emotion invoking ride, it's much more than that - it's the truth. One the pentagon has just begun to "own", having released a report just two weeks ago, estimating that as many as 26,000 soldiers were sexually assaulted last year. Most of which went unreported and unpunished due to internal pressure for women to "embrace the suck" as Major Jo Stone, beautifully played by Jennifer Beals, tells Lauren when she breaks ranks, and dares to come forward looking for justice. It's the stories of the real life "Laurens", who the show's writer Jay Rodan calls the "toughest of the tough", that were his inspiration for the series.

Lauren was produced by WIGS, a YouTube Channel, launched last year by Jon Avnet, Rodrigo Garcia and Jake Avnet - and this uber successful channel is all about telling women's stories. "We wanted to create shows that the women in our lives would really like" says Jon Avnet, who also directed the second season of Lauren. And these storytellers have done a really brilliant job, so much so Avnet's mother-in-law, who he says is his "toughest critic", loves Lauren.
Yet that is not all that surprising considering Avnet's passion for the story; the cast, which also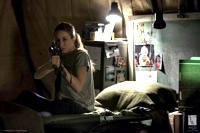 includes Bradley Whitford, Raymond Cruz, and Sarah Jones; Rodan's script; and a pretty plush set. Well, military style plush anyway, because Avnet "dragged in favors" to create a very realistic army camp, and give the cast a crash course in soldiering. For Bellisario part of that military style schooling might have been acting as if she can shoot, since Lauren is a killer shot. Yet there was no need for pretense, because as I found out during a recent chat, she is full of surprises. "I'm a pretty good shot" she says.
Lesli Linka Glatter, who directed the first season of Lauren, and Bellisario have a long history - Troian grew up down the block from Lesli, who years later encouraged her to take on the role of Spencer Hastings in Pretty Little Liars, and we know how that turned out. Then she sent over the script for Lauren, and after reading it, Bellisario was all in, telling her "I'd kill to do this". Only then did she find out she had just two days to prep, and well soldier up. While terrified, she jumped into the role, turning that terror into something really beautiful "an opportunity to boldly take on her story, and defend it fiercely." And that is exactly what she does, bringing an intensity and emotional depth to the role that is nothing short of brilliant.
One of the most powerful scenes in season two is when Lauren stumbles into the medical tent broken, battered and terrified after the rape looking for help, and finding it. Sprayed down with water, cold and shivering Bellisario shot this very complex scene over and over again for nine hours straight. While it was taxing she's "very grateful" to Avnet for letting her run it all the way through so many times, because with each one she found something different in Lauren's experience to bring to the surface. While filming was hard physically, it was also draining emotionally, but she had somewhere to go - "I was grateful I could come home, curl up next to my partner and feel safe" she said. But she is well aware that Lauren, who more often than not spends her nights clutching her rifle just in case her attackers return, didn't have that luxury."I had a safe place to go at the end of the day, and she didn't".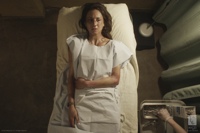 To get ready for this scene Bellisario focused on the physical aspects of Lauren's injuries - asking herself: is she bleeding from between her legs; is there dirt in her teeth from being held down in the sand; are her ribs broken from being kicked; where are her bruises and cuts; and how does she walk and talk after such a brutal attack. Understandably nervous about her performance, all of this helped her let go of her own natural desire to "do good" and just be in Lauren's skin, so she could really tell her story - and she definitely succeeds. While you're watching the scene the reason it is so very powerful, and at times even hard to watch - although you don't ever really want to look away - is because her performance is raw, and gritty and breathtakingly real.
Major Jo Stone is a role you wouldn't normally expect to find Jennifer Beals playing, but it was a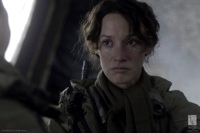 sensational choice. When Lauren refuses to give in to what Avnet aptly calls her "second rape" at the hands of the army, Stone is not only confronted with her own rape by a superior as a young soldier, she's thrust into a battle with herself and Lauren. She finds herself herself trapped between her love of the army, a world where you "embrace the suck", and one where she wants to do right by Lauren, and maybe ultimately herself. Beals makes you feel for Stone, when at times you really don't want to, and that's one of the reasons why she is so amazing in this role.
Some of Bellisario's favorite scenes are with Beals, "any scene with Jennifer is like gravy" she says. If anything that's a bit of an understatement because their on screen chemistry is extraordinary, and the relationship they bring to life is something you really do need to see for yourself.
And you can, because Lauren is on YouTube. Plus each episode is no more that nine minutes long, so you can settle down and catch up on both seasons in less than three hours - but hold on it's a hell of a ride.
Special thanks to WIGSCO, LLC for the photos.
Calling all HuffPost superfans!
Sign up for membership to become a founding member and help shape HuffPost's next chapter