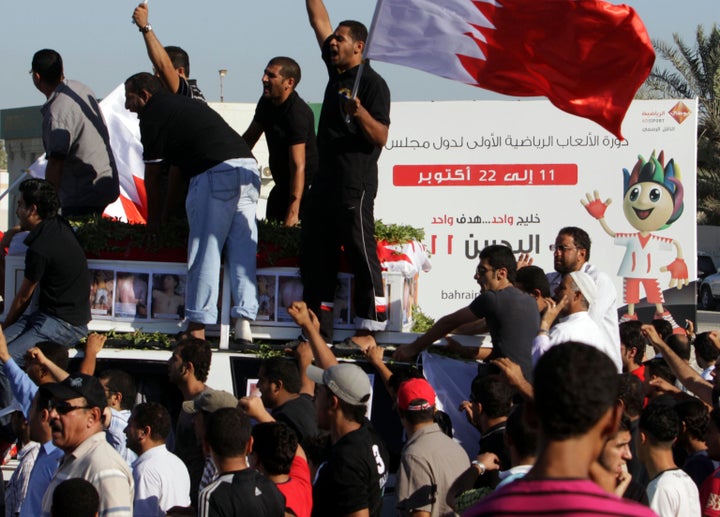 As human rights abuses persist in Bahrain, human rights defenders on the ground there are forced to take their fight for political freedom to other mediums, including Twitter. They work in the shadows, but their message is resonating around the world and drawing attention to the Bahraini government's abuses.
Unfortunately, their efforts have also drawn the attention of a highly-organized group of Twitter "Trolls" with one mission in mind, to drown out dissent with large numbers of harassing messages. Anyone who uses the #Bahrain has tag, as I often do, knows exactly what I am talking about. Every tweet is liable to spark a flood of "Troll" tweets supporting the dictatorship, accusing human rights defenders of saying all sorts of things we haven't said, and -- at times -- even issuing direct threats. To protect their identities, they use generic eggs or impossibly attractive models as their Twitter image.
Nabeel Rajab is a prominent human rights defender in Bahrain. As President of the Bahrain Center for Human Rights, he is an outspoken, courageous critic of the regime that has brutally cracked down on democracy protests since February. This year, he was awarded the prestigious Ion Ratiu Award by the Woodrow Wilson Center for Scholars in Washington, DC. They praised his "efforts to peacefully advance democratic freedoms for Bahraini citizens."
Nabeel is a prolific tweeter, with 71,000 followers (@NABEELRAJAB). He is also the recipient of regular "Troll" attacks on Twitter, harassment he believes is organized by the Bahraini regime. He recently told me, "They use threatening, bad words in Arabic... we believe it is mostly from government made accounts. They also use well-known names to get credibility, but we know that they are not the same person from the number of followers and language used."
Many of the "Troll" accounts criticizing human right activists appear to have only a handful of followers and sometimes none at all. They are set up simply for the purpose of launching tirades on other tweets, but they are not working. These rants have not deterred human rights defenders from using Twitter. It has only strengthened their resolve.
Another prominent Bahraini tweeter is the stylish Lamees Dhaif, who was recently voted Bahraini Woman of the Year by an Arab fashion magazine's online poll. She is famous across the region and beyond as a journalist and blogger. "Women get targeted in a specific way on twitter," she told me. "There are lies spread about us -- that I was sighted in a motel with someone at 11.30 at night, or that I was seen wearing a bikini, or drinking alcohol, or in an orgy. These are all total lies, but they keep repeating these things over and over to distract people's attention from what we report or say."
Lamees has 37,000 Twitter followers (@LameesDhaif). Much of the "sexual stuff" is aimed at readers in the Gulf, she says. Lamees adds that male human rights defenders are routinely accused of homosexuality and "Trolls" often give them female nicknames.
Activists equate these online attacks with those carried out by pro-Bahraini government activists who beat protestors in the street with sticks. "Some thugs are offline, some are e-thugs," said one activist. Much of the twitter language they use is sectarian.
Maryam Al Khawaja is another prominent Human Rights Defender (@MARYAMALKHAWAJA, 29,000 followers). She reports, "People from the Ministry of the Interior, they set up fake accounts. So a lot of tweets have been saying that I work for Iran, and I am going for a pro-Iran agenda in Bahrain. It's ridiculous."
Activists believe that the "Troll" community that targets human rights defenders in Bahrain is largely comprised of activists who are loyal to the Bahraini government. They organize based on language skills and are "assigned" to English-language activists or NGO researchers.
I have several regular followers who condemn my work, suggest I'm linked with terrorism, question my sexuality or that I am paid by shadowy forces to invent lies about the Bahraini regime. Here is a typical one from October 31: "@dooley_dooley still you don't get it? Shias are not welcomed anywhere in the Arab world!! Your problem you listen a lot to your boyfriend."
I will admit that Twitter harassment is a more sophisticated approach to silencing dissent than turning off the internet or shutting down accounts en masse. Exercising freedom of speech is less criticized than those widely criticized maneuvers, but it doesn't make the intent less sinister.
It's hard to know exactly how these "Trolls" are organized or recruited, but there's no doubt that they are hard at work unsuccessfully trying to silence the dissent they fear will topple the Bahraini regime. If anyone has been approached to tweet against human rights activists, I'd love to hear from you. I'm on twitter @dooley_dooley.
Related
Popular in the Community