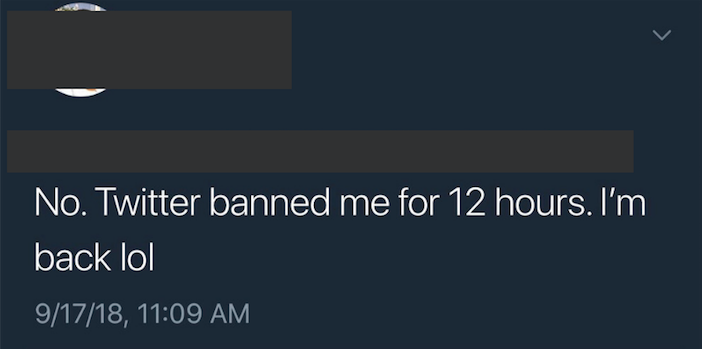 Twitter allowed tweets that listed Christine Blasey Ford's address and phone numbers and called for her to be doxxed to remain online for hours, even as hundreds of people reported them to the platform's support team.
In that time, others retweeted the messages and copied them onto Reddit, further disseminating Blasey's contact details. Since coming forward as the woman accusing Supreme Court nominee Brett Kavanaugh of sexual assault, the psychology professor who lives in Northern California has been bombarded with death threats and harassment, and has reportedly gone into hiding with her family.
Twitter initially let the troll who posted Blasey's personal information back on its platform after less than a day. "Twitter banned me for 12 hours. I'm back lol," he wrote Monday morning, then continued tweeting the details about the professor.
Twitter suspended his account again on Monday evening. Twitter officials declined to answer HuffPost's questions about why he was allowed to continue his doxxing campaign after his initial suspension, or why his offending tweets remained online for so long.
"We do not proactively look for content that breaks our rules," a spokesperson said. "The actions we take are not dependent on the number of reports we receive."
Doxxing, or posting someone's private details online, is among the most common forms of harassment on Twitter. For trolls, it's a quick and impactful way to abuse ― and in some cases, endanger ― their targets. Twitter prohibits the practice in its terms of service and acknowledges that it "may pose serious safety and security risks for the person whose information is shared," but the platform is notoriously bad at addressing the issue when it occurs.
Twitter relies on its users to bring abusive behavior to its attention, then it determines if the reported posts should be removed. The platform is often slow to respond even to urgent reports, and regularly allows malicious content to spread and gain traction before it gets removed ― if it gets taken off at all.
The company spokesperson directed HuffPost to a tweet thread about new anti-abuse measures Twitter rolled out last year. "We've launched an improved version of the system we use to rank reports for our review," it reads. "The system is now incorporating new signals to help us more quickly and efficiently identify content that may break our rules."
That approach, Twitter claims, should help prioritize reports of abusive behavior "directed at an individual."
Twitter's spokesperson declined to comment on why hundreds of reports about a doxxing campaign targeting an alleged victim of sexual assault were unaddressed for hours under the new system.
According to the profile for the doxxer's account, which HuffPost is not naming or linking to so as to not draw more attention to Blasey's personal info, he is a "Conservative, Republican and Trump Supporter" who lives in Philadelphia.
HuffPost contacted a pastor by the same name who also lives in Philadelphia, and whose photos on Facebook and LinkedIn appear to match the Twitter user. The pastor confirmed that he owns the email address that was used to create the Twitter account in 2009, but insisted he's never used the platform himself. He suggested someone had stolen his identity.
Popular in the Community