I promote my books. For one novel, I hired a publicist who turned out engaging press releases. She sent them to me for approval and then emailed them to every contact on her extensive list. She sent out dozens. That's what I paid her to do and she was a responsible publicist.
A junior editor looked at one release, decided I thought I was better than other authors, and initiated a Twitter shaming campaign that lasted about eight hours.
It struck out of the blue. Suddenly my Twitter feed lit up with nasty tweets, many personal, directed at me. It was shocking and confusing. It took me a while to figure out what was going on. Then I did the best damage control I could.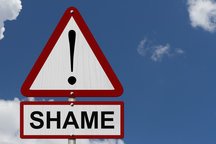 I can only imagine how horrible a longer Twitter shame-barrage would have been. Eight hours was enough to leave me with a few weeks of mild PTSD. I never understood the point of the shaming episode. What pleasure did the junior editor and her cohorts take in such scathing nastiness? What did they hope to accomplish beyond making me feel badly? I certainly never felt that I was better than other authors, though I will balance that by saying that I have worked hard over the decades to write thousands of pages of prose. I take pride in whatever craftsmanship I accomplish.
A very different episode. I went to pick up my daughter at her bus stop. As a writer, I work out of a small home office. I seldom dress up for that. I brushed my teeth that morning and swiped on sun block--that was the extent of my ablutions. I trotted to the bus stop in my usual stinky yoga clothes.
At the bus stop waited an attractive young African American woman. I sidled up to her and casually chatted, the way parents do.
She suddenly snapped, "I'm not the nanny! I'm the mom!"
Given the current racial tensions, I must preface my remarks by saying that this was a bus stop for a private school in Manhattan. I am sure that this well-turned-out young woman had been mistaken for the nanny. Probably more than once. Few of the private schools here are as well integrated as one would hope. Most are putting honest effort into greater diversity.
On this particular occasion, this young woman correctly noted the calculation in my eyes. Then she incorrectly interpreted it. Yes, I certainly did look at her and make a judgment. But it wasn't the one she projected onto me.
I was thinking, "Traci, look how nice she looks. You need to dress better. You don't have to come to the bus stop looking like a schlub. For pete's sake, woman, take twenty minutes to make yourself presentable."
I think women of any race will relate to this self-criticism. But until the other mother spoke up, the issue of race had never occurred to me. It was about me looking dowdy.
At the time, I was surprised and flustered. I murmured something like "That's what I thought." I felt badly for this woman whose life experience had brought her to this point of assuming that another mom was judging her when I was only judging myself.
Another example. Now I confess to a certain tolerance for unconventional people. There are many worthy trapezoidal pegs; I don't want to force them into square holes. Unfortunately, this attitude means that sometimes nutters slip inside my sphere. I did business with one such. My husband and a friend gleaned that this person was shaky; they warned me. I didn't heed them. I should have, because when I made a decision this person didn't like, they sent me dozens of crazed, threatening emails full of violent imagery. I blogged about this before, because I was helped by an organization called haltabuse.org that works to stop email harassment.
What these painful and bewildering episodes have in common is the phenomenon of projection. The Twitterers, the other mom, and the business fruitcake took something within themselves and projected it outward onto me. I knew this intellectually at the time, but it didn't solace me. I had to work with myself to return to my center in the face of the onslaught. I think, for the Shamers and the Harasser, that's what they wanted: to hurt me.
Obviously the mom felt that she was standing up for herself. Though she was projecting onto me, my interaction with her fits into a different category because she didn't intend to cause harm. Nor did I feel hurt by her. I felt surprised, then I felt compassion.
Indeed, what continually surprises me about our culture now is how little compassion there is, and how widespread the phenomenon of lashing out has become. It often goes along with high self-righteous indignation that reeks of self-pleasuring. I have come to believe that self-righteous indignation is best enjoyed in private.
Recently my husband sculptor Sabin Howard came into the spotlight when he, with architect-in-training Joe Weishaar, won the WW1 Memorial design competition. Someone used social media to disparage Sabin, claiming that Sabin's beautiful neoclassical works were "Nazi-like."
The irony is that Sabin is at least one-quarter Jewish. His grandmother was a German Jew. His mother is Italian and I will never forget the dinner when Zio Carlo, upon hearing that I am Jewish, leaned over and whispered, "Ours is an Italian Jewish name. We are descended from Jews who were forcibly converted."
One hater posted a video of Sabin sculpting in a friend's studio as "proof" that Sabin's work is Nazi-esque. But this studio belonged to a dear friend who happens to be gay and recently married to his long time partner. Since Sabin is famed for his male nudes, which are sublimely beautiful but not eroticized, we have, in our inner circle, many cherished gay friends. The Nazis would not have appreciated Sabin's Jewish heritage nor his inclusiveness. Nor, I dare say, his Jewish wife.
I remain proud of Sabin's neoclassicism. Beauty is beauty; we don't have to allow a single ideal of beauty to languish as the province of murderous sociopaths. I wouldn't give the Nazis that satisfaction.
Ultimately, I don't want to give satisfaction to those who lash out, either. But it's worth noting that negative projection causes pain. We are all human beings here, even if social media and email allow for depersonalization and anonymity. "If you prick us, do we not bleed?" Indeed we all do.
Related
Popular in the Community