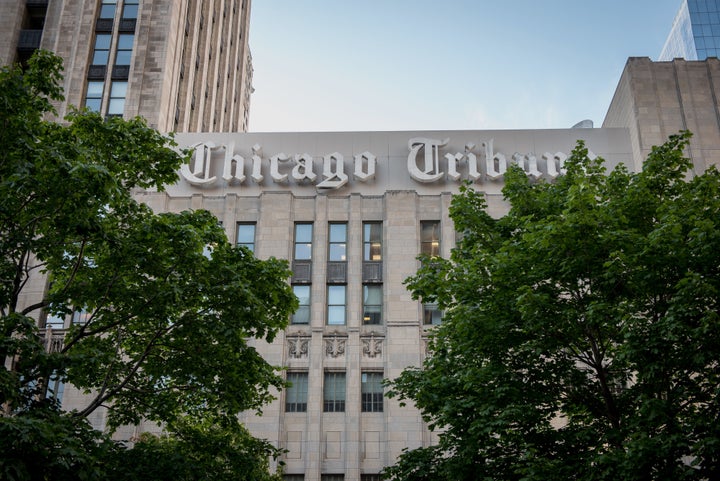 Tronc, the publicly traded media company that ran an intense anti-union campaign at the Los Angeles Times last year, has switched course in Chicago, where it decided this weekend to voluntarily recognize the Chicago Tribune Guild. 
"The company has agreed to recognize three Chicago-based collective bargaining units and looks forward to productive conversations with union representatives," a Tronc spokesperson said in a statement.
"As we move ahead," she added, "we need to be united as one organization with an important purpose—to help the company transform and thrive as a business, and to serve our readers world-class journalism."
The Guild represents not just the Chicago Tribune newsroom, but also the Chicago lifestyle site RedEye, the Spanish-language newspaper Hoy, the Naperville Sun, the Elgin Courier-News, the Daily Southtown and the Aurora Beacon-News. The committee said more than 85 percent of people in the newsrooms signed cards in support of the union. 
Tribune staffers first announced its intention to try and form a collective union at the newspapers less than a month ago ― inspired by organizing efforts at the Los Angeles Times, where the newsroom voted to unionize in January in spite of an anti-union campaign by Tronc. Weeks after the vote, the media company agreed to a deal to sell the newspaper to billionaire Patrick Soon-Shiong. 
In a letter to staffers, the Tribune Guild's organizing committee called Tronc's decision to forego a prolonged anti-union campaign in Chicago by voluntarily recognizing the union an "extraordinary development."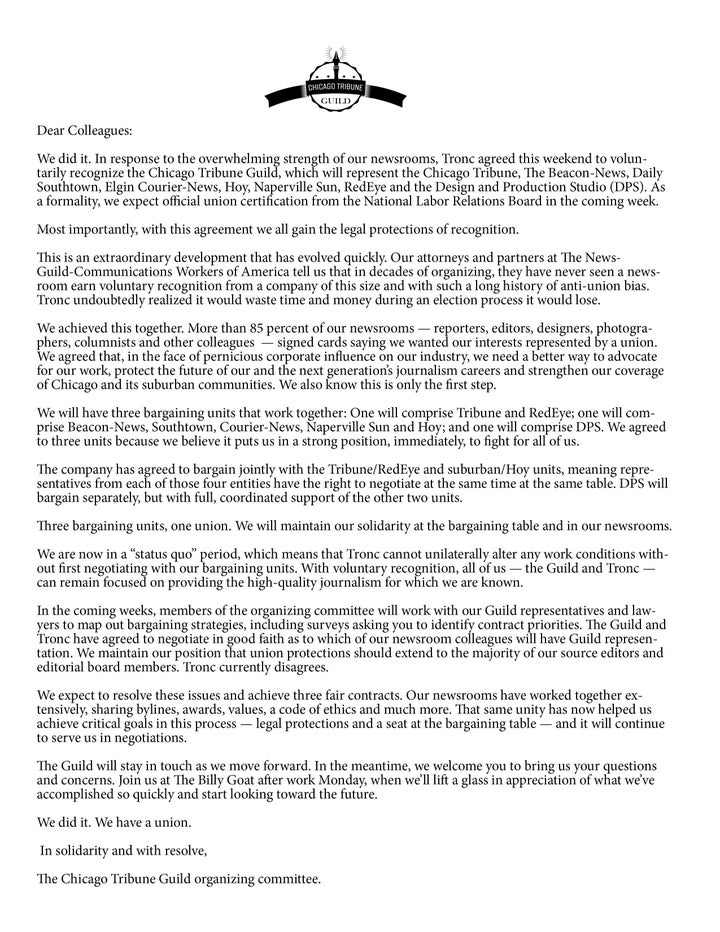 "Our attorneys and partners at The News-Guild-Communications Workers of America tell us that in decades of organizing, they have never seen a newsroom earn voluntarily recognition from a company of this size and with such a long history of anti-union bias."
"Tronc undoubtedly realized it would waste time and money during an election process it would lose."
Additionally, the committee announced that the Tribune and RedEye will bargain as one unit, while Hoy and the suburban newspapers will bargain as another. The Tribune's Design and Print Studio will bargain as a third. 
"Three bargaining units, one union," the committee said. 
This piece has been updated to include additional information about the Los Angeles Times' unionization efforts. 
REAL LIFE. REAL NEWS. REAL VOICES.
Help us tell more of the stories that matter from voices that too often remain unheard.