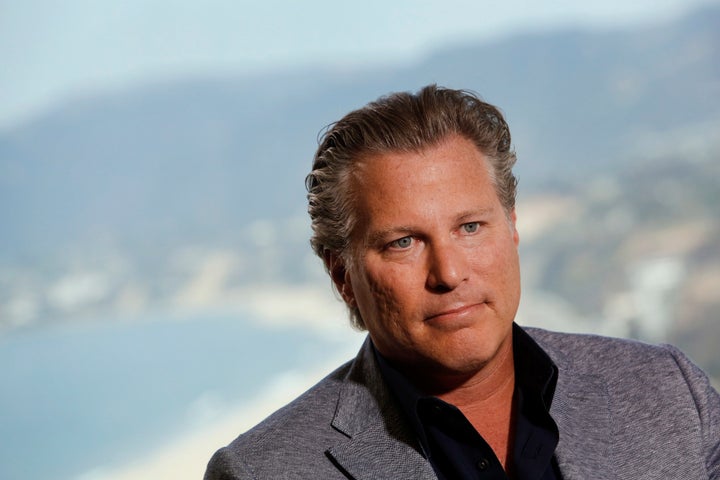 On the same day that Tronc officially announced a deal to sell the newly unionized Los Angeles Times, the media company said it had made another key decision: to bring back the paper's ex-publisher, Ross Levinsohn, following an investigation into past alleged "frat house" behavior. His misdeeds reportedly drove a couple of sexual harassment lawsuits and included a sneering comment about leaving a Hollywood Reporter luncheon on account of all the "ladies and fags."
Tronc's CEO pronounced the company "pleased." The women and gay people at Tronc may feel otherwise. 
The company told investors Wednesday that it was reinstating the former chief executive and publisher of the LA Times after an investigation by an outside law firm found "no wrongdoing on the part of Mr. Levinsohn," who was placed on a leave of absence during the inquiry. He will return as CEO of Tribune Interactive, a newly formed digital arm of Tronc.
"We are pleased that Ross will be back to work," Tronc CEO Justin Dearborn said in a statement. "We have great confidence in him and the team to deliver value for our shareholders through growing digital audiences for our award-winning journalism, new creative content and product initiatives, and growing digital and diversified revenue streams."
Tronc placed Levinsohn on leave after NPR's David Folkenflik published a lengthy investigation last month into his behavior prior to joining the Times in August. After reviewing court documents and financial filings and interviewing 26 people who knew the executive, Folkenflik reported that:
Levinsohn was sued in separate sexual harassment lawsuits as an executive at two different corporations. By his own sworn testimony, Levinsohn admitted to rating the relative "hotness" of his female colleagues in office banter as a vice president at a digital media company. He also testified that he speculated about whether a woman who worked for him there was a stripper on the side.

Two witnesses say they were shocked to see Levinsohn aggressively kissing and pressing himself against a woman at a glitzy music industry dinner in plain view of his subordinates and his clients. Levinsohn was married at the time.

Levinsohn once told an executive for the Hollywood Reporter he would not stay at the publication's lunch honoring the entertainment business's most influential fashion stylists because he would have to be surrounded by gays ― using a vulgar epithet for them, according to the executive.
Levinsohn was placed on leave one day after NPR's report. At the time, Dearborn, the Tronc CEO, told staffers, "We will not hesitate to take further action, if appropriate, once the review is complete."
Helping Levinsohn to run Tribune Interactive will be Mickie Rosen and Lewis D'Vorkin, who have been named president and chief content officer of the division, respectively. Both Rosen and D'Vorkin served in high-powered positions at the Times during Tronc's rocky time in control of the paper ― Rosen as president and D'Vorkin as editor-in-chief. 
Levinsohn and Rosen, in particular, appear to be something of a package deal. He has a non-solicitation clause in his contract that, in the event of his departure from the company, prevents him from hiring away any other Tronc people for a certain period of time — with the exception of Rosen.
D'Vorkin's short run at the helm of the Times proved especially contentious, as he became obsessed with leaks to outside reporters and started to hire editors who Times employees worried were part of a non-union shadow operation. Tronc ultimately promoted D'Vorkin away from the paper and replaced him with Jim Kirk, who'd previously held the title of interim editor-in-chief. 
Tronc did not return a request for additional information about the investigation into Levinsohn.
Calling all HuffPost superfans!
Sign up for membership to become a founding member and help shape HuffPost's next chapter