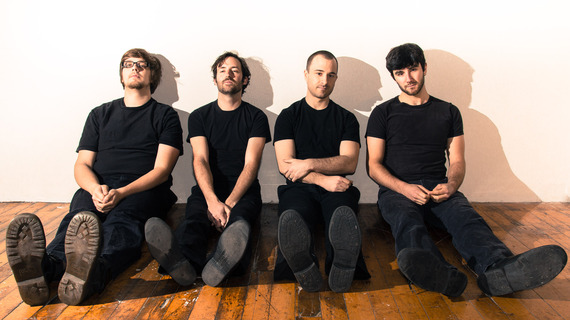 A Troop of Echoes recorded the majority of their latest album, "The Longest Year on Record," in their hometown of Providence, Rhode Island. Starting this May, they will be leaving Rhode Island and traveling to a town near you.
A Troop of Echoes includes saxophonist Peter Gilli, guitarist Nick Cooper, bassist Harrison Hartley and drummer Dan Moriarty.
They describe themselves as "a rock band with a saxophone, instead of vocals." The description is on target. Although the music is influenced by jazz, don't mistake it for jazz. It is definitely rock and roll.
Why did you decide to play rock & roll rather than jazz? Do you consider your music rock?
Pete: We're definitely a rock band, and we've all been rock musicians since day one. We decided to play rock music because that's where we came from, even if elements of jazz creep in from time to time. We all developed our sound together, and I try to play the saxophone in a way that can hold up with a really hard-hitting rock band.
Dan: I think Pete's crafted a pretty righteous style, sounding like some mutant blend of pyrotechnic lead guitar and catchy vocals.
I noticed that you have a food blog. I've never seen a band with a food blog. What is the last restaurant that you've visited? Do you have a favorite restaurant?
Pete: That was Dan's idea, actually! A few years ago on tour we got really sick of eating at all the Burger Kings up and down the 95 corridor, so we started asking people at each city where to get decent cheap food. We've found ourselves at a variety of wonderful and insane eateries around North America since then. Our reigning favorite is the Annabel Lee Tavern in Baltimore. It's practically home.
If you were inducted into a music hall of fame, who would you want to present the award?
Harry: That's funny, definitely not something we've thought about. We'll have to get back to you on that one.
When you started the band, what was your vision? How far off (or close to) are you from that vision?
Pete: Basically, all we've ever wanted to do is write good songs. It's the kind of goal that no matter how much progress you make, there's never a moment when you're "done." That said, we definitely try to combine each person's "voice" on their instrument into something that feels seamless and packs an emotional punch. We feel like with this record we've definitely hit it pretty close.
What are your long-term goals?
Nick: We've had our eye on touring Europe for a while. That's the next milestone on our list. It was a huge effort to get the album made, and right now we really want to get it heard. So we're getting ready to take it out on the road and see what happens.

What do you like to do when you aren't doing something music-related?

Dan: It seems like all we've been doing recently is playing music and attending our friends' weddings. Its a breezy lifestyle.
My kid is switching to the saxophone. Do you have any advice for people that are just starting to learn how to play either saxophone or instruments in general?

Pete: Congrats! Having a teacher when you're first picking up sax definitely makes things way, way easier. They can help save a lot of time and keep you from falling into weird habits early on. And finding a community of people to play with once you get going is huge.

Do you have any roadies or do you still do your own stage setup?

Harry: We still carry all our own stuff. It turns out being in a rock band is like 40% musicianship and 60% driving skills and physical stamina. It has it's pros and cons, but when you're soldering wires in the backseat during a 12 hour drive to New Orleans, roadies sound like a pretty good idea.

Where was your first gig?

Harry: We played this suburban hole in the wall called The Blackstone. When we showed up, the only two people in the bar were wasted and throwing barstools at each other. There was no clear winner, and they ended up hugging it out.
Popular in the Community