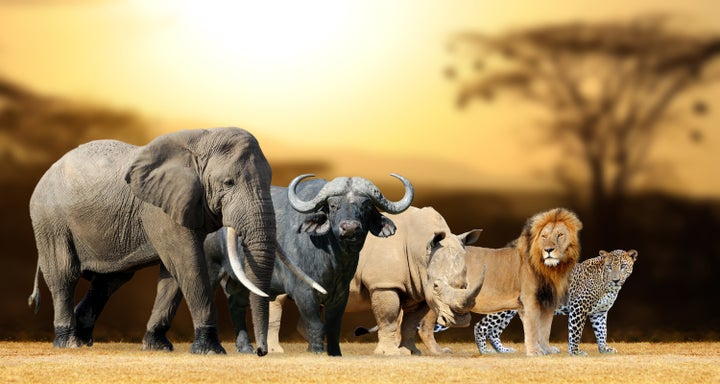 WASHINGTON — Most trophy hunters consider displaying the head, hide or tusks of a kill just as important as bagging the big one. And advocates of this controversial sport wasted little time asking Interior Secretary Ryan Zinke to change some policies that would ensure hunters could bring exotic wildlife killed in other countries into the United States.
In a July letter, which HuffPost obtained last week as part of a Freedom of Information Act request, eight trophy hunting organizations urged Zinke ― who talks often about the hunting community's contributions to conservation and was quick to outfit his office with taxidermied creatures ― to take swift action to right the perceived wrongs of the previous administration.
Conservation Force, a trophy hunting advocacy group based in Louisiana, spearheaded the July letter. In it, the nonprofit's president, John J. Jackson III, and executives at several safari clubs and sport hunting advocacy groups called on Zinke to walk back several Obama-era regulations.
First, they asked the interior secretary to roll back a pair regulations that prevented U.S. hunters from importing the trophies of lions and elephants killed for sport in certain African countries. The organizations also petitioned the new administration to reform how the Endangered Species Act is applied to species outside the U.S., and to reject a petition calling on the U.S. Fish and Wildlife Service to list all African leopards as endangered under the ESA and restrict hunters from importing their parts. They also called for Zinke to revise seizure and forfeiture practices that they say "discourage lawful tourist hunting."
The letter writers noted the groups' members annually "contribute tens of millions of dollars to the conservation of wildlife and protection of habitat across the globe." They warn that failing to implement the recommendations could hurt African economies, incentivize poaching and threaten the survival of iconic species.
"This is not an ideological issue to us," Jackson told HuffPost. "It's traditional conservation practices."
He called the letter to Zinke an "emergency request" and "an urgent wish list."
A little more than three months after the letter landed on Zinke's desk, FWS started fulfilling that wish list — be it strategic or by coincidence.
But then President Donald Trump tweeted that he was putting elephant trophy imports on hold ― reversing his own administration's decision less than 15 minutes after FWS released an official announcement. He called trophy hunting a "horror show" and said he was unlikely to allow for such imports.
More than two months later, neither the administration nor the Interior Department has made an official announcement. But in an interview with Piers Morgan that aired Sunday, Trump indicated that the ban on importing elephant trophies will remain in place.
Jackson is among those who argues that expensive safari hunting is crucial to the conservation of big game species. He says the Obama administration failed to protect African species, interrupting the flow of money that groups in Africa use to fight poaching and protect habitat.
"If these elephants' survival is dependent upon that revenue — those incentives to the government, to the local people — then any delay is detrimental," he said. "We're talking about hurting the species."
Jackson said the Trump administration has not lived up to his expectations.
"We're disappointed in the progress that's been made so far," he said. "Part of it is because of the president's hold on the progress that had been made [by Fish and Wildlife]."
That Trump would side with the conservation community over gun rights and hunting advocacy groups is surprising. His sons Donald Trump Jr. and Eric Trump are avid big game hunters. In a photo that surfaced in 2012, Trump Jr. can be seen holding the tail of an elephant he shot and killed in Africa.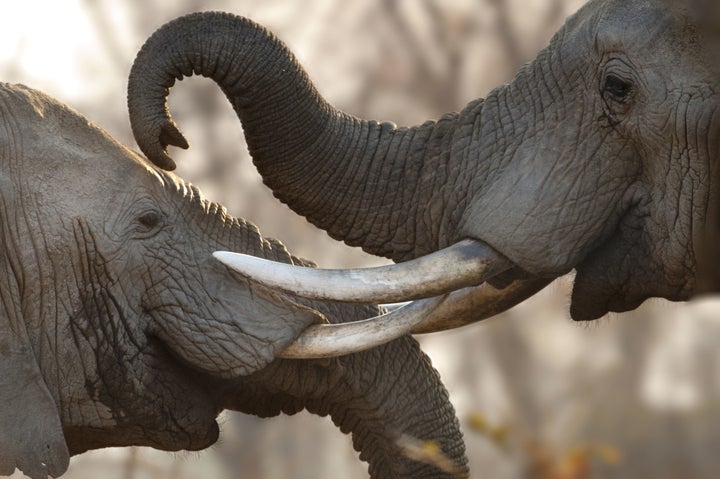 Jackson isn't alone in his frustration. A day after Trump suspended his administration's decision to allow elephant imports, the Safari Club sent out a "call to arms," in which the group encouraged hunters to complain to Trump and Zinke and blasted "hysterical anti-hunters and news media outlets."
Conservationists and animal rights advocates applauded Trump for stepping in.
"This is the kind of trade we don't need," Wayne Pacelle, CEO of The Humane Society of the United States, tweeted in November.
The Center for Biological Diversity and the Natural Resources Defense Council filed a lawsuit against the administration Nov. 20, seeking to clear up any confusion about where things stood and to block the Trump team's effort to roll back the bans on importing elephants and lions. The government's actions are "arbitrary and capricious," the conservation groups wrote in their complaint.
"It would seem that Zinke is letting Safari Club set Interior's agenda on wildlife just like other industry representatives are setting the rest of Interior's work, which is a travesty for wildlife and wild places."
African elephants have been listed as threatened under the Endangered Species Act since 1978. African lions were listed in 2015. A provision of the law, which is intended to safeguard threatened species and the habitats critical to their survival, allows for sport-hunted trophies to be imported if the government determines that hunting will help safeguard the population. The FWS concluded that Zimbabwe, for example, had made strides to improve elephant management and anti-poaching efforts, according to a notice published in the Federal Register.
The decision on elephant trophies has raised questions about Zinke's close relationship with the sport hunting community, in particular the Safari Club. The organization's political action committees donated a collective $24,500 to Trump's presidential campaign and Zinke's 2014 and 2016 congressional bids, according to Federal Election Commission data.
"It would seem that Zinke is letting Safari Club set Interior's agenda on wildlife just like other industry representatives are setting the rest of Interior's work, which is a travesty for wildlife and wild places," Tanya Sanerib, the international program legal director at the Center for Biological Diversity, told HuffPost via email.
The Trump administration has not yet moved to fulfill any other demands from the sport hunting groups.
But in his time at Interior, Zinke has worked to promote and increase opportunities for hunting and fishing. He installed a "Big Buck Hunter" arcade game in the cafeteria of Interior Department headquarters, which he said would highlight the contributions that hunting and fishing communities make to conservation. And in November he announced the creation of a so-called International Wildlife Conservation Council to advise him on "the benefits that international recreational hunting has on foreign wildlife and habitat conservation, anti-poaching and illegal wildlife trafficking programs." Jackson told HuffPost he is among department's nominees to serve on the council.
During his interview with Morgan, Trump said "a very high-level government person" was responsible for the "terrible" decision to lift the Obama-era ban, but he didn't specify who that was. "I totally turned it around," he boasted.
Neither the White House nor the U.S. Fish and Wildlife Service responded to HuffPost's request for comment on which high-ranking official made the decision and on whether Trump is planning to keep the trophy import bans in place.
Read the full July 4 letter below. Along with Conservation Force, it was signed by representatives of the Dallas Safari Club, Dallas Safari Club Foundation, Houston Safari Club, African Safari Club, Wild Sheep Foundation, Grand Slam Club/Ovis and Chancellor International Wildlife Fund, Inc.
Popular in the Community