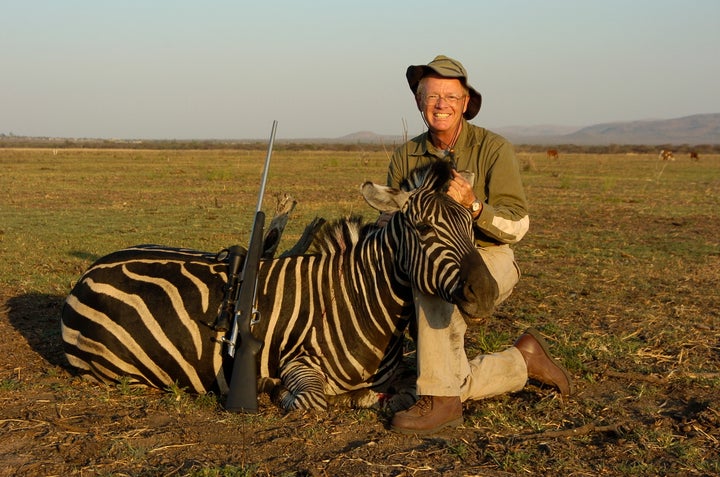 (Photo Courtesy of the Humane Society of the United States)
Trophy hunting is a despicable practice that even many hunters disagree with because of clearly unsportsmanlike practices like hunting animals in fenced enclosures, baiting, and using dogs to chase and exhaust wild animals. But the bottom line is that trophy hunting is simply killing for fun or bragging rights and no real hunter who follows any sense of ethics would participate in this blood sport.
Last year, The Humane Society of the United States used data from the U.S. Fish and Wildlife Service to determine that between 2005 and 2014, 1.26 million trophies were brought into the U.S. This is an average of 126,000 trophy imports per year or 345 per day.
The killing of Cecil the lion by American Walter Palmer demonstrated to the world how inhumane trophy hunting is. Cecil was in Hwange National Park in Zimbabwe and wore a collar that transmitted data about his movements back to researchers. This didn't stop Palmer and his guides from luring the lion outside of the protected preserve with meat and then stalking and killing him. People were outraged and rightfully so.
Even with Walter Palmer as one of its members, Safari Club International continues to facilitate selling trips around the world to kill the rarest animals for their heads and hides. Their recent convention in Las Vegas in February offered the following options to wealthy individuals:
· a Zambian leopard, sable, roan and plains game hunt for $81,000;
· a Canadian polar bear trophy hunt for $72,000;
· a New Zealand red stag and tahr hunt for four people for $92,000.
SCI maintains that it is a "conservation" group that contributes substantially to the economies of poor African nations. Nothing could be further from the truth. To coincide with the meeting in Las Vegas, Humane Society International (HSI) released a study conducted by Economists at Large that finds that trophy hunters have overstated their contributions to African economies and employment.
In Botswana, Ethiopia, Mozambique, Namibia, South Africa, Tanzania, Zambia and Zimbabwe, trophy hunting brings in just 0.78 percent or less of overall tourism spending and has a marginal impact on employment, accounting for 0.76 percent or less of tourism jobs.
The fact is the segment of the tourism industry in Africa that does not rely on hunting is growing faster and employs 132 times more people than the trophy hunting industry. The tourism ministries of these eight countries must recognize the damage trophy hunting causes to their brand. We should call on these ministries to lead the charge in banning trophy hunting, something Botswana and Kenya – both prosperous tourism destinations – have already done.
Trophy hunting is still big business for SCI. In 2015, revenue from the convention was $14.3 million out of a total revenue of $22.7 million. The money is used to open up trophy-hunting seasons on wolves, fight any efforts to restrict the hunting of African elephants and lions, and lobby Congress to enable hunters to import endangered polar bear trophies into the U.S. or increase hunter access to public lands.
Trophy hunters are losing ground. In 2014, the U.S. Fish and Wildlife Service restricted imports of elephant trophies from Tanzania and Zimbabwe, as well as conferring threatened and endangered status for African lions. Cecil's shooting prompted numerous major airlines, including Delta, Virgin Atlantic, and United, to ban the transport of some or all trophies from Africa.
It is up to us to put pressure on Congress to continue to pass laws that limit trophy hunting. This will not be easy as President Trump's sons are avid trophy hunters. We also need to encourage African nations to turn to viable alternatives to trophy hunting, like ecotourism, which promises sustained growth, much higher economic value, and greater contribution to employment.
Cecil the lion cast a light on this inhumane practice. In his memory, let's save other big game from wealthy people who are neither hunters nor conservationists – they are cold blooded killers.
Related
Popular in the Community