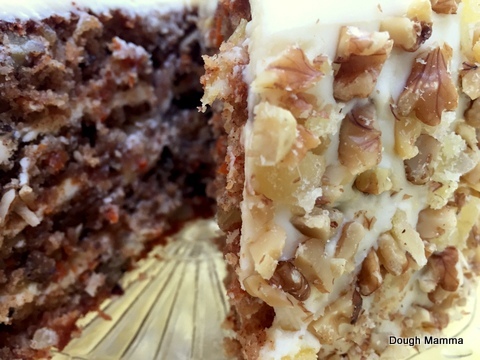 True confession, I ate 1/4 of this cake by myself before pleading with my husband to take it to work. It started innocently enough, a bite here, a bite there. Then it turned into a sliver here and a sliver there. Before I knew it, my beautiful 8 inch cake looked like Pacman incarnate. Damn you delicious cake, I was doing pretty well with my sugar intake until you came along. Public service announcement: share this cake with friends or you may need to go shopping for a larger pair of pants.
Carrots, pineapple, coconut, rum - oh my. Throw in some macadamia nuts and we are talking tropical carrot cake paradise. Rich with flavor, a moist delicate cake crumb and a nutty crunch, this cake is a real crowd-pleaser. Topped with a cream cheese frosting, decadence has a new name and it's Tropical Carrot Cake.
Enjoy!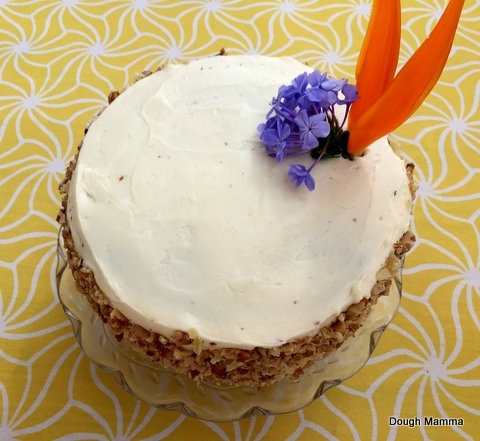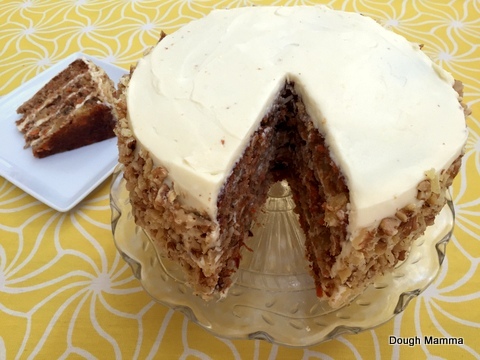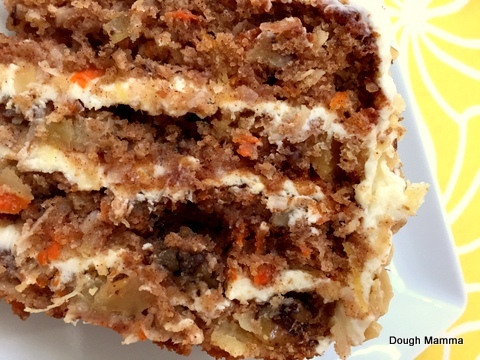 Title: Tropical Carrot Cake
Author: Bon Appetit 2003
Prep time: 30 mins
Cook time: 30 mins
Total time: 1 hour
Serves: 10
Notes: I didn't have macadamia nuts, so I used walnuts. Macadamia nuts are very rich, sweet and "fatty" tasting. I personally like the contrast of walnuts, they are a bit more earthy and take a bit of bite out of the sweetness, use whichever you prefer. Make sure your pineapple is well- drained. You can place pineapple in a kitchen towel and squeeze dry.
Ingredients
Dry Ingredients
9¼oz of sifted all-purpose flour (sifted, then measured)
1 cup sweetened flaked coconut
1 cup dry-roasted macadamia nuts
¾ chopped crystallized ginger
3½ tsp ground cinnamon
2½ tsp baking powder
1 tsp salt
½ tsp baking soda
Wet Ingredients
14 oz of sugar
1 cup of vegetable oil
4 large eggs
2 tsp vanilla extract
2 cups of finely grated and peeled carrots
2 8oz cans of crushed or diced pineapple in it's own juice, well drained
Frosting
3 8oz packages of Philadelphia-brand cream cheese, room temperature
¾ cup unsalted butter, room temperature
8 oz powdered sugar
¾ cup canned sweetened cream of coconut (Coco Lopez), or to taste - find in liquor section
1 tsp vanilla extract
½ tsp coconut extract
Topping
1 cup of macadamia nuts
¼ cup chopped crystallized ginger
Instructions
Preheat oven to 350 degrees F. Butter three 9-inch diameter cake pans with 1½ inch high sides. Line bottom of pans with parchment paper. Combine ⅓ cup of flour and next three ingredients in processor. Process until nuts are finely chopped. Whisk remaining 2 cups of flour, cinnamon, baking powder, salt and baking soda in medium bowl to blend.

Using an electric mixer, beat sugar and oil in a large bowl to blend. Add eggs one at a time, beating well after each addition. Beat in vanilla. Beat in flour-spice mixture. Stir in coconut macadamia mixture, then carrots and crushed pineapple.

Divide butter among greased and parchment lined pans. Bake until tester inserted into center of cakes comes out clean, about 30 minutes. Cool in pans on racks for about 1 hour. Run knife around edge of pans to loosed cakes. Turn cakes onto racks: cool completely.

For Frosting
Beat cream cheese and butter in a large bowl until smooth. Beat in powdered sugar, then cream of coconut and both extracts. Chill until firm enough to spread, about 30 minutes.

Place 1 layer of cake flat side up on platter. Spread ¾ cup of frosting over top of cake. Top with second layer of cake, flat side up. Continue the process. Cover cake with a thin layer of frosting then put in refrigerator to chill. Chill for 1 hour. Spread remaining frosting over top and side of cakes. Arrange nuts on frosting. Allow to stand at room temperature for 1 hour prior to serving.