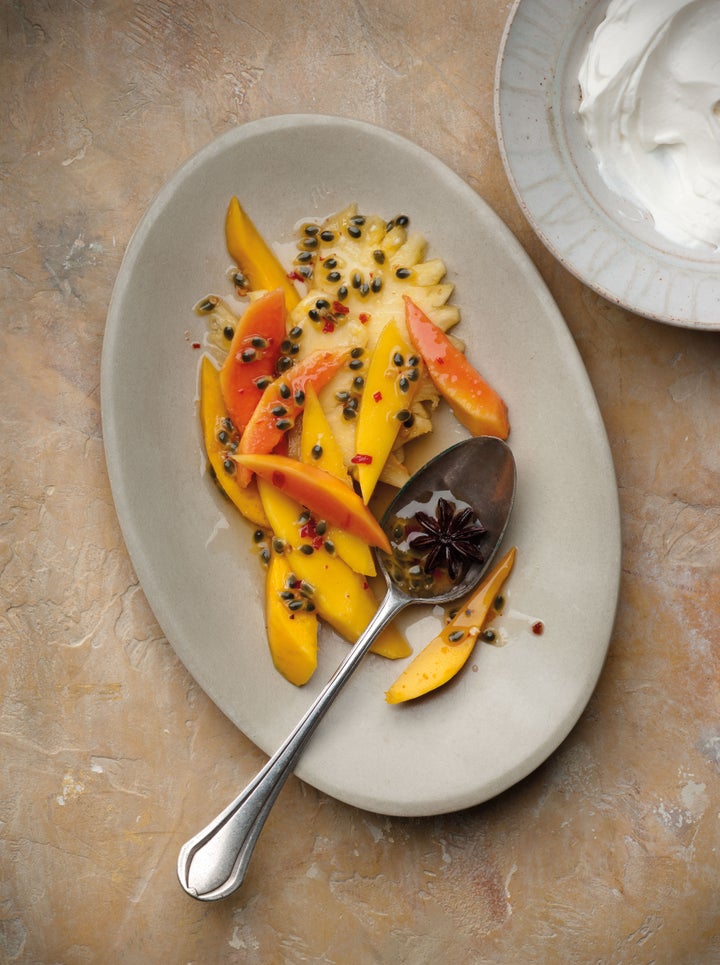 My delicious tropical fruit salad with a chilli, star anise, cinnamon and lime dressing is the perfect dish to round off the summer. The wonderful assortment of tropical fruits is brought to life with a beautiful sweet dressing, which has a sight hint of chill, warming cinnamon and fragrant star anise. The whole dish is freshened up with wonderful tangy lime and perfumed passion fruit -- this is sunshine in a bowl, I know you will love it!
Tropical Fruit Salad with a Chili, Star Anise, Cinnamon and Lime Dressing
Scant 1/2 cup sugar
2-inch piece cinnamon stick
2 star anise
1/4 teaspoon chili flakes
Juice of 2 limes
Seeds and pulp of 3 passion fruit
1 mango, peeled, pitted and roughly chopped
1/2 pineapple, peeled, cored and roughly chopped
1 papaya, peeled, seeded and roughly chopped
Plain yogurt, to serve
1. Put the sugar, cinnamon, star anise and chili flakes into a large pan with 1 cup water and bring to a boil over high heat. Stir continuously 1 minute, or until all the sugar dissolves, then reduce the heat to medium and simmer, shaking the pan occasionally, 10 minutes until the liquid reduces to a thin syrup. Transfer the syrup to a mixing bowl and set aside to cool. Remove the cinnamon to stop its flavor overpowering the dressing, but reserve for decoration, if liked.
2. Once the syrup is cool, pour in the lime juice and passion fruit and mix well. Add the mango, pineapple and papaya, then toss together so the spicy, sweet-sour flavors of the dressing coat the fruit.
3. Serve at room temperature or chilled with a generous dollop of yogurt and the star anise and cinnamon, if liked, arranged on top.