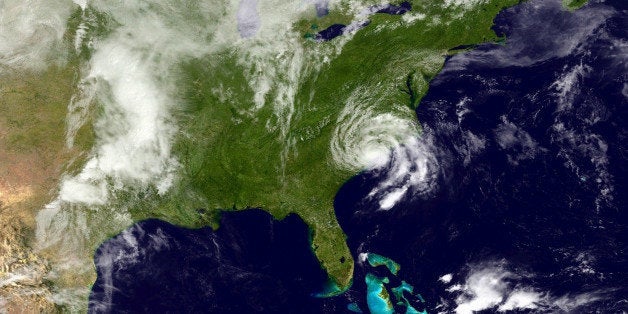 CHARLESTON, S.C./SIOUX FALLS, S.D., May 10 (Reuters) - Hail, snow, flooding, a tornado and a tropical storm made it a "severe weather" Mother's Day in much of the center of the United States and on the Carolina coast on Sunday.
Rescue helicopters in Denton County, Texas pulled six people out of homes after thunderstorms dumped heavy rain in the area. In the town of Krum in northern Texas, Hickory Creek flooded, sweeping away cars. And in the town of Denton, high winds toppled trees.
"No injuries, that's the most important thing," Sergeant Lonny Haschel of the Texas Highway Patrol told CNN.
In eastern South Dakota, officials were evacuating residents of Delmont, population 234, after a tornado touched down at 10:50 a.m. (1550 GMT), causing minor injuries to a few people, demolishing a Lutheran Church, and damaging 20 buildings.
"It's a voluntary evacuation, there's no water, no heat, no electricity," Tony Mangan, public information officer for the South Dakota Department of Public Safety, told Reuters.
David Mathews, 70, owner of the Old Bank Mini-Mart in Delmont, said the storm hit incredibly fast.
"We were in our house and knew something was going on and getting ready to go to the basement, then it was over," Mathews said.
"We just built a brand new fire hall and it was destroyed. Also a row of houses near the fire hall. The Lutheran Church was destroyed, it's all in rubble," he told Reuters as he moved ice cream in an effort to keep it from melting.
Meanwhile, officials issued "no travel" advisories for western South Dakota, which was blanketed in snow and under a blizzard warning.
In early afternoon, severe thunderstorms moved over Sioux Falls, hail fell in Texas and Arkansas, and tornado watches were in effect in parts of Oklahoma, Arkansas and Texas.
Tropical Storm Ana, the first named storm of the 2015 Atlantic hurricane season, weakened after making landfall near Myrtle Beach, South Carolina, but high surf and flooding still threatened the coast.
The Miami-based National Hurricane Center said that Ana was delivering maximum sustained wind of 35 miles per hour (56 kph), and at 2:00 p.m. EDT (1800 GMT) was barely of tropical storm intensity.
The storm was moving very slowly north near the South Carolina-North Carolina border and could bring 1 to 3 inches (2.5 to 7.6 cm) of rainfall to the Carolina coast.
Ana marks the earliest appearance of a named storm in the Atlantic since a previous incarnation of Subtropical Storm Ana on April 20, 2003.
The Atlantic hurricane season typically runs from June 1 through Nov. 30, while tornado season in the center of the country normally runs from May to early June. (Writing by Fiona Ortiz and Frank McGurty; Editing by Eric Walsh, Chris Reese and Alan Crosby)
REAL LIFE. REAL NEWS. REAL VOICES.
Help us tell more of the stories that matter from voices that too often remain unheard.