* Heavy rainfall expected for central and south U.S.
* Some late planted soybeans may be helped
* No significant harm expected to mature crops
* Rains to benefit fall sowing of winter wheat (Rewrites lead, adds midday weather update)
CHICAGO, Aug 27 (Reuters) - The drought-parched Midwest farm belt could get up to 5 inches of rain from Tropical Storm Isaac but it would be a mixed blessing to farmers, as the moisture will be too late for corn and soybeans but just in time for wheat planting next month.
Farmers are harvesting their corn, which has been devastated by the worst drought in half a century, as a result rain would be of no help at this time of the season.
Rain could be of marginal help to soybeans that were planted late in the season, but not to the bulk of the crop that is fast approaching harvest due to early planting this year.
For farmers gearing up to plant the winter wheat crop, rain could boost soil moisture and get the crop in the world's top wheat exporter off to a good start.
Midday weather updates on Monday indicate Tropical Storm Isaac could bring beneficial rain, five inches or more in some areas, to a broad swath of the drought-hit central and southern Midwest crop region.
"I'm comfortable with 1-1/2 inches to 4-1/2 inches of rain at this point from Missouri to Ohio with localized heavier amounts from Friday through Sunday," said Drew Lerner, meteorologist for World Weather Inc.
Lerner said some weather models indicated up to 8 inches of rain but "I think that's too aggressive."
Weather maps may disagree but meteoroloigsts agreed that major drought-busting rains were on the way to a large area of the U.S. crop belt, giving some relief to late season crops following the worst drought in more than 50 years.
Isaac was churning across the Gulf of Mexico on Monday and was poised to make landfall early Wednesday on either the Mississippi or Louisiana Gulf Coast as a Category 1 hurricane with 90-mile-per-hour (144-kilometer-per-hour) winds.
A side benefit to the storm will be welcome rainfall to parched U.S. cropland and grazing lands.
"You feel sorry for the people that are going to get hit along the Coast but it's going to be a blessing for some of us," said Kansas farmer Tyler Alpers.
Alpers told Reuters he was looking forward to more rain later in the week from Isaac. This past weekend two to four inches of rain fell on his farm in Stafford County, Kansas, about 20 miles south of Great Bend.
"There is definitely a little more bounce in everyone's step, a more positive attitude. It's depressing with day after day of 100 degree heat and no rain," Alpers said.
Alpers produces wheat, soybeans, corn and alfalfa hay and depends on pasture for his cow-calf operation.
"It's too late for fall crops and pasture but it will really help with fall planting of wheat in about a month," he said.
Kansas is the top wheat state.
Some late season soybeans may also benefit from the rainfall that Isaac is expected to generate.
"It will help soybean seed size. If the soybean plant is still green there will be some benefit," said Dale Durcholz, a crop and marketing expert for AgriVisor, a division of the Illinois Farm Bureau Association.
"It definitely will help fall wheat planting and it will give a boost to late season hay crops."
The annual Pro Farmer tour of Midwest crops found signs of severe crop losses in the top-producing Midwest states. On Friday it forecasted smaller U.S. corn and soybean harvests than what the government is predicting, with production the lowest in nearly a decade.
Additionally, a Reuters poll of 11 analysts estimated the 2012 U.S. corn yield at 121.5 bushels per acre, the lowest in 16 years, and production at 10.5 billion bushels, an eight-year low. (Reporting by Sam Nelson; Editing by Bob Burgdorfer)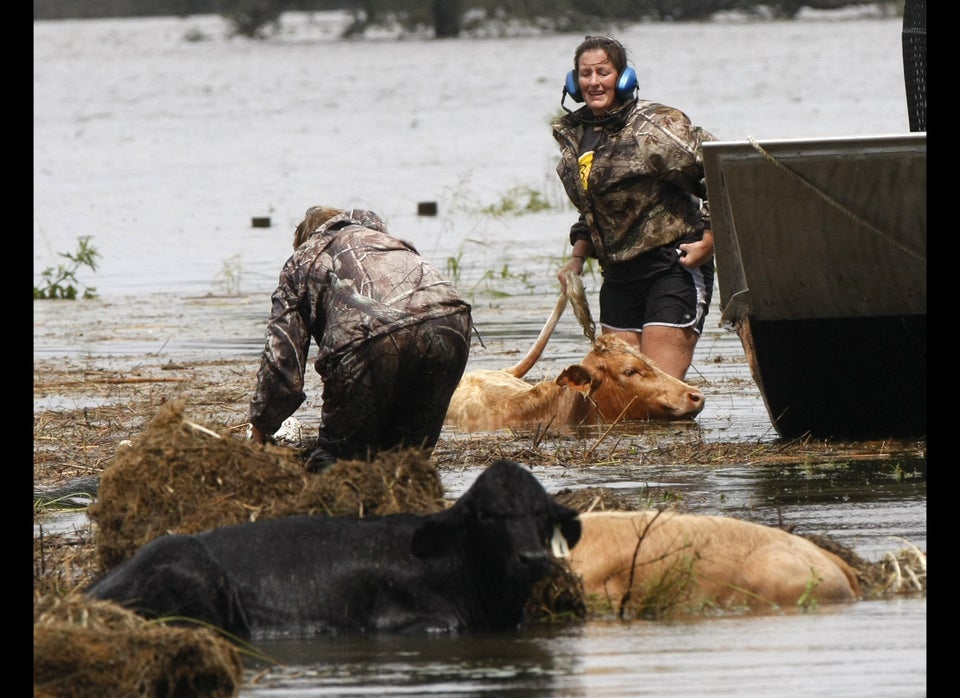 Hurricane Isaac
Popular in the Community