A swirl of thunderstorms in the Caribbean, which is a notorious breeding ground for October hurricanes, is expected to coalesce into Tropical Storm Sandy and possibly intensify to hurricane strength as it moves toward Jamaica, eastern Cuba, and the Bahamas by Wednesday and Thursday. But it's what could happen after that that has some weather forecasters pondering some rather bizarre scenarios — think if a hurricane and nor'easter mated, possibly spawning a very rare and powerful hybrid storm, slamming into the Boston-to-Washington corridor early next week, with rain, snow, damaging winds, and potential storm surge flooding.
Several computer model runs have shown a slingshot scenario, in which Tropical Storm (or hurricane) Sandy initially moves out to sea east of North Carolina, but is captured by the jet stream and flung northwestward into the Mid-Atlantic or Northeast.
A key issue that weather forecasters are wrestling with is how Sandy will interact with a deep dip in the jet stream that will be transporting much colder air into the Midwest and East during the last few days of October. According to the Hydrometeorological Prediction Center, which is part of the National Oceanic and Atmospheric Administration (NOAA), deciphering the interaction between these weather systems at this point "is dicey at best." (That may even be an understatement.) On Sunday, the same center described the potential impacts from a major Northeast storm as "impressive."
October is known for its weird, powerful storms, such as "The Perfect Storm" in 1991, which also involved energy from a tropical weather system, and "Snowtober," which buried the Northeast under 2 feet or more of snow just last year.
Forecasters are cautiously making the public aware of the possibility of a major East Coast storm around October 29. Given the considerable uncertainties involved in long-range forecasting, especially concerning tropical storms that are still in the formative stages, it will take a few more days before meteorologists can be more confident in their predictions.
According to Eric Holthaus, a meteorologist for the Wall Street Journal, if the East Coast storm were to occur, it could be one for the record books.
"What could happen is quite complicated, and may have precedence only a handful of times across the more than 200 years of detailed historical local weather recordkeeping (Big storms in 1804, 1841, 1991, and 2007 come immediately to mind)," Holthaus wrote in a blog post on Monday.
"I'd give the chances of some level of impacts from this storm in Greater New York this weekend at about 1-in-5. That could quickly change (up or down) as the models gather new data from the Hurricane Hunters, whose first flight into the storm will be Monday afternoon. What seems clear is that the large-scale pattern is favorable for steering whatever forms northwestward once it reaches the Atlantic, and as you all know, there's a lot of land and a lot of people in that direction."
Brian McNoldy, a hurricane researcher and tropical forecaster for the Washington Post's Capital Weather Gang blog, also discussed the ultimate fate of the nascent tropical storm in a blog post on Monday. He pointed out that many computer model runs are not simulating the Northeast storm scenario, but that because of its potential impacts, it needs to be watched closely.
"The entire U.S. East Coast from Florida to Maine should at least be casually aware of this storm scenario, especially those who are immediately on the coastline. Always keep in mind that storm conditions may extend hundreds of miles away from the centerline of the track, and dangerous surf and coastal flooding/erosion are possible with the majority of these tracks," he said.
What forecasters know with much more confidence, though, is that Jamaica may be in store for a damaging storm during the next few days, with strong winds and flooding rains spreading to eastern Cuba, Haiti, Puerto Rico, and the Bahamas.
Support HuffPost
The Stakes Have Never Been Higher
Related
Before You Go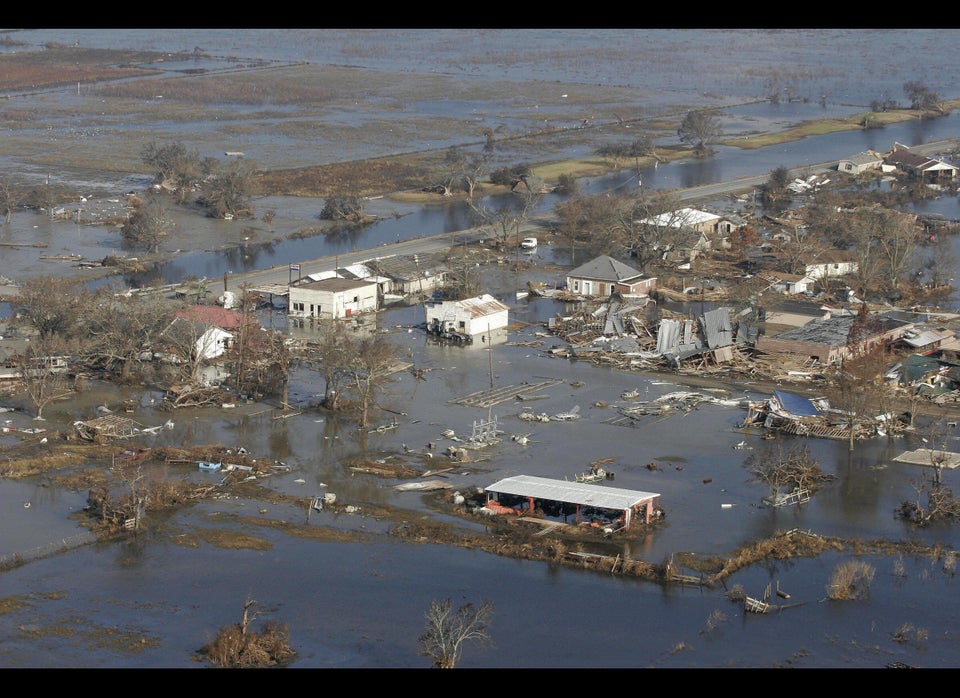 Top 10 Costliest U.S. Hurricanes
Popular in the Community