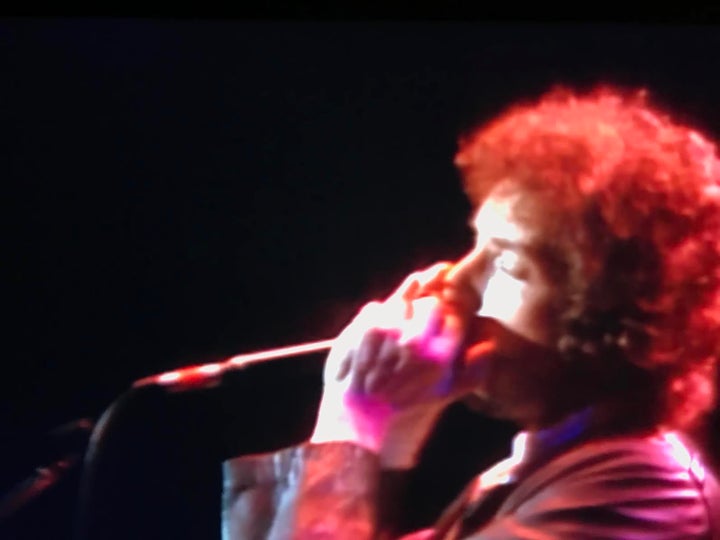 Gospels, Godspells and Today's TimesThis isn't a concert film, biopic, documentary, mockumentary or rockumentary: it's something as unique as was the Gospel Tour itself.
"Let him drink, and forget his poverty, and remember his misery no more." — Proverbs 31:7
"Some day baby / You ain't gonna trouble poor me any more." — Sleepy John Estes, Someday Baby Blues (1935), sung as Trouble No More by Muddy Waters, the Allman Brothers, and many more
Trouble No More: A Musical Film had its world premiere last Monday night at the Walter Reade Theater in Lincoln Center, as part of the 55th New York Film Festival. Released this autumn in conjunction with the next installment of Bob Dylan's The Bootleg Series (Vol. 13 / 1979-1981), in the time of his "Gospel Tour," Trouble No More is neither documentary nor biopic. It's not purely a concert film, though the newly rediscovered footage from Dylan's concerts in Toronto and Buffalo, with the camera seemingly inches from his face, is tremendous. It's not a contemporary commentary on the Gospel Tour, though, as you quickly realize, this element has been newly made, now a part of the art.
We start as any concert tour should start, in the rehearsal studio, warming up with an old gospel standard. "Jesus Met the Woman at the Well." Dylan is frowning in concentration, with huge fuzzy unmodulated hair, and a wild gold sequined guitar strap. Sequins will be much in evidence, as will big shoulder pads, when we come to the concert footage of the five female backup singers. It is, after all, the last gasp of the 1970s. Dylan, and the company ranged around him, end the song with huge smiles.
"Too Much Jesus for Dylan Fans," proclaims a headline, as Dylan and his new band head out on the road for the first time. The Gospel Tour of North America and Europe is set up by stills and newspaper clips from 1979, and one filmed fan interview. All insist that Dylan is embarking upon a major departure, and fans are either disappointed not to hear his old classics, or happy just to have seen him and because the band is excellent. One thing seems to be a bottom line, as one spoken voice-over, I assume from the period, states: "He's not the Bob that we used to know and love."
I say "I assume from the period" because about a quarter of the screen time in this hour-long film is brand-new material. You go back and forth between concert footage, chiefly from Toronto's Massey Hall and Buffalo's Kleinhans Music Hall, and scenes filmed in an Episcopal church on New York City's Upper East Side, about which more in a moment. The songs are not in the order in which they appeared in concert or concerts; they have been arranged to form a narrative, tell a story, in conjunction with the new scenes.
The leadoff song is perfect. "Are ya ready?" Dylan challenges his collective audience, past and present, and then, resplendent in leather coat and electric guitar, launches into "Are You Ready To Meet Jesus?" The question he is asking, as his eyes flash and he looks out, down, back, sounds like "am I ready to meet Jesus?" He's still asking on behalf of himself, too.
Dylan still looks like his younger self, especially when he sits down at the piano or curls himself up around his harmonica. But he has aged, and put on weight, as do we all. His step is light and he shimmies when he dances, but there are lines on his face. It's not 1962 and Newport. It's not 1966 and touring with the proto-Band. Lest you forget the date, there is Fred Tackett to remind you, with his aviator glasses and Bee Gees hair and beard. 1979 has just given way to 1980. Dylan is almost alone among the men, as you look at the faces of his audience, in not having a full bushy beard or at least a walrusy, porn-star moustache, and long hair parted in the middle (which last is irrespective of gender).
Hearing Dylan sing about Armageddon, then peel off his Fender, step forward and take an offered carnation from a young woman, is a bizarre moment even when you're expecting the evangelism, and a now-for something-completely-different look at him. It is also a strange, and wondrous, moment in which you see for the first time, and continuing throughout the footage, how happy he looks. Dylan has become famous for his alleged poker face, showing no emotion, in concert, and for not talking to his fans from the stage — he does not even introduce his band any more. Here, he's alight, eyes constantly roving over the crowd, eager, intent, sometimes amused, feeling good and wanting to share that feeling. It's the most generous Dylan I've ever seen in performance.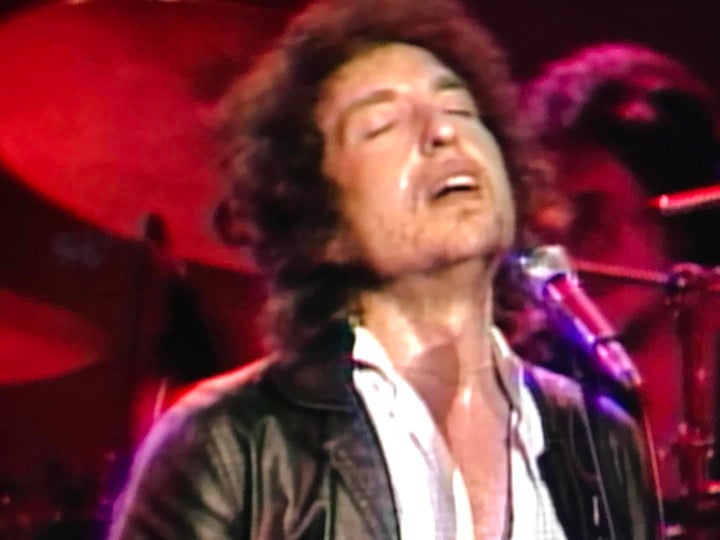 Related
Popular in the Community