That was Tuesday. Asked Thursday and Friday what they planned to do about it and how they would get answers to their questions, Republican senators offered a collective "meh."
Most pointed to the ongoing work of the FBI probing Trump's Russia ties, as well as the slow-moving probe by the Senate Intelligence Committee.
But few seemed at all interested in doing anything new to shed light on something that last happened when the top two Justice Department officials resigned instead of following President Richard Nixon's orders to fire the man investigating him.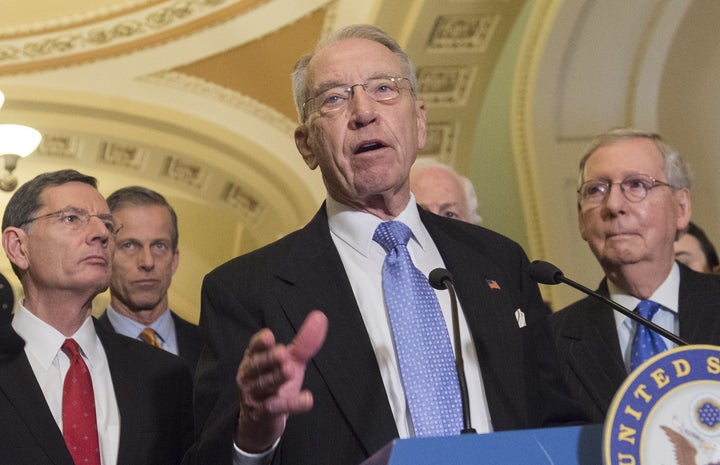 Sen. Mike Enzi (R-Wyo.), the chairman of the Budget Committee, figured he'd leave such questions to others.
"I'm not on the intel committee," Enzi said. "I'm working on health reform, I'm working on tax reform, I'm working on the 2018 budget. I'll listen to my colleagues."
One who might have a more specific interest is Sen. Chuck Grassley (R-Iowa), the chairman of the Judiciary Committee, which oversees the FBI.
He also would prefer to listen to his fellow senators, telling reporters Thursday he'd have to talk to colleagues first to decide whether the committee should bring in Deputy Attorney General Rod Rosenstein to explain the firing. It was Rosenstein who wrote one of the key justifications cited by Trump.
"I haven't talked to Rosenstein," Grassley said. "If Rosenstein wants to talk to me or I feel a need to talk to him, I'll talk to him."
(On Friday afternoon, Grassley and Sen. Dianne Feinstein, the top Democrat on the Judiciary Committee, sent a letter to Rosenstein and acting FBI Director Andrew McCabe asking them to brief their committee on the FBI investigation into Russian interference.)
Perhaps the most common response is the one Senate Majority Leader Mitch McConnell (R-Ky.) offered — the firing and conflicting messages from the administration about it don't warrant any new action beyond the investigation that the FBI and the congressional intelligence committees already are carrying out.
"I think the investigation has to play out. Follow the facts. Follow the facts and get the answers," said Sen. Richard Shelby (R-Ala.), a former chairman of the Intelligence Committee.
Even Republicans who have been highly critical of Trump don't think Trump's firing of Comey merits any fresh action from them.
Senators such has Arizona's Jeff Flake and Nebraska's Ben Sasse went on NPR on successive days to lambaste the firing, but neither has embraced Democrats' call to remove all doubt surrounding the independence of the Russian probe by appointing an independent prosecutor.
Like McConnell, they say let the Senate committee — which lacks any prosecutorial power ― do its work.
Sasse, for instance, said on Friday, "I'm open to that deliberation as we go forward because I think that would be a vote of no confidence in the Senate Intelligence Committee's investigation."
Another GOP Trump critic, Sen. John McCain (Ariz.), has called for a congressional select committee to take over the probe. Despite criticizing Comey's heave-ho, McCain, who chairs the Senate Armed Services Committee and sits on the intelligence panel, still argued Thursday that an independent prosecutor should wait.
"I wouldn't outright reject any notion, but the first priority is a select committee," McCain said. "That, in my view, has worked in the past. Many times in the past, the wrong person is selected as a special prosecutor, and it has turned into a debacle."
McCain admitted that he saw no momentum for the creation of a select committee among his fellow Republicans.
One simple way to extract some accountability for the firing — or at least throw a penalty flag — would be to insist that the administration take every possible step to show its choice to replace Comey would be independent.
Senate Minority Leader Chuck Schumer (D-N.Y.) has suggested that Attorney General Jeff Sessions recuse himself from that process, since Sessions also had contacts with Russians that he did not initially disclose.
Grassley didn't entirely rule it out, but left the decision to Sessions.
"What I would do is I would go by what the ethics people in the Justice Department say about that. Because that's kind of the gold standard on recusal," the Judiciary Committee chairman said.
The odds seem long for even that much reprisal for Trump's disposal of Comey, however. While Schumer called for Sessions to stay out of picking a new director, Feinstein dismissed the idea.
"I don't want to get into that," Feinstein said. "My interest is who the individual is. Is he a good person for the job, or is he not? And that's my interest."
McCain argued that Trump is already paying a price ― in the press.
"It has erupted in all the major publications and means of communication in America," McCain said.
This article has been updated with information about a letter sent from the top members of the Senate Judiciary Committee to Rod Rosenstein and Andrew McCabe.
Popular in the Community