A host of issues occupy the center stage in the upcoming presidential election, but largely missing from the discussion is the environment. In 2014, Secretary of State John Kerry started an initiative to save oceans from overfishing, pollution and climate change. Two years later, a lot remains to be done. In an interview with National Geographic published September 16, Kerry said oceans are "life and death issues" that deserve the same amount of attention as critical foreign policy.
"If we don't preserve the oceans from nitrate runoff and plastic and chemicals, and if we don't preserve it from acidification, and if we don't preserve it from grotesque overfishing--too much money chasing too few fish -- we're going to have the most massive ecosystem on the planet in peril," Kerry said in the interview.
The fishing industry's economic impact is wide-reaching, affecting coastal communities, seafood wholesalers, processors and retailers. A sizable market, estimates from a 2016 IBISWorld report state that the U.S. fishing industry is worth $6 billion. Despite these robust numbers, the fishing industry faces challenges. In the U.S., 17 percent of fisheries are classified as overfished in 2014, according to the National Oceanic and Atmospheric Administration. In some areas of the U.S., the fishing industry was once booming, but is now struggling to stay afloat.
"Obviously it [fishing industry] has gotten a lot smaller. I mean, fishing techniques haven't changed much," said Bert Jongerden, general manager of the Portland Fish Exchange. An industry that has not been quick to adapt to new technology according to Jongerden, Jongerden said that the fishing industry is now past the "heydays in the 90s," adding that they were lucky to catch "5 million pounds per year."
Dissenting standpoints between different fishing industry players paint a less-than-rosy picture. Some fisheries and scientists spar on topics such as climate change and overfishing in the Gulf of Maine.
According to National
Aeronautics and Space Administration, 2015 was the warmest year on record, 10 warmest years in the 134-year record have occurred since 2000 with the exception of 1998 and global temperature has increased by 1.4 degrees Fahrenheit since 1880. But according to Jongerden, climate change is an overused buzzword, saying that he'd prefer if people spoke of weather in "trends."
"Climate change is a big catchphrase everybody likes to use. Right now, everybody likes to say that because it's the boogeyman. Climate change, climate change. I think more people would prefer to speak about this in trends. There are trends in the weather," Jongerden said. He added that the temperature in the Gulf of Maine has "gone up and down over the past couple years."
Jongerden said that climate change has not affected the Gulf of Maine, stating that fishermen reported they haven't witnessed any changes in the species they're catching, or the amount they're catching. "Actually they're catching more," he added. "There was a point that people were saying they had all these species coming from the South that were not typically in these waters. That's just not happening. So I think people need to step back and say climate change is whatever it is, but it's not affecting the Gulf of Maine."
"Based on studies by Pershing et al. from the Gulf of Maine Research Institute, the Gulf of Maine is one of the most warming oceans in the world other an area North of Japan," said Esperanza Stancioff, associate professor and extension educator with the University of Maine Cooperative Extension and Sea Grant.
Peter Baker, director of ocean conservation at Pew Charitable Trusts, said that climate change will become a major factor in future fisheries management.
"Fish are moving from their traditional waters to cooler, deeper waters, though their patterns remain unpredictable. As time goes on, climate change will force new and different models to emerge in fisheries management."
Besides climate change, another consensus that cannot seem to be reached is overfishing.
Jongerden said that overfishing is not happening in the United States, citing the Magnuson-Stevens Fishery Conservation and Management Act as the reason. Passed in 1976, the act pledges to "prevent overfishing, rebuild overfished stocks, increase long-term economic and social benefits and sustainable supply of seafood."
"Part of the Magnuson-Stevens Act was to ensure that overfishing never occurred. Now, the U.S. government regulates what people can catch around the whole United States. Overfishing may be occurring elsewhere but not in the U.S. waters," Jongerden said.
"When people say there is overfishing going on, I really don't believe that because the government regulates fishing efforts in the United States. And part of the Magnuson-Stevens Act says that overfishing will not occur, so there's no overfishing happening. Unless the government's not doing their job, which I believe they are."
Not all would agree that overfishing doesn't exist in the U.S.

"Overfishing has been an issue. One example in Maine is the urchin population, which was decimated by overfishing. There are complex biological and ecological relationships affecting our marine resources. And, as far as climate change goes, long term ocean and coastal acidification will change our ocean chemistry composition the most," Stancioff said.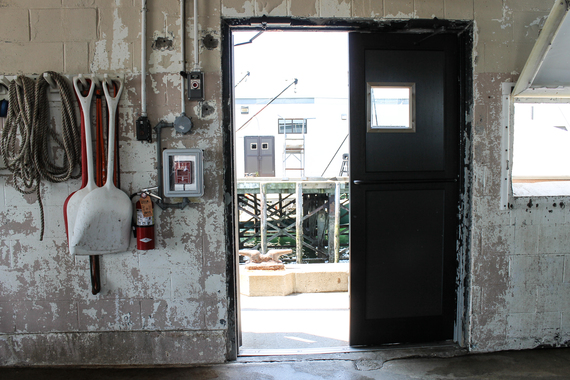 Photo by Olivia Deng
Furthermore, among the fishing community, there is distrust for scientists, according to Jongerden.
"Fishermen have always wanted to collaborate more with scientists. The scientists have always put up a wall saying, 'no.' On the West Coast, it's almost 80 percent cooperative research. On the East Coast it's less than 10 percent. The science [community] needs to open up their doors and do things transparently," Jongerden said.
According to Jongerden, there is a disparity between what fishermen and regulators see in the water, saying that their viewpoints are on "completely opposite spectrums."
"This real issue, is the lack of trust of what scientists are saying...typically they're two to three years behind the trends, what's happening in the ocean," Jongerden said. "So I think a lot of fishermen are concerned with the issues with the science right now, saying what's in the ocean. Across the board, that's an issue with the fishing community."
Conflicts can arise between fisheries and scientists, preventing collaboration, Baker said.
"For instance, in June of 2015 the New England Fishery Management Council was asked by the marine scientific community to set aside a small area for scientific research. The area was part of the Stellwagen Bank Marine Sanctuary and an area that fishermen covet," he said. "The fight against setting the area aside for scientific research was led by recreational fishing interests and supported by commercial fishing lobby groups. In the end, the Council sided with the fishing industry instead of the scientific community."
"We really wanted to look at how environmental decisions are made and if these tools we are applying could be used to increase learning towards decision making," she said.
The project worked in three states and included the towns of South Thomaston, Maine with the lobster industry, Wellfleet Massachusetts with the oyster industry and Beaufort, South Carolina with their blue crab fishery.
"We started with the Maine project because the timing here in order to get the lobstermen's participation is based on when they aren't fishing in the winter. And this happened after the ocean heat wave crisis in Maine," Stancioff said. "The lobstermen were concerned about the crisis in 2012 based on the most extreme warm water temperatures and early molting of lobsters...Maine was really in the hot seat in terms of climate change and warming temperatures."
The socioecological model that "links together equations describing economics, biology and fishing effort" can help fishermen and women build predictive models that shed insight on pricing changes during the fishing season, according to Stancioff. Research such as Stancioff's can set the stage for efficient participatory planning.
Calling all HuffPost superfans!
Sign up for membership to become a founding member and help shape HuffPost's next chapter