Troy Aikman expressed his solidarity with police departments around the nation Friday morning, tweeting out a Fox News graphic with what some users thought was an insensitive and telling disregard of Alton Sterling and Philando Castile's deaths earlier this week.
"Sadly most police departments around the country don't feel much support these days," the Dallas Cowboys legend wrote, pairing the tweet with a "#backtheblue" hashtag.
Aikman's words came the morning after a sniper ambushed and killed five police officers at a peaceful Black Lives Matter rally in Dallas, Texas ― a rally that, in turn, was in response to the killing of Sterling and Castile at the hands of the police on Tuesday and Wednesday.
Reactions to the tweet came quickly and angrily.
To be clear, it's not that these users unequivocally take issue with any show of support for police officers. Rather, what they saw as problematic here was (1) Aikman's radio silence on the deaths of the two black men days earlier, and, relatedly, (2) his categorical, unqualified support for the police during a week in which we got two cruel reminders that racial prejudice still runs rampant throughout the force, consciously or otherwise influencing the choices some cops make while on the clock.
A screenshot from the video recording of Alton Sterling's death.
Those at the Black Lives Matter rally in Dallas yesterday had gathered in the hope of bridging the gap felt between themselves and the police ― not widening the schism that separates them. They had gathered in the hope of solidarity, not division. So framing this as an us-versus-them issue was considered counterproductive and incorrect ― not to mention offensive and potentially incendiary.
It's possible to mourn the officers we lost in Thursday's ambush and the two black civilians we lost earlier this week. It's possible to support the officers doing good work and demand a change in the way the police force as a whole approaches and responds to on-duty discrimination.
Related
Before You Go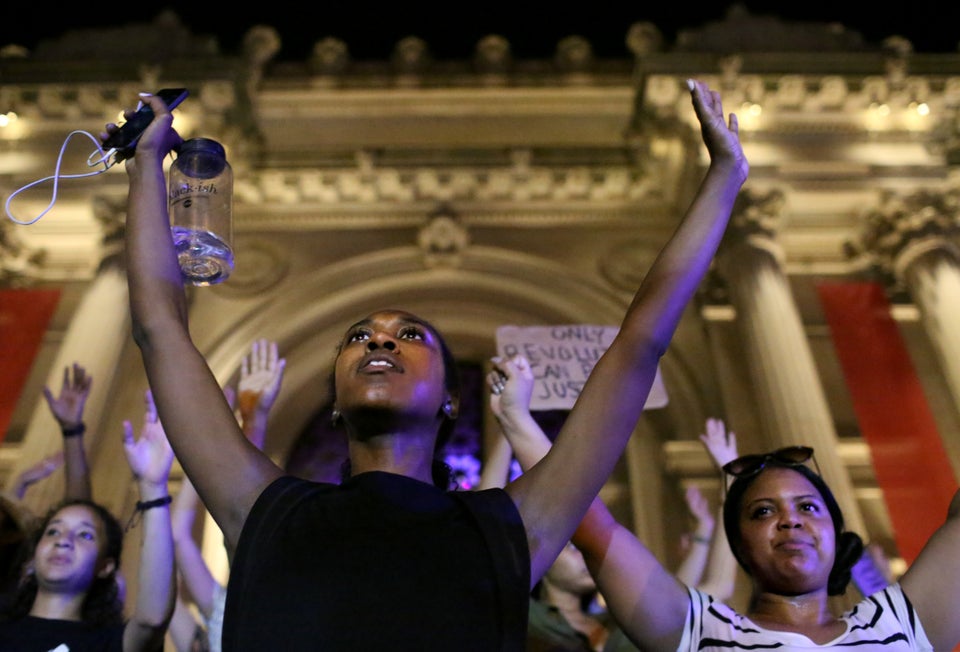 Peaceful Protests Over Alton Sterling and Philando Castile Shootings
Popular in the Community