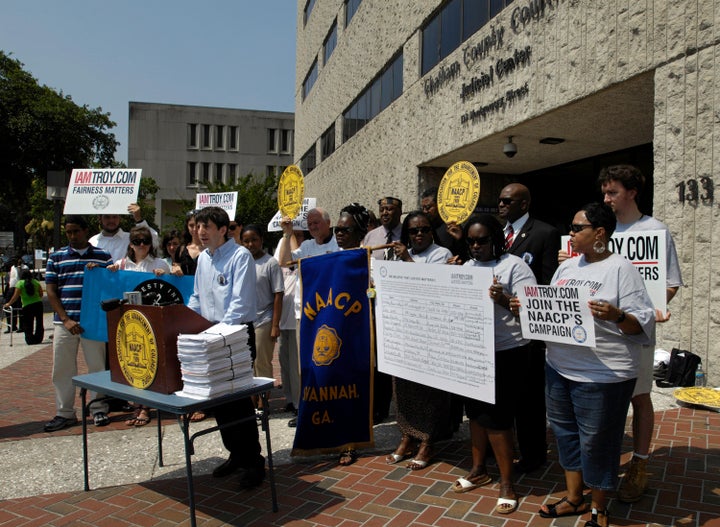 By G. Jeffrey MacDonald
Religion News Service
(RNS) In a last-minute bid to stop a Sept. 21 execution in Georgia, religious leaders have rallied in previously unseen numbers to call for clemency for death row inmate Troy Davis.
As of Tuesday (Sept. 13), more than 3,000 religious leaders from all 50 states had signed a letter urging the Georgia Board of Pardons and Paroles to examine "developments that cast serious doubt on Davis' guilt."
In most death penalty cases, clemency petitions from religious leaders attract only about 200 signatures, according to Stephen Dear, executive director of People of Faith Against the Death Penalty, which is organizing the campaign from its headquarters in Carrboro, N.C.
This time, he said, involvement from the NAACP and Amnesty International has helped recruit pastors via social media and other
online channels. He expects -- or hopes -- the long list of signatories will make an impression.
"We know some of the members of the board have been active in their churches," Dear said. "We're hoping they will see that people like them and their pastors have concerns about this (execution). We're hoping it will reach them on that level."
Davis was convicted in 1991 in the 1989 shooting death of off-duty Savannah police officer Mark Allen MacPhail. Since then, seven of the nine witnesses have recanted or otherwise contradicted their testimony, according to Amnesty International.
Davis' execution has been postponed three times already to allow for further consideration of evidence. Appeals have reached as far as the U.S. Supreme Court.
High-profile people of faith have helped draw attention to Davis' case, including appeals from Pope Benedict XVI and former President Jimmy Carter. Meanwhile, signatures on Dear's petition have come from more than 1,000 leaders across the Southeast, where the death penalty has traditionally enjoyed strong support in religious communities.
Even so, America isn't seeing a new wave of religious opposition to the death penalty, according to Erik Owens, associate director of the Boisi Center for Religion and American Public Life at Boston College.
Owens said death penalty opponents may be speaking out on Davis' behalf in large numbers because of the particulars of his case, but that shouldn't be mistaken for fresh fervor since "there's a wide diversity among religious leaders" on the death penalty.
"The tide has not turned," said Owens, co-editor of the 2004 book "Religion and the Death Penalty: A Call for Reckoning." "We're not becoming an abolitionist country in any sense... I'm hesitant to think that petitions like this will do a lot for an individual case, but you never know."
WATCH Ohio Man Executed With Single Controversial Drug:
REAL LIFE. REAL NEWS. REAL VOICES.
Help us tell more of the stories that matter from voices that too often remain unheard.