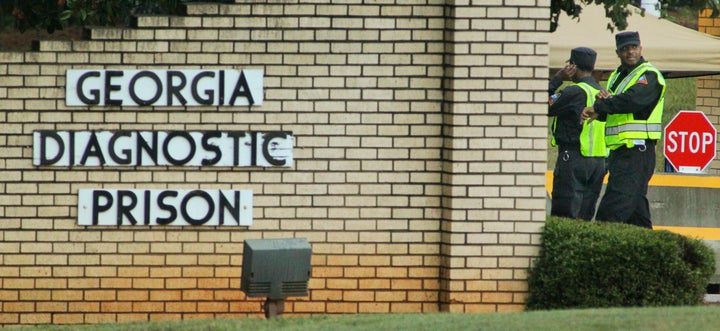 Because life is cruel and not often fair, Troy Davis appears destined for a state-sanctioned death tonight at the Georgia state prison about 50 miles south of Atlanta.
His execution will likely happen over the protests of former President Jimmy Carter -- one of Georgia's most revered natives; Pope Benedict XVI; former FBI director William Sessions; and more than 650,000 people who have signed a petition seeking clemency for Davis.
It would be understandable if the thousands who have rallied behind Davis in recent weeks felt betrayed by their government and helpless in the face of unrelenting bloodlust.
This feels something like Texas Justice.
A decade ago, in the summer of 2000, I made trips to the Texas death chamber in Huntsville -- about 70 miles north of my hometown of Houston -- to chronicle a pair of executions.
The first turned into media circus (of which I was a part, I guess), where the New Black Panther Party, Ku Klux Klan and even Geraldo Rivera converged to cover the death of Shaka Sankofa, a 36-year-old black man born Gary Lee Graham who claimed his innocence until his final breath.
Much like Davis, Sankofa was convicted mostly on the strength of eyewitness testimony. There was little else tying Sankofa to the 1981 murder of Bobby Grant Lambert other than an unrelated crime spree that week that was fairly gruesome and extensive.
Outside "The Walls" on the night of the execution, supporters -- including Revs. Jesse Jackson and Al Sharpton -- hoped their appeal to justice and the doubt that pervaded the case might lead to Sankofa's sixth stay of execution in 13 years. Inside, Sankofa took no chances and fought to the very end -- it took five prison guards to strap him to the gurney.
"We will prevail. We will keep marching," Sankofa said in his final statement. "They are killing me tonight. They are murdering me tonight."
Minutes later, Sankofa was dead. The marching stopped. And we all went home.
I returned to Huntsville about three weeks later and, this time, went inside the death chamber to witness the execution of Cecil Orien Joiner.
This event went off with much less fanfare.
There were no protestors and, in fact, little dispute over the facts of the case. Blood tests placed Joiner at the bloody crime scene and few -- if any -- people believed Joiner's alibi.
Joiner quietly faced down the inevitable. In an interview before the execution, Joiner said he was "happy as a lark" because of his religious faith. He devoured a final meal of a half-pound hamburger steak with deep fried French fries, five pieces of butter-grilled Texas toast and honey buns with melted butter on the side. He went without struggle to the chamber.
His only protest came in his final moments on the gurney, just before the lethal drugs started coursing through his body.
"As I have said from the very first thing, I am innocent of this crime and God knows I am innocent," Joiner said. "Whoever did this crime is going to be caught and they'll have to come down here and do this again and they will realize they witnessed an innocent man going to be with Jesus Christ."
He made a gurgling sound. He coughed. He closed his eyes. He was pronounced dead about five minutes later.

For me, it was anticlimactic. It looked like sleep. Oddly enough, it almost felt... normal.
And maybe that's because it is in Texas.
Of course, not much has changed there since that summer. If anything, the state's leaders, especially Gov. Rick Perry, seem more resilient to their zest to exact revenge on convicted murderers.
This was never more evident than in the state's recent obstruction of an investigation into allegations that Cameron Todd Willingham was wrongfully executed in 2004. As many of you already know, Willingham's case drew national attention three years ago when The New Yorker published an exhaustive piece challenging the evidence that led to his conviction.
Perry has vigorously defended his decision to deny Willingham clemency, and has even gone so far as to shut down a state commission charged with investigating the case and others like it.
Asked during a recent presidential debate if he struggled with the idea that an innocent man had ever been executed on his watch, Perry bluntly responded: "I've never struggled with that at all."
He's almost certainly lying, don't you think?
If Perry was certain of Texas' infallibility in assuring the guilt of all 235 men sent to death during his gubernatorial reign, then there surely would be no reason to block a thorough investigation into Willingham's execution.
Which -- ahem, sorry for the digression -- brings me back to Georgia and Troy Davis.

It feels like home. And something like Texas Justice.
Popular in the Community