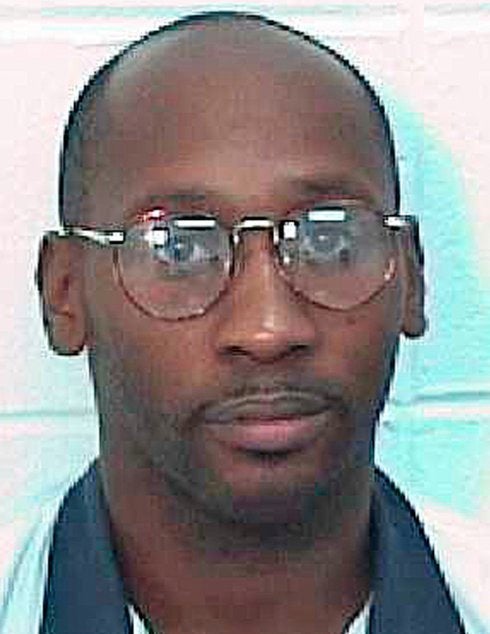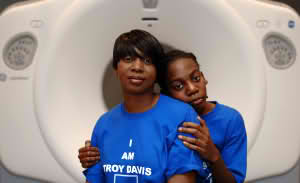 As told to Jen Marlowe and Monifa Bandele.
My son was six weeks old when I first brought him to meet his uncle, Troy Davis. You would have thought I gave Troy a gold bar. He was scared to hold my tiny baby. I literally had to just put De'Jaun in his arms and walk away. And he was like, "But he's so little. Come, get him, get him, get him." I said, "No, you get him. You hold him." It was such a magical moment, because it was like I was giving my brother this gift.
As a young child, De'Jaun didn't understand that my brother, his uncle was incarcerated, much less slated for death. When the family was getting ready to leave after a visit, he'd say, "Come on, Troy, let's go, let's go!" But he couldn't go with us, and my mom would say, "He's in school. He can't come. One day, he'll come home with us."
As De'Jaun grew older, I explained to him that his uncle was in prison. But I had not yet told him that Georgia planned to kill him. He confided in his uncle more than anyone else. When De'Jaun was 12 years old, it became clear to me that my son understood far more than I had realized.
Our dog, Egypt, had gotten out of the yard and had been hit by a car. We immediately brought Egypt to a vet who told us that the dog's leg was broken in three places and would need extensive surgery to be repaired. If Egypt did not have the surgery, she would have to be put to sleep. The cost of the surgery was upwards of $10,000.
As I drove De'Juan home, I wondered how in the world I would come up with $10,000. Putting Egypt down might be the only realistic possibility.
In the silence of the ride, De'Jaun turned to me and said, "Mom, are you going put my dog to sleep like they're trying to put my Uncle Troy to sleep?"
I had to swallow this giant lump in my throat to hold back the tears. I didn't know that he related the two things. That he knew they were trying to kill his Uncle Troy. And, he knew about which method that they would use to kill him. At that point, I decided that if I had to pawn my car, I wasn't going to be able to put our dog to sleep.
In addition to dealing with his uncle facing execution, carrying a full load of advanced placement classes in his high-school's International Baccalaureate program, my son lives with the stress of me being critically ill. I have been battling stage-four breast cancer since De'Jaun was six years old. My original diagnosis was six months or less. That was over ten years ago.
My brother, Troy Davis is on death row for the 1989 tragic murder of Savannah police officer Mark MacPhail. On Aug. 19, MacPhail was gunned down while rushing to the rescue of a homeless man being pistol-whipped in the parking lot of a Greyhound bus station. The day after the murder, a man named Sylvester "Red" Coles told the police that Troy was the shooter. Troy, then 19 years old, was arrested and eventually convicted in 1991, primarily on the basis of eyewitness testimony.
There is no physical evidence linking Troy to the crime. The murder weapon was never recovered. Yet, he was sentenced to death. He has been on death row for 20 years, despite the fact that the case against him has completely unraveled. In fact, seven of the nine non-police witnesses later recanted or changed their testimonies, many stating that police coercion and intimidation led to their initial implication of my brother. Several new witnesses have come forward and implicated Sylvester Coles as the shooter.
This is Troy's fourth time facing execution. De'Jaun remembers the first execution date vividly. It was July 17, 2007. He was 13 years old. We went to go see Troy, and Troy wasn't really worrying about himself. He was mostly worried about his family -- about us. I was looking at my mother. She was praying, praying, praying. It was a lot of people constantly praying, constantly praying.
Troy gave each family member a duty. What did he task his young nephew? He told him, "Just continue to do good in school, do what's right, pick the right friends, watch over the family, and just respect the family. Respect your mom, your grandmother, and your aunties. Do what you love and have a good profession." The execution was stayed within 24 hours of being carried out. The next year, Troy came within 90 minutes of being executed.
My son is wise beyond his years. He'll say, "My uncle is not the only one going through this type of pain ... a lot of people really want someone to hear their case but they don't have the power and resources." He knows that over 130 death row inmates have been exonerated, found innocent since 1973, demonstrating just how many innocent people are convicted and sentenced to death.
On March 28, 2011, the Supreme Court denied Troy's final appeal, clearing the way for the state of Georgia to set a fourth execution date. Two weeks later, our mother passed away from "natural causes." De'Jaun was the one who found her. She had just received a clean bill of health from her doctor the day before her death. I don't think she could take another execution date. I believe she died of a broken heart.
Over the years support has grown. Amnesty International, NAACP, the ACLU, ColorOfChange.org, Bishop Desmond Tutu, President Jimmy Carter, and many more have stood up for Troy.
There is #toomuchdoubt in my brother's case: There's no physical evidence; seven out of nine witnesses have recanted or changed their testimony; there's evidence that suggests there may be another shooter.
But still, last week, the state of Georgia decided to issue an execution date -- September 21st.
We are turning up the truth, staying hopeful, and vigilantly praying that Troy's life won't be ended on September 21st.
Our supporters have launched a number of campaigns directing people to the many ways they can support Troy. Please join them for Troy, for me, and for my son.
A Peaceful Revolution is a blog about innovative ideas to strengthen America's families through public policies, business practices, and cultural change. Done in collaboration with MomsRising.org, read a new post here each week.

*Want to help save Troy's life? Below are some links where you can take action:
Popular in the Community