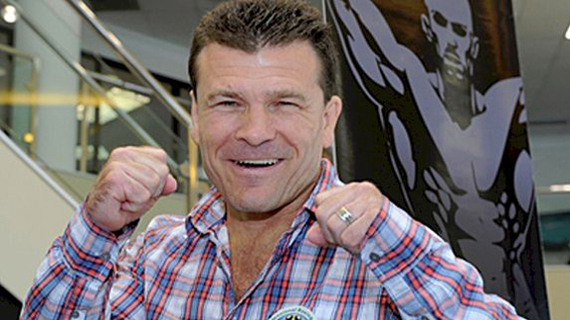 The third time was the proverbial charm for Troy Dorsey.
On June 3, 1991, Dorsey knocked out Alfred Rangel with a single right hand at 2:37 of the first round and won the vacant IBF featherweight title.
In two earlier attempts in 1990, Dorsey lost a highly controversial split decision to Jorge Páez and then battled to a hotly disputed draw in their rematch.
Under the sweltering Las Vegas sun, Rangel scored well with counterpunches before Dorsey blasted home a quick right that dropped him flat.
The title furnished Dorsey with the unique distinction of being the only man to hold world titles in kickboxing, karate and boxing.
"I always thought I had that type of drive and endurance to be a boxer," says Troy Dorsey, 50. "I trained for three years with Casey Malone, beginning in 1982, before my first fight in 1985. The more I trained, the more I realized I could box also. In 1986, I was Steve Cruz's sparring partner in Las Vegas. When he won the world title (on June 23, 1986) that really inspired me. I wanted to do it. I was there when he beat Barry McGuigan (for the WBA featherweight title)."
Troy Dorsey was born and raised in Mansfield, Texas. His dad owned a Texaco station. In 1973, at the age of ten, Troy began karate. Once he started winning tournaments, he was hooked. He received his Black Belt in Tae Kwon Do (1979) and was ranked as the country's top amateur kickboxer of the year (1980) before he even completed high school.
"I graduated from high school in 1981," says Dorsey. "I had my first black belt in 1979. My parents, Barbara and Warren Dorsey, taught me to work hard, and they took me to church as just a little, bitty boy. Some of my first memories are of going to Sunday school class."
Troy lost just one bout as a full-contact kickboxer, a controversial split decision that he avenged six months later in a lopsided rematch. In the mid-1980s, Troy conquered his weight class. Dorsey's nine-second victory in 1982 set a world record for the quickest knockout in kickboxing history.
He has been inducted into probably every significant martial arts hall of fame: World Martial Arts Hall Of Fame; World Karate Union Hall Of Fame; Texas Martial Arts Hall Of Fame; Martial Arts Digest Hall Of Fame; Tae Kwon Do Hall of Fame.
"I had a talent for great endurance," says Dorsey. "That, and there were a lot of people helping me, encouraging me, my parents, my wife, we married in 1986; my family, and my trainer Casey Malone. They taught me to fight the good fight. Sometimes, I question if that's what the Lord wanted me to do. I do question that. I look back, and sometimes, I think it's not so good. But I use the fighting as a platform to speak with youth groups and people in the community. Fighting is more than just kicking and punching, it's about recognizing dangerous situations, and it's about self-control, self-respect, and respect."
As a boxer, Troy brought the core of his martial arts background to the forefront: never surrender, absorb your opponent's best shots, and never slow down. "You've got to continue to come," says Dorsey. "Take the best they can give without changing your expression."
In Dorsey's 31-fight pro boxing career, he held the NABF featherweight title, IBO super featherweight title and the IBF featherweight world championship.
Perhaps the greatest demonstration of his endurance was an outrageously-paced brawl he had with NABF featherweight champion Harold Rhodes, on August 10, 1989. Fight fans were treated to power punches galore until Rhodes plummeted in the closing moments of the bout. The fight, which took place in Great Falls, Montana, was designated as the USA Network's Fight of the Year.
"Yes, the Rhodes fight in Great Falls," says Dorsey. "Rhodes was an up-and-coming fighter, the number one contender. It was a slugfest, and I ended up stopping him in the tenth. I just kept digging deeper and deeper, pushing him back. Hard work beats talent. When you look at the guys I boxed, I think there are 13 or 14 world champions." While perhaps most associated with a pair of action-packed, aggressive wars with IBF champion Jorge Páez, Dorsey's spirit, endurance, steel legs, and his propensity to punch in perpetuity was never more evident than against Kevin Kelley, on February 18, 1992.
Dorsey's dogged aggressiveness prompted Kelley, who at the time was ranked as the number one featherweight in the world, to compare his unanimous, hometown decision victory over Dorsey to "a night spent in hell." At bout's end, Dorsey certainly earned the respect of the supremely confident Kelley.
"I just had so much energy," says Dorsey. "I had my third and fourth wind, and I kept on moving."
Several of Dorsey's later bouts were halted because he exhibited a tendency to badly cut. In his last fight, on July 11, 1998, he was stopped by Gabriel Ruelas. "Gabriel is a good friend," says Dorsey. "We text bible verses back and forth."
Around the time he retired, he began to take his religion and his God more seriously. Even though religion had always been a presence in his life since he was "a little, bitty boy," he started to believe in earnest and apply in earnest.
"I didn't follow the Lord the right way until I was 35," says Dorsey. "See, my father-in-law and my mother-in-law both drowned, and that was an awakening. I looked at my life, and I re-dedicated it in 1998. The Lord got me to stay on the right track. I follow his teaching, living a life of following Jesus.
"I feel as if I won eight world titles for a reason," continues Dorsey. "God is always with us, he will never forsake us. He'll never leave us. He kept opening doors for me. Now I stay focused on living a life for Jesus. It's my free choice to stay with his word. It took me two and a half years to read the bible. He's not dragging or forcing me, he just opened his arms."
In 1999, the Troy Dorsey Karate School launched in Mansfield, a suburb of Fort Worth, Texas. A few years ago, he received a proclamation and key to his hometown; for one week in August, he enjoyed the honor of Troy Dorsey Week. Also in 2010, he was awarded an 8th Degree Black Belt.
He says he is obligated to not only be an exemplar to his two young daughters, but to his students, who are often very impressionable and crave structure and sincerity in adults.
"My students are always watching," says Dorsey. "People are always watching. He's always watching. We are role models. We have a student creed about doing your best, doing your chores, and working hard."
He touts volunteerism and stays involved with fundraisers for the St. Jude's Children's Hospital, the Muscular Dystrophy Association, the North Texas Food Bank, and other organizations.
"I want to be a helper," says Dorsey. "I want to be a giver. The more we give, the more like Jesus we are. I wish to help the community."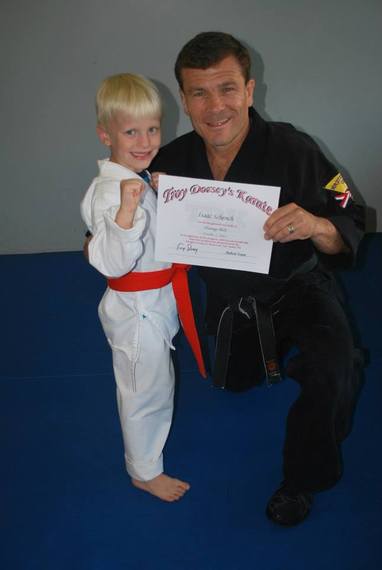 Dorsey keeps in contact with some of the men whom he fought so valiantly with in the ring. "Gabriel Ruelas is involved in the ministry," says Dorsey. "I believe Kevin Kelley is, too. Jesse James Leija is not, he's Buddhist. But we are working on him."
Troy Dorsey obviously trained hard, but, similar to many men, he made some undisciplined life choices. He tends to deflect the conversation away from them -- perhaps that's only natural. He is worried that students and young people will see some sort of tacit endorsement in his weaknesses.
Or perhaps they will find something more believable in the words and path of a man who has an all-too intimate knowledge of life's dangers.
"I used to drink and do drugs," says Dorsey. "And that's very embarrassing to say. But in 1998, I quit doing drugs and drinking. I made poor choices; in between fights I was partying, it wasn't pretty. Some of my friends are dead or imprisoned. I'm so fortunate. It's not okay to live that life -- it's just destruction, hurt, sorrow and pain, the loss of family, destroyed marriages. Nothing to it but death and destruction. I haven't looked back. I look at what the Lord has brought."
We all arrive at a time and place in our lives when and where we feel most comfortable. For Dorsey, that time is today, and that place is Mansfield. That role is responsibility. He sees his fame as an opportunity he can't afford to waste.
"I am at this place in life at age 50 for a reason," says Dorsey. "It's no accident."
Brian D'Ambrosio lives in Missoula, Montana. His latest book, "Warriors on the Ice," chronicling the careers and whereabouts of more than 25 former NHL tough guys is available December 15, 2013.
REAL LIFE. REAL NEWS. REAL VOICES.
Help us tell more of the stories that matter from voices that too often remain unheard.