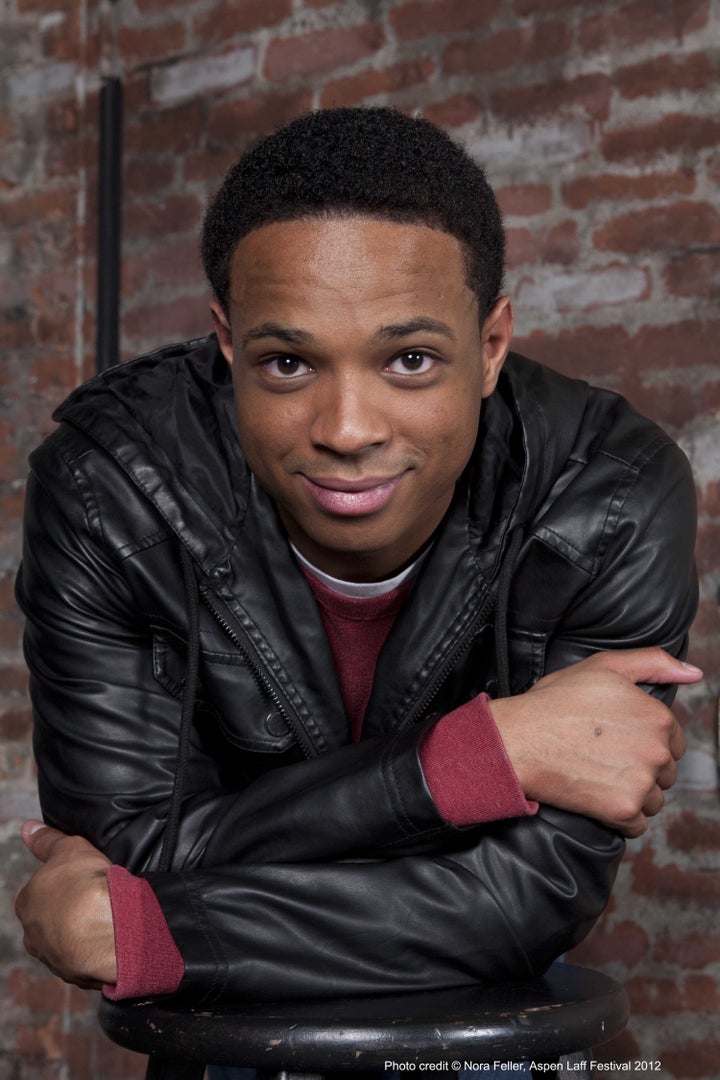 If you haven't heard yet, the Denver comedy scene is blowing up and stand-up comic Troy Walker is one of the most talented local rising stars.
Walker, a winner of Comedy Works' "New Faces" contest who has been doing stand-up comedy since 2007, drops well thought out, densely packed and -- most importantly -- hilarious comedy bombs on his club audiences. And after witnessing his storytelling abilities and commanding presence on-stage it should come as no surprise that he's also a licensed attorney who graduated from University of Denver's Sturm College of Law just last year.
Walker recently chatted with The Huffington Post about how comedy and law are close cousins, the booming Denver comedy scene, and why he loves stand-up.
How long have you been living and performing in Denver?
I have lived in Denver my entire life. Born and raised here. Went to Denver Public Schools (South High Rebels '03 Forever!!!) Attended the Metropolitan State College of Denver for five years where I majored in political science after a brief flirtation with theater, and finally graduated from the University of Denver Sturm College of Law in May of 2011. So, I'm a townie through and through. I started doing stand-up in March of 2007 while I was at Metro.
How would you describe the Denver comedy scene?
I would say that the Denver comedy scene right now is truly blossoming and coming into its own. There is just so much going on right now. Comedy Works has always been great and CEO Wende Curtis is incredibly supportive of the local scene. Additionally, though, there are so many other truly quality shows and groups in town. The Grawlix guys (Adam Cayton-Holland, Andrew Orvedahl, and Ben Roy) run an amazing show by the same name at the Bug Theater the last Friday of every month. They do such amazing work. Kevin O'Brien's Arguments and Grievances comedy debates at the Vine St. Pub every month is one of my personal favorites. The Fine Gentleman's Club (Sam Tallent, Bobby Crane, Chris Charpentier, and Nathan Lund) run a really cool show called Too Much fun every Wednesday at the Deer Pile above City O' City. The Ladyface, um, ladies also have a great show, as does Heather Snow at the Beauty Bar, and my buddy Jim Hickox just started a cool show called Street Laughter at the remodeled 404. On top of that there are a ton of open mics and comics that are just doing good work and trying new things.
Part of what is so great about our scene is that it is a community where everyone is trying to help everyone else. There's currently this collective push to publicize all of the great comedy that is available to this oxygen deprived burg, complete with a website, 5280comedy.com, that shows everything going on in town every week. Its really cool to see and be a part of.
How often do you perform at Comedy Works? And how do the downtown and south clubs differ?
I would say that, between both clubs, I perform at Comedy Works 3-4 times a week on average. I'm very lucky that way. The two clubs are quite different in both clientele and atmosphere, but they're both amazing. It's the difference between a Ferrari and a Bentley, really. Downtown is the Ferrari. Because the club is downtown it draws a younger, rowdier, bar going crowd. It is an awesome club; perfect for comedy. It's dark, cold, and cramped. The ceilings are low, there are no tables, and every seat faces the stage. There is electricity in the air. On a crowded weekend night, there is an amazing energy in that room, and you feed off of it. You walk out and every joke explodes. You feel like a rock star. It's this crackling, popping, manic space. It is consistently rated as one of the best stages in the country and it certainly is the best stage I have ever had the opportunity to set foot upon. Everyone I have ever met in comedy knows how great a room it is and often headliners coming through will remark on that fact.
Comedy Works South on the other hand is the Bentley of the two. It is this new palace. Its much brighter and seats a lot more, and its more open. Additionally, it has some comforts that the downtown club doesn't. The audiences there trend older, wealthier and more conservative. One of the things that I think is great about the south club is that, because of the composition of the audiences, it will force you to trim and tweak your material in a way that makes it more universal. Crowds downtown will often let you get away with things that the suburbs will not. So, you find a way to say the same thing differently. You change it slightly to make the joke work there, and then you find that, when you take it back downtown, it works as well as it did before, even though you've softened it.
It seems an unusual pairing -- law and comedy -- how did you balance the two?
I am currently a licensed attorney and when I started law school, I had been doing stand-up about a year and a half. At first balancing the two was quite difficult. Your first year of law school is a gauntlet -- a pride swallowing, misery causing, siege. But after a while, doing both was quite easy and I think doing so made me better at both, just because they gave me something else to think about. Actually, I think the two go quite well together and it happens relatively frequently. Greg Giraldo, for example, was a Harvard Law grad, Demitri Martin was NYU law I believe, so it isn't unheard of by any means.
Is law a backup plan for a comedy career? Or is a comedy career a backup plan for law?
I don't really like to think of either in such terms. Neither, because of their nature, can really be a back-up. Neither of them lets you leave for a few years and come back, so at some point you have to choose one or the other. But more than that, you become both of them. Once you are a comic, you are always a comic, I think. Similarly, law school fundamentally changes how you think. There is no going back. So, I will always be both in one way or another. That said, comedy is my passion, it's what I want to do because it is just plain fun.
Do you feel stand-up comedy is a good skill to have as a lawyer, given the emphasis on language and logic in both professions?
I think law school helped me become a much better comic. I'm an exponentially better thinker and writer than I was before. Legal writing is all about structure and logically grounding every premise and conclusion to make sure that the reader can follow your reasoning. I feel like a lot of that has drifted into my comedic writing. The structure of a joke is incredibly important to whether or not it works. Like a legal argument, people have to be able to follow your thought process to understand and laugh. Conversely, all my experience on stage made me exceptionally better at speaking and thinking on my feet, which helped with mock trials and interviews and such. Though I am not currently practicing, I know I benefitted from the experience in ways I don't even realize.
What drew you to stand-up comedy?
I was always into funny. Funny movies, funny shows. I would watch anything that was funny. So it didn't take too long for me to get into stand-up. I first started watching Def Comedy Jam, and then moved on to HBO and Comedy Central specials. I always wanted to be funny and I did the class clown thing like I think most comedians have. I don't think I really thought about doing stand-up until I was in high school. I called around when I was about 16 or 17, but there was nowhere that would let me on because I was under 21. So, I put it off for a while, did plays and improv in high school, and started college as a theater major, before switching to political science. When I turned 21, I still wanted to try comedy, but I had no idea where to go or how to go about it. Then I saw this article that one of the Grawlix guys, Adam Cayton-Holland, wrote for the Westword about trying stand-up. It described where to go, and what it was like, and it made it real. I went to the Squire for the first time a week or two later. My first show was terrible. I got a couple chuckles from some nice girls sitting by the stage, ignored by everyone else, and then Greg, the host, made fun of me when I got off stage. And everyone laughed and laughed. The masochist in me demanded that I go back for more.

What was the moment that you knew you wanted to pursue comedy as a career?
I think I knew I wanted to do comedy, if I could, after my first few sets. I suppose the question was always whether or not I could. I was able to avoid making the choice for a while when I was in school. I just figured I would keep balancing until the issue was decided for me. Honestly, I suppose it was relatively recently when I knew that, no matter what, I was going to take a shot at it. I almost got a job as a DA shortly after getting my Bar license. I came really close. I was one of 7 applicants for 3 positions at the end of an interview process that began with over a hundred resumes. When I realized how close I was, it freaked me out. The choice was being made but I didn't like it. I wanted to do comedy.
What's your process for coming up with jokes?
I have a process that could best be described as haphazard. Basically, it's like flipping a switch in my head. I just remind myself to keep my eyes open and take note of the things I think about that seem like they could be funny. Once I have something, I turn it around in my head, pace, talk to myself, try to make myself laugh. I don't usually write a joke down until I've already written it in my head. I like to think I'm like Jay-Z, thinking for a while and then laying the track down in one shot, but it's really more like a crazy person on the bus.
Do you have a favorite joke/bit?
I think my favorite bit is this character thing I wrote a few years back. It almost always kills, but I don't do it that often because the audience really has to get what I'm satirizing with the character to get the character. If they don't you're stuck in this bit and there really isn't any bailing on it because I've switched my appearance to do it. It requires me to put on sunglasses and twist my baseball hat to the side. If you bail, you're up there telling regular jokes looking like Allen Iverson. But, I'm really proud of it. Basically, the character is my rap alter ego. His name is Gunshots McPrison. He just talks about how he gets shot all the time in various places and tells stories about getting shot. It's really stupid and the description doesn't sound that funny, but I love it, and lots of other people do too -- so stop judging.
Do you have a joke/bit that you love that no one else does?
I have this new thing that I like a lot, but I haven't been able to make it funny, and I keep doing it no matter how many holes it blows in perfectly good sets. It's about me knowing a guy that is really into hot rods, my first question being whether people put safety features in them, his reaction, and the utter unmanliness of me asking the question in the first place. I think it's a good premise, and it starts off okay, but about halfway in that thing sinks like a stone every time.

Any funny stories of bombing on stage?
Oh yeah! Tons of them. I've repressed more than you can imagine from the Squire lounge alone. One of the worst was when I did the Squire Lounge show on Christmas. I got booed, someone yelled you suck, they wouldn't stop talking and yelling at me, and I ended up threatening to break someone's beer bottle over their head. 'Twas a merry Christmas indeed. Another rough one involved the character I talked about earlier. Ben Roy and I were working a packed show at Comedy Works and he encouraged me to try Gunshots. The crowd just stared at me. 300+ people and you could have heard a pin drop. It was bad. The worst one recently was a show in Westminster for a bunch of elderly Italians. Seriously, the average age in the room was probably 70. The organizer's wife's mother had seen me at another show and they requested me specifically. Because when you think geriatric Sopranos, you think Troy Walker. The organizer starts by giving a tribute to his father who had just died. It was sad, and I empathized, but it's hard to follow that. My buddy Elliot Woolsey has this great set in front of me. It was at this "event chateau" with wood floors and string lighting along the ceiling. Given the arrangement of the venue, and the age of the crowd I started my set off with a crack about it "being my first cruise ship." There was an audible gasp in the room. They were horrified, they hated me, and I had to be up there 15 more minutes. But I did every second of it. That's what you have to do. Everyone has to suffer.
Do you ever get hecklers? How do you handle them?
I don't often get hecklers, but when I do my response really depends on the heckle. If it's something innocuous or not that disruptive I'll just ignore it. But if it's something I have to acknowledge I'll usually just point out the ridiculousness. The rest of the audience is on your side, so it's pretty easy to just parry and dodge. I'm not good at being mean, and I don't like to be, so I don't really do the attack mode stuff well.
Where might we see Troy Walker outside of a comedy club?
Between work and comedy most of my days are fully accounted for. But when I'm not doing those things, I'm pretty simple. I'm a movie nerd so going to the theater is probably my favorite thing to do. I don't go much because I usually don't have anyone to go with and I don't like going by myself. Going to restaurants is probably my second favorite thing to do. I love food. Of course, with how late shows tend to end; I eat at IHOP, Buffalo Wild Wings, and the Waffle House a lot. Honestly, I don't like the nightlife stuff normal 26 year old guys do. I hate bars and clubs. Part of that is probably the fact that I don't drink, but really, I just like a more mellow experience than I feel those places offer. Basically, I'm a lonely old man trapped in Carlton Banks' body.
You just performed at Red Rocks' "Film On The Rocks" opening for "Tropic Thunder" -- was that the largest audience you'd ever performed to?
Yeah! That was awesome! One of the coolest things I've ever done. Interestingly enough, even though I've lived here my whole life, I'd never been to Red Rocks before. First time ever, and I was on-stage. So, that was really cool. It was definitely the largest audience I've ever had the pleasure to perform in front of. Before that, I think the largest was probably the Johnny Carson Theater in Norfolk, Nebraska. That was about 900 or so. But, Red Rocks was definitely a lot more. It was intimidating at first, but after a few seconds, you get that it's just another performance, albeit on a much bigger scale, and you settle in and do your time.
Were you a student of comedy growing up?
I would say I was a student of comedy for sure. Not really with the intent of doing stand-up when I was a kid. I just liked funny stuff, and I wanted to be funny, so I think I paid a lot of attention to what seemed to make people laugh. I liked a lot of the comedies that came on Nick at Nite when I was a kid. Get Smart, Green Acres, Bewitched, Mr. Ed, All in the Family and MASH were some of my favorite shows for years. I liked a lot of the older comedy films too. Anything Mel Brooks made, Dr. Strangelove, Airplane, Caddyshack, Animal House, Coming to America, Trading Places, Ghostbusters 1 and 2, and The Naked Gun movies were my favorites. But, I also liked more contemporary stuff like the Ace Ventura movies and I loved In Living Color. As far as stand-ups, I listened to a lot of Richard Pryor and Chris Rock and Eddie Murphy. But even with stand-up, I think some of the best stuff is older. A great example is this YouTube clip of Flip Wilson doing a bit about an ugly baby on the tonight show in 1963. It's amazingly funny and well written. It is definitely one of my favorite bits ever. So again, I'm an old man in Carlton Banks' body.
Who are your 5 favorite stand-up comics of all time, past and present?
That's tough, but for me I suppose it would be: 1) Richard Pryor; 2) Dave Chappelle; 3) Eddie Murphy; 4) Bill Burr; and 5) Mitch Hedburg. I know there are some notables that I've left off, but those are the people I have always liked to listen to the most. I love me some Hedburg.
Any tips for comedians just starting out in stand-up?
I think that there are a few things that have helped me advance as quickly as I have and that I think are important for new comics, to wit: 1) Go to open mics. There is no way to develop material without getting onstage as much as you can; 2) don't get a big head. You're never as good as you think you are and as long as you remember that you'll keep pushing to get better; 3) nobody owes you anything. I think that, for the most part, comedy is a meritocracy. Don't worry about what other people are getting that you aren't; 4) It is supposed to be fun, but the people that do the best are those that have a good work ethic; that show up on time or early, don't flake on shows, and don't cause drama. Just like anything else.
What's next?

Currently, I'm focused on developing new material, trying to get in to some more festivals, and I'm going to start trying to make some videos and stuff as well. More broadly, I'm trying to branch out a bit now. I just got back from a great trip to L.A. I got to perform on some of the most coveted shows in town and had a blast. Hopefully, I'll make another trip there in the next six months or so. I plan to get to New York in the near future to check out the scene there as well. Past that, your guess is as good as mine.
Photos and video of Troy Walker:
Before You Go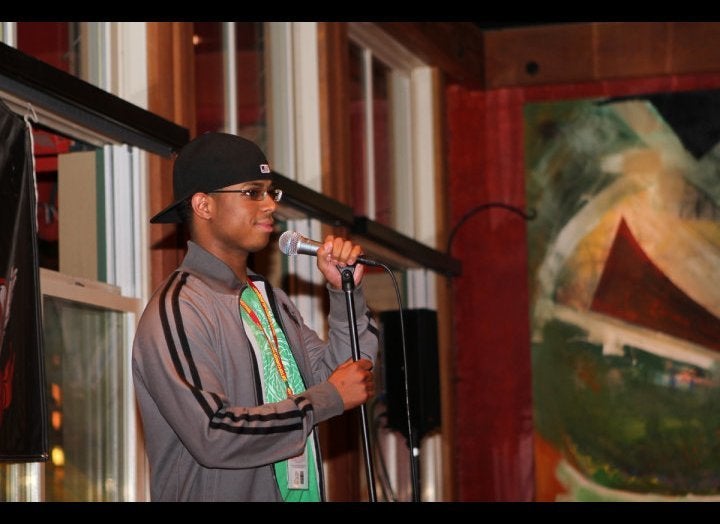 Troy Walker, Denver Stand-Up Comic
Popular in the Community