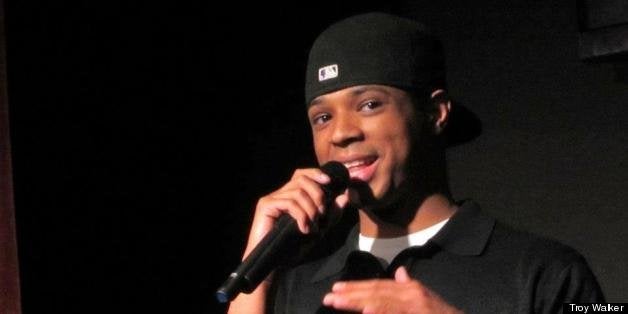 Walker recently chatted with The Huffington Post about the details of his TV special, the new material he's working on and more.
For those who don't know you already, who are you?
I'm Troy Walker. Denver Stand-up, Colorado attorney, American insecure mess. I'm a Denver native and very proud of it. I've been performing in the Denver Comedy Scene for a little over six years now and have become quite ubiquitous. If you've ever been to the Comedy Works there's a good chance you have seen me. I enjoy British Top Gear, anything HBO makes, videogames, long walks in the rain, and going out for dinner -- Pretty sure I just wrote the worst OK Cupid profile ever.
I suppose a decent amount has been going on. The position I had with a financial firm ended in January when the project we were working on was completed, so I've just been doing comedy for six months or so. I returned to the Aspen Laff and Telluride Comedy Festivals in February and went to the Bridgetown Comedy Festival again in April. I've made two more trips to Los Angeles in the last few months and am really growing to like that city, and get a feel for it. It has been a blast, but I'm going to have to get a day job again soon. Mostly though, I've just been trying to continue to grow as a stand up. Trying to write as much as I can and guilt-tripping myself when I don't. Then feeling like a fraud when what I write doesn't work. You know, comic stuff.
Tell us about "On Stage" on Altitude, what can viewers expect?
"On Stage" is a great showcase for artistic perfomers. Generally, they have musicians on but occasionally they have comedians and I couldn't be happier that this time they've selected my face to broadcast to the Mountain West! I taped it back in March at Comedy Works South in Greenwood Village during a fundraiser for Dog Nation. It's a great organization of hockey players who raise money for members who have fallen on hard times. Its an awesome cause and the crowd was amazing and I have no doubt that will come through when you watch "On Stage." The show will be a half-hour which will consist of an interview interspersed with clips of my set from that night. It should be great. It begins airing on Altitude June 11th at 9:00 p.m. and will continue running through the end of June initially. By the way, another great Denver Comedian, Chris Voth, taped his "On Stage" that night too and readers should definitely keep an eye out for it as it is running this June as well. Chris is Hilarious.
How did the "On Stage" gig come about?
Well, it was kind of by chance really. I was doing sets at Comedy Works South one weekend and after the show a woman named Shelly Harper gave me her card, told me about "On Stage" and said she thought I would be great for it. Turns out she is the VP of Programming and Production over at Altitude. I sent her an e-mail, and then was contacted by Doug Ballmer who got everything together with Mike Raftery of Comedy Works Entertainment. Altitude wanted to film around March, Mike is a member of Dog Nation and was helping organize that fundraiser show, which is always packed. It all just lined up for us to have an awesome crowd for the taping. It was really cool how everything just sort of came together, actually.
What's your current favorite joke/bit you've been working on?
I wrote a bit a couple of months ago that I really like about a crazy story that happened to me a while back. Its about almost getting into a fight outside of a bar in Aurora because my friend got hit by a sandal. Its based on a true story and the joke is almost verbatim what happened, I've just punched it up a bit. Basically, what happened was three of us were leaving a bar in Aurora after last call and some other guys were leaving who were really drunk. One of them was so drunk that he took his sandals off and randomly threw both of them, one of which hit one of my friends. This resulted in me and my other friend arguing about whether or not the friend who got hit should start a fight over it. It was so stupid, but I really like the bit because the situation was so ridiculous that my friend that got hit with the sandal and I still laugh about it almost every time we talk. Additionally, its one of the longest things I've written and writing longer pieces is one of the things I'm focused on doing. Finally, I like it because it generally kills.
Are you working on a new set that you have been touring on? How many minutes do you have that are working? How many minutes are you trying to get to?
I set a goal for myself at the beginning of the year to have a new 20 minutes in a few months and a new 45 minutes by the end of the year. It was a sort of New Years' resolution, I guess. The results have been mixed. I've written the new twenty and it works pretty well, but it doesn't work as well as the twenty I was generally doing last year so I will often fall back on the tried and true unless I force myself to do the new stuff. I want to get to the point where I'm not forcing myself to not do the older jokes, but rather don't even think about doing the older stuff because what is new is so good. I'm not there yet on all of it. I'd say I have, since the beginning of the year, written a new 15 minutes or so that I really love. Objectively that isn't bad, but I'd be lying if I said that I was content.
You were recently in L.A., were you performing out there? How do the L.A. clubs compare to the Denver clubs? And how does your material do there vs. here?
Yeah! I went to L.A. in January for a few days and again in May. Both times were a blast. I got to do some great shows and, in January, watch my friend Adam Cayton-Holland tape his first TV spot on Conan. That was awesome and being backstage on the set was one of the coolest things I've ever done. Hopefully, I'll get to do that show someday. I haven't really done too much comedy in L.A. "clubs." I performed at the Hollywood Improv once last June and that was pretty great. I've done a decent amount of sets at Upright Citizens Brigade LA both on "Crash Test" and "Put Your Hands Together." Both of those shows are awesome. PYHT actually has a really great podcast of the show that I was lucky to be a part of as well. I also did a spot on a cool show called "Punk House" at the Westside Theater in Santa Monica. Those are really the only clubs I have done, though, so I wouldn't say I'm qualified to compare them to what we have here, past saying that Comedy Works is so good it would be hard for any club in the country to beat it. Most of the time when I am in L.A. I am doing indie shows, which are always fun. There's a ton of smaller shows around town in Los Angeles and its really cool how much variety there is.
My material does very well in L.A. I mean, as a comic, your material is generally supposed to work everywhere (or very near that) anyway. But, I would say that, so far, I haven't had a set in L.A. where I felt like I tanked or anything. I think my act is pretty mainstream. I rarely run into a crowd that just doesn't "get me." I'm like black Elmo, everybody likes Elmo.
Any recent funny stories about bombing, hecklers, touring, etc.?
Well, I recently had an interesting audition when I was in Los Angeles in May. It was a showcase, but there were only around ten people in the audience, who seemed like they couldn't really care less about anything any of the comics were saying. Wasn't a lot of killing to be done in that room. But, it was a pretty big deal so we were all trying our best. I went up and my set felt like it was going pretty average and the whole time I could see the guy we were showcasing for intermittently writing. So my set basically consisted of me thinking "Huh, that joke usually works better than that -- Oh dear god, what is he writing!?"
I'm going to continue to do as many shows as I can and write as much as I can. I've got some great stuff coming up outside of the regular Comedy Works sets, though. On the 29th at 8:00 p.m. at Ari's Tavern, we'll be doing a really important benefit show. The wife of one of the comics in town needs help to pay for her cancer treatments and we will be raising money for that by telling jokes. I'll also be performing at "The Greater Than Social Club" with the very funny Andrew Orvedahl at Lannie's Clocktower Cabaret at 8:00 p.m. on July 3rd. Finally, my South High School ten year reunion is on the 29th of June as well, which should provide plenty of opportunities for me to think about the hopes and dreams of a 17 year old Troy, and how 27 year old Troy has failed him.
Troy's special will premiere tonight at 9:00 p.m. (MST) and repeat throughout June on Altitude Sports, tune in on: Comcast-Denver Channel 25, Comcast-Denver HD Channel 725, DirecTV Channel 681, Dish Network Channel 410. For all air dates, click here.
REAL LIFE. REAL NEWS. REAL VOICES.
Help us tell more of the stories that matter from voices that too often remain unheard.