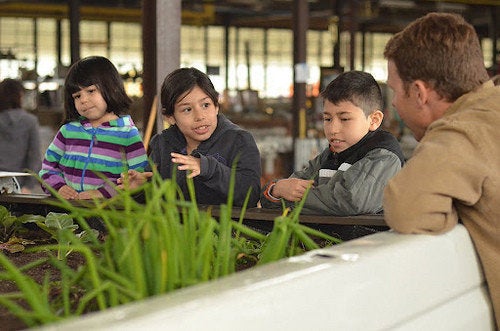 A mobile farm that travels to schools, festivals and farmers markets, Truck Farm Chicago brings urban agriculture to areas of the city with the hope of educating children about the benefits of good food and showing them how such food is grown.
In 2011, its inaugural year, the mobile farm, an initiative launched by Seven Generations Ahead in collaboration with Green Sugar Press, educated over 2,700 students at 47 schools throughout the city, most of which were located in parts of the city deemed food deserts -- communities where access to healthy, naturally-grown, affordable food is scarce.
The Huffington Post interviewed Tim Magner, the creator of Truck Farm Chicago -- about what it means to be taking his mobile farm out for a second spin around the Second City.
The Huffington Post: What was the motivation to bring the Truck Farm back this year? How did the idea originally come to be?
Tim Magner: The idea for Truck Farm Chicago came from the guys behind the movie, "King Corn." Their NY Truck Farm began a few years ago, and now there are about 20 independent Truck Farmers across the nation. So we did all sorts of different things on our 93 visits last year and the feedback was really positive. Food presents an opportunity to discuss nearly everything. We took what we learned last year and refined it. And thanks to Farmer Sydney, we're more organized this year.
(Scroll down to watch Truck Farm Chicago's Kickstarter video.)
Last year was Truck Farm Chicago's first year -- what was the response like from students? And schools? I imagine some places are begging you to return!
Truck Farm has a 'coolness' factor to it. When students see all the plants growing in the back of the truck, suddenly we're associated with cool and crazy things happening: kids eating beans raw, doing jumping jacks for kale and tomatoes and laughing at our mediocre vegetable jokes.
Where'd you find Petunia, the truck you utilize for Food Truck?
Craigslist. It went down to the wire last March. I caught a train to Grand Rapids on a Sunday night, paid $1,900 in cash, then drove to Chicago -- without insurance or plates.
What are some of the biggest misconceptions or "myths" concerning food, farming and health that you come across and help debunk on tour?
People think it's difficult to grow food. Yes, to grow a lot of food really well requires accumulated knowledge, but starting is easy. Last May, when a third grader asked Shari how long she'd been a farmer, she responded, "About three weeks. And it starts with getting your hands dirty. Who's ready?" And then all of them dug their hands in the soil.
How do you choose where you take the Truck Farm? I understand that the city's food deserts play a huge role in those decisions.
Yes, last year, about 75 percent of our school visits were to the South and West Sides of Chicago. It's not that we can't add value in the affluent areas, but there's a lot of low hanging fruit in the areas with more poverty.
Chicago has made some legislative improvements recently in terms of farming and food access within the city limits -- how do you think the city is doing when it comes to supporting this sort of healthier, more green lifestyle? What are some additional improvements you'd like to see happen here?
Rather than being critical against, say, Walgreens or Walmart, we'd rather give kids opportunities to discover connections. To think about their choices, why they have the ones they have and what the impacts of their choices are, not only to their bodies, but also to their communities and to the air, water and soil. Ideally, kids come to conclusions on their own, but definitely we'd like to see the older kids believe that democracy is a verb.
Are you optimistic you'll get to your Kickstarter goal?
Anything's possible. Yes, the feedback we've received has been overwhelming positive. Plus, while there's only a few days from the end, we're pretty close.
Anything else you think is important for people to know about the Truck Farm?
The compost we grow our plants in came from a school's lunch scraps and the truck runs on biodiesel -- locally processed waste vegetable oil. Biodiesel isn't any less expensive than diesel at the pump, but it produces about 90 percent fewer harmful emissions.
Get in touch with us at chicago@huffingtonpost.com if you have a Chicago area-based Kickstarter or IndieGoGo project that you'd like to see featured in our "Can They Kick It?" series.
WATCH Truck Farm Chicago's Kickstarter campaign video:
REAL LIFE. REAL NEWS. REAL VOICES.
Help us tell more of the stories that matter from voices that too often remain unheard.
BEFORE YOU GO