The truckers said they hope to create enough of a backup on the highway to express their frustration with the "lawlessness" of members of Congress "who refuse to work on behalf of the American people."
"It has become apparent that our elected official [sic] will never respond to the will of the people as long as their greed wealth is not jeopardized," the demonstration organizers said in a press release. "The only thing that motivates every politician is their money -- cutting off their money-flow cuts off their life-blood. The Independent Truckers in the United States essentially keep commerce flowing for benefit of the central government."
The group went on to list other grievances, saying truckers are "strangled with regulations" and the government "now support[s] Al Qaeda."
The coalition of independent truckers has been planning the event since mid-September. The original page listed their plans for the October strike as such: "Truck drivers will not haul freight! Workers will call in sick! Consumers will not buy or sell anything on this date! Stay home! Buy nothing!"
Earl Conlon, a trucker from Georgia organizing the logistics of the demonstration, told U.S. News that the group isn't calling for impeachment, just the arrest of members of Congress involved in the government shutdown. He identified House Minority Leader Nancy Pelosi (D-Calif.) and Sen. Dianne Feinstein (D-Calif.) as two of his targets.
"We want these people arrested, and we're coming in with the grand jury to do it," Conlon told U.S. News. "We are going to ask the law enforcement to uphold their constitutional oath and make these arrests. If they refuse to do it, by the power of the people of the United States and the people's grand jury, they don't want to do it, we will. ... We the people will find a way."
UPDATE -- 10/8 2:57 p.m.: Conlon told the Washington Post on Tuesday he may not even make it to D.C. on Friday, saying his comments to U.S. News were only meant to "stir the feather of the mainstream media."
"Nothing gets the attention of the mainstream media like some sort of disastrous threat. I knew it was going to ruffle some feathers," Conlon said.
Conlon clarified that truckers won't intentionally shut down traffic this weekend, though some may travel along the inner loop of the Beltway and honk their horns. Conlon said it "wouldn't be fair" to the people of D.C. "to lock down the city by the Belt loop."
Before You Go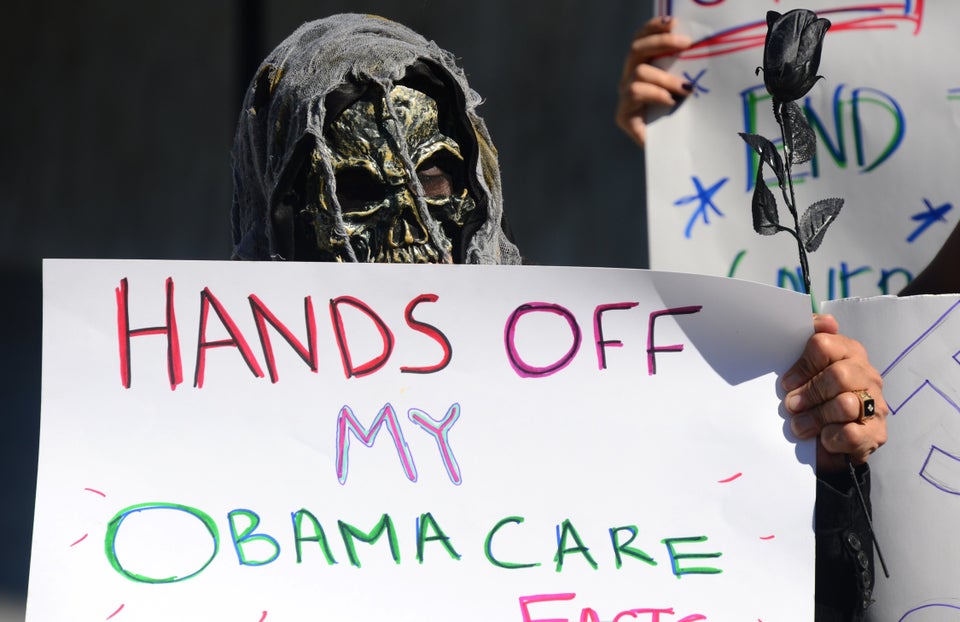 2013 Government Shutdown Protests
Popular in the Community