It's not surprising to learn that most mature artists can look back at their birthplace with the realization that specific past childhood influences and geographical elements continue to permanently encourage and impact their current work. It's also true that one's existing surroundings under the best conditions can be inspirational and motivational. Melinda Trucks was born in historic Knoxville, Tennessee, encircled by invigorating views of her urban and rural environment, which often can have a subconscious effect on the development and appreciation of creativity through one's very own backyard landscape. Melinda was raised in nearby Gatlinburg, in the heart of the Great Smoky Mountains, which are known for their spellbinding albeit peaceful silhouettes of rugged deep green shapes edging into splendid orange sunsets. The mountains are named for the fog that often hangs over its ranges and valleys like vast purple cotton-like smoke plumes. The neighboring Blue Ridge Mountains reinforce the picturesque topography of old growth forests that shelter hundreds of regional wildflower plant species, which attract hundreds of animal visitors, from bees and birds and bugs to black bears. These areas, rich in native grandeur and diversity, provide a lingering artistic DNA that could be assimilated (particularly by a talented emerging painter) from recollections of early childhood and the visually stimulating circumstances in which they grew up.
Melinda Trucks systematically has maintained a disciplined approach to art-making since attending the University of Tennessee's College of Fine Arts, and later as she pursued a master's degree in painting at the School of Visual Arts at Florida State University, as well as advanced courses at the Armory Art Center in West Palm Beach. She has been painting regularly ever since, and maintains studios in West Palm Beach and in Sauve, France, in a restored 14th century farmhouse, likely the perfect setting for producing landscapes and traditional still-lifes.
Melinda Trucks' impressive exhibition currently at the Coral Springs Museum of Art is an exciting presentation of the artist's creative efforts in many different disciplines and subjects, including masterful landscapes and a curious and wonderful investigation of the colorful bugs that the artist discovered scurrying and flying about her French farmhouse. Collectively, all of the works represented here have a enchanting, colorful common denominator that makes a major contribution to the artist's signature style. This 'trademark' has been patiently polished and secured by years of serious studio investigation. A brief inspection reveals a fearless approach to picture-making, where many of the feathered brushstrokes are laid down in connected layers that blend together to complement a rich palette of handsome, pigmented schemes. Fall Afternoon is a great example of Trucks' gift for playfully assembling a thoroughly delightful work that offers a convincing focal point of assorted branches delicately placed on top of a spare background of forest leaves.
This composition takes a cue from other notable landscape painters that also know a successful configuration depends on creating a grand impression of foreground to background. Here, she also cleverly adds a mid-ground rendering of a birch tree, which further emphasizes and sharpens the viewers' perspective. Into the Woods also inventively employs a meandering sunlit trail that conveniently disappears into a literal vanishing point.
In this work, as with her other landscapes in particular, the artist has developed a painterly application to represent organic forms that are homogenized as one area of brushstrokes melts into another, creating harmony and an arresting composition. In the work titled Jupiter Ridge, Trucks carries out the same formula for creating depth and synchronization, with all components contributing to its success. It's the deliberate scratchiness of individual marks balancing each other that makes these works so enjoyable and fresh to appreciate.
In each of the color plates reproduced here the obvious command of traditional draftsmanship is quite evident, as enriched drawing with a brush is the basic foundation of Melinda's ultimate achievement. The artist's bold trials with some figures, although highly abstracted into neat patches of color, also carry with them a stylized precision that relates to her accurate approach to painting the outdoors.
Along with landscapes, Trucks' documents the veritable parade of non-aquatic arthropods from around her studio in rural France. Melinda treats her bugs equally--that is, she seems to effortlessly transfer her inherent knack for abstraction and color mixes into the natural repeat patterned backs of her multi-legged models for an interesting and oddly handsome interpretation of creepy-crawlers, which also have been a favorite theme of British artist Damien Hirst, Charles Burchfield (a contemporary of Edward Hopper) and Hunt Slonem. In these perfectly charming small-scale works, Trucks uses many of the built-up applications of paint that are recognizable throughout the exhibition. As these entomological creatures pose for the camera, it is the artist's challenge to craft believable artifice as the first priority, which here is perfectly plausible.
Any artist worth her 'salt,' particularly with the intricacies and range of works in this exhibition, must have a strong foundation in basic drawing. This talent, built over years of academic study and testing, is essential in order to paint her complex canvases that provide illusion, perspective, three-dimensionality, volume and convincing profiles, no matter the focus. Melinda also shares a passion for manipulating tree branches that point the way to secret pathways, a method which has been incorporated by great painters for centuries.
In addition to these related categories, Trucks has diligently developed a definite propensity for beautiful and engaging landscapes, waterscapes and appealing depictions of man-made structures surrounded by vegetation. I'm also reminded of early works by Richard Diebenkorn and Fairfield Porter. The artist surely is in her outdoor element, as she seems to intuitively collaborate with her noteworthy ability to convey organic shapes. From random tree trunks and woodland acres (perhaps similar to those she grew up with in Tennessee) to seaside cliffs and reflective waterways, she has developed a pleasant signature style that is inviting and memorable, and has developed a significant and professional collection of vibrant and engaging images to fill this notable exhibition.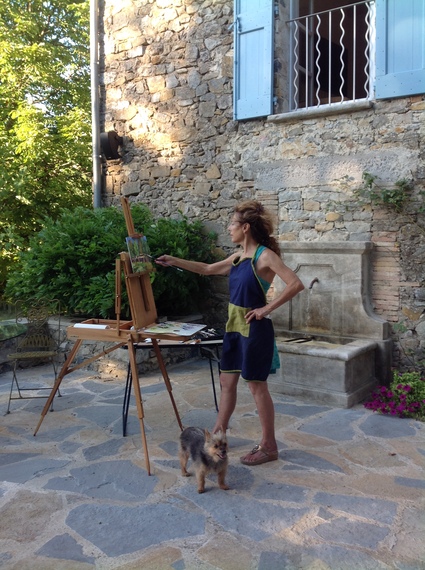 The artist painting in the courtyard of her restored 14th century farmhouse in Sauve, France.
REAL LIFE. REAL NEWS. REAL VOICES.
Help us tell more of the stories that matter from voices that too often remain unheard.