WASHINGTON, DC (Herald de Paris) -- The White House was resplendent in its early blossom glory, as President Obama joined Prime Minster of Canada, Justin Trudeau, for a press conference in the White House Rose Garden today.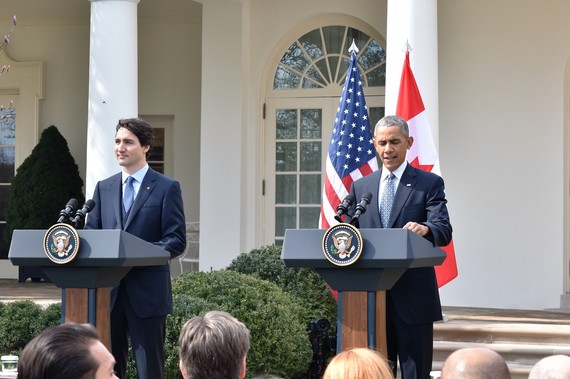 The smell of early spring, the fresh-clipped grass reminiscent of an elementary school sports day, all added to the joy and anticipation that was felt throughout Washington, DC for this visit. The streets all around the Nation's Capitol were all adorned with American and Canadian flags, as the good looking young Canadian Prime Minister -- with an iconic political pedigree -- joined with an equally dashing American President.
It made for a picture of elegance with a vibrant backdrop of American and Canadian flags. A friendship stronger than ever. Both men have endured their fair share of praise and vitriol from their respective publics. Twitter was aflame with Canadian supporters and non-supporters of Trudeau, and all so polite in their keenness to point out how they felt about Trudeau.
Obama has remained steadfast and true to his goals and Trudeau seems bound to do the same. Not only must a leader have vision, he must have strength of purpose and in Obama's case, Trudeau was keen to point out his friend had a, "Tremendous heart and tremendous intellect." The love fest continued throughout the press conference, with each party trading not insults, but compliments. A refreshing change after the recent USA GOP election proceedings.
Oh right, that is how professionals and dignitaries behave. However, there was far more than just professional mutual admiration to this visit. Trudeau and Obama both stressed their agreement on climate change, terrorism, growing and strong economies. In fact, just abut everything but ice hockey Obama put it well when he said, "This visit reflects something we Americans don't always say enough, and that is how much we value our great alliance and partnership with our friends up north. We're woven together so deeply -- as societies, as economies -- that it's sometimes easy to forget how truly remarkable our relationship is."
Over $2 billion in trade and investment is done between Canada and USA per year. That makes the relationship between the two countries the largest bilateral economic relationship in the world. Both leaders were keen to discuss a matter close to their hearts - climate change and - See more at: http://www.heralddeparis.com/trudeau-and-obama-make-a-handsome-pair/#sthash.6sIuqlQ5.dpuf
Calling all HuffPost superfans!
Sign up for membership to become a founding member and help shape HuffPost's next chapter