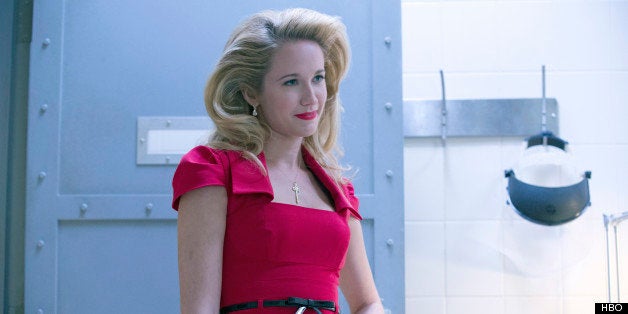 Anna Camp made her triumphant return to "True Blood" as the duplicitous Sarah Newlin in last week's episode, but she almost ended up playing a very different character on the HBO hit: main character Sookie Stackhouse, a role that eventually went to Anna Paquin.
In a recent interview with the New York Post, Camp said that she originally tested for the role of Sookie, but knew fairly quickly that the odds weren't on her side after seeing Paquin. "We passed each other in the hallway, and I was like, 'Oh, Anna Paquin. She's totally going to get this,'" Camp told the Post.
Still, playing the good girl isn't half as much fun as being bad, and Sarah Newlin could be poised to be one of Season 6's main antagonists. "Sarah is really passionate about fighting the vampires more than ever this season, because obviously she's embarrassed by her husband [who is now both a vampire and gay], and she finds herself in a situation with more power than she ever expected," Camp said. "Perhaps this isn't the healthiest thing for Sarah."
The last episode also finally revealed the identity of the mysterious Warlow, the being who's out for Sookie's blood; it was none other than faerie-vampire hybrid Ben Flynn (Rob Kazinsky), who seemed like he might be our heroine's latest potential love interest for a hot second.
"He has the best of both worlds," Kazinsky told TV Guide of the manipulative character. "He is the oldest vampire that we've met to date. He is one of the first, he's Lilith's progeny. He's been around as long as she has. He also has the powers of the most powerful fae. This is all stuff that he's hidden until now because he's wanted to appear not as himself. He knows how guarded Sookie is about what happened to her parents. But the truth of what happened with her parents is something she's unaware of. He has all the powers of the fae and all the powers of a vampire and all the cravings of both."
"True Blood" airs Sundays at 9 p.m. ET on HBO.
PHOTO GALLERY
Stars' Missed TV Opportunities
REAL LIFE. REAL NEWS. REAL VOICES.
Help us tell more of the stories that matter from voices that too often remain unheard.