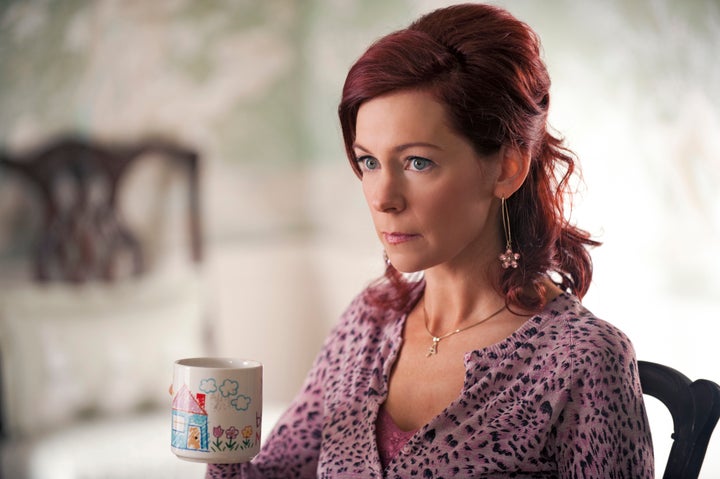 In typical "True Blood" fashion, the first few episodes of Season 5 (premieres Sun., June 10 at 9 p.m. ET on HBO) are a mind-boggling mix of action, crazy twists and too many new characters to count. But our old Bon Temps standbys are still alive and kicking and getting into drama beyond the supernatural.
I caught up with Carrie Preston, who plays fan-favorite redhead Arlene, to hear more about the interesting turn things take this season with Arlene and her troubled hubby Terry Bellefleur (Todd Lowe), and she also talked about the other new man in her life: Terry's old war buddy Patrick, played by Scott Foley. But don't jump to any conclusions that it'll get romantic ...
"Yes, she's been married four times, but she's still traditional and a kind of stand-by-your-man Southern woman," Preston assured us.
Preston also dished about the importance of having some normalcy in Bon Temps, what she'd like to see happen with Arlene, if she'd ever consider directing an episode and why she's confident -- even with Alan Ball stepping down as showrunner next season -- that when "True Blood" ends, the series finale will satisfy fans.
Then there's the Emmy buzz surrounding her "Good Wife" guest starring stint -- she explains why her quirky character from that show is giving Arlene a run for her money, and why watching her real-life hubby, "Lost" alum and "Person of Interest" star Michael Emerson, go through the awards process is helping keep it all in perspective.
Just when you think Arlene has seen the worst of her issues ... Terry really is a ticking timebomb!
I know, I know ... it's very interesting though because we haven't really delved into Terry's past yet. Not really. We've done a little here and there, but this season, we're definitely getting a look at what he went through in Iraq, so I think that's really interesting. Of course, we do that "True Blood"-style. [Laughs.] It's definitely going to cast a bit of a shadow over Terry and Arlene this season.
Fans want Arlene to be happy, but do you think anyone could really live a happy, normal life in Bon Temps?
No. [Laughs.] I don't! I think that in order for anything to work on television, you have to have conflict. Nothing can be too happy or it's boring. People don't want to watch that -- they want to watch things that are exciting and dangerous and sexy and have tension. And our show does that very well.
But you seem to find a lot of shows that do that. Obviously, we love you as Arlene, but I love it even more that the "True Blood" schedule has given you time to do other things, like "Person of Interest" and "The Good Wife."
I know -- I do feel very fortunate in that way, and I feel very grateful that my colleagues over at HBO have been so generous about that, because they don't have to be. Most of that stuff I shoot when I'm on hiatus, but a few things have had to overlap. But our cast of "True Blood" is, you know, the entire body of the Screen Actors Guild [Laughs.] ... so none of us really work very many days.
"The Good Wife" was definitely the biggest surprise and gift that I've had in a long time, and that did come out of some other work that I had done. That whole adage of "work begets work" actually worked in that case -- it was at the very end of their first season that my character was first introduced. Robert and Michelle King had seen me in "Duplicity," which is a film that I did with Julia Roberts and Clive Owen, which was such a fun part. They saw something in what I did with that and thought I would bring something interesting to Elsbeth Tascioni. So it was a real treat to really flesh that character out and find it along with them. And to have the call come again in their third season that they wanted to have me back to play the role again ... that is something that they do so nicely on that show, reprising their guest stars as much as possible. They have such distinct characters, all the guests; it's not like your typical lawyer or doctor or something. Elsbeth is not like any of them -- it was just so fun to figure out how she is in the world and how she navigates things. She thinks differently than the others. I do hope that I get to do more -- they're saying they want to bring me back, but I don't know because they do have a lot of storylines to juggle on that show.
They've been very vocal about wanting you back for Season 4, and obviously there's a nice Emmy nomination push for what you did in Season 3, which is well deserved. Does any of that ever go to your head, or do you just take it all in stride?
I'm extremely flattered by it. I've seen Michael go through the Emmy situation five times, and I've been there by his side, and I've been there when he's won. It's all really thrilling, but I definitely learn from him, and he keeps it all in perspective. Neither one of us got into acting to do anything other than practice it, so we feel very fortunate that we get to do that. If I were to get acknowledged in that way, it would be phenomenal, obviously. I'm a character actor and I get lost in these characters, so I think it's only recently that people have begun to connect dots and go, "Oh, that's the same person that did this, this, this, this and this!" which I take as a compliment. One time somebody called me an illusionist, and that was the nicest thing anyone has ever said. So for a character like Elsbeth to pop out, and for people to start talking about awards is such a pleasant and wonderful surprise.
You mentioned Michael, and really for years I feel like I've been begging your husband to go play on "True Blood" ... and then you popped up on his show "Person of Interest" instead. Fans got a big kick out of that.
I know -- and, of course, the irony is that in both of the cases that I've gone on his shows, on "Lost," I played his mother in a flashback, so of course we had no scenes together, and now on "Person of Interest," I'm playing someone who thinks that he is dead. [Laughs.] I'm appearing on his shows, just not specifically with him. I love that though, that the characters that I'm playing are so connected to his characters. I think that the fans take a delight in that, and then those that don't know we're married wouldn't know otherwise ... it's like a little secret for the fans.
"Good Wife" and "Person of Interest" reach very different audiences than the "True Blood" audience, even if only because they're on network TV. Is Arlene still the character you're recognized for the most?
It was, up until "The Good Wife," and now it's really half and half. The other day I was in this little bookstore in New Harmony, Indiana, and there was one woman behind the counter and one woman that was waiting in line and they both, at the same time, said to me, "Have I seen you before? How do I know you?" So I was navigating these two women, and I said, "Well, I'm an actor, so you might've seen me on television." And they both kind of looked at me quizzically, and I said, "Wait a minute, let me guess ... " And I pointed to the cashier and said, "You watch 'True Blood,'" then pointed to the other one and said, "And you watch 'The Good Wife.'" And they were both like, "Oh my god!" [Laughs.] I totally profiled them.
You've also been making the festival circuit with your movie, "That's What She Said," haven't you?
I have! It has been extraordinary -- it took me eight years to get this thing made and to have it finally be completed, and to make our world premiere at Sundance was the biggest gift. I was like, "Really? We got into the best one?" It was so amazing, and such an incredible experience. Since then we've gotten into several others, and I've been traveling around whenever I can, and we did sell the film -- we're getting distribution, and it'll be released in the fall, hopefully late September. Directing is definitely something that is in my life for keeps, and the more I do it, the more I realize how much I want to learn and how much I have to give. And it kind of bolsters my acting -- it enhances it in a really wonderful way that I wasn't expecting. I certainly appreciate what the directors and producers and the crew are going through on a daily basis when I'm acting. So it gives me a great amount of patience and appreciation for what I know to be a very difficult thing. In the case of "True Blood," it runs so smoothly when you think about how many plates they're spinning in the air every second of the day.
Would you consider directing an episode of "True Blood"?
Stephen Moyer, who plays Bill, directed an episode this season. He had shadowed last year, and he directed our eighth episode this season and did a bang-up job. He was so good on set. So yeah, they're totally open to it ... but I don't know if it's in my wheelhouse. I definitely love being on the show, and I'd love to shadow a director and see if it feels like something that I'd want to do, but the things that I'm drawn to are definitely much smaller, character-driven, actor-driven kinds of pieces. "True Blood" is so epic and has so many special effects and all that stuff -- I'd definitely need to educate myself on how that happens, start to finish, but I'm certainly not opposed to it. I do think if I went to them next season and said, "Hey, mind if I latch on to a director and watch it from start to finish?" I feel certain that they'd be very open to that.
You mentioned next season ... which isn't a spoiler really, but it made my ears perk up. With so many characters, and more new people added every single season, are you ever amazed that Arlene has lasted so long?
Yes, of course! It's a real blessing. I think that the show needs Arlene and Terry and Andy Bellefleur and Hoyt -- the people who are playing the townspeople -- because otherwise there is no context for the vampires and werewolves and everything. There's no context for them if we don't continue to remind the audience that they are existing in a real world, albeit fictitiously drawn by the writers. I think Arlene is a real representative of that world, and also of how judgmental that world can be. I'm aware of that function that she has in the show, because that's out there in our country. If you want to, you can read into our show a lot of social and political themes. And if you don't want to, you can just look at it as a fantasy soap opera, and that's why I love it because it exists on both of those levels.
We need to have conflict within the world -- it needs to be more complicated than "Vampires are hot and sexy!" We need to also realize that they are killers, by design, and some of them are mainstreaming, but some of them really don't want to be mainstreaming. The theme of this season is definitely about that kind of identity I think: What loyalty do you have? Where do your loyalties lie?
Where do Arlene's loyalties lie? Because it seems like she might be spending more time with Patrick, played by Scott Foley, to try to get to the bottom of Terry's issues ...
Yes, we definitely do. Arlene is ... yes, she's been married four times, but she's still traditional and a kind of stand-by-your-man Southern woman. She's really strong, very opinionated, but has a really big heart and is going to do what she can to protect certainly her kids, but her relationship, too.
Every season seems to get more insane. How do you see this show eventually wrapping up? What do you think the series finale of "True Blood" would look like?
I'm not sure ... all I know is that even though Alan Ball is stepping away as our showrunner next year, I think he's still going to be involved with the series, and I think that the ending of "Six Feet Under" was probably the most brilliant ending of any series ever, so I feel like we will be in good hands with him when the time comes to end "True Blood."
Is there anything left on your bucket list for Arlene?
You know, for a while there I thought it'd be interesting to have her experience some kind of the supernatural thing, and somehow accept it or be turned, but I feel like the show couldn't support that. It'll be interesting to see where we go next season with Arlene, assuming that they do bring Arlene back. We never know! In the books, it was very interesting -- she hooks up with the Fellowship of the Sun people, and although it makes her kind of a villain, it certainly made for something interesting. So I would be interested to see them take that cue for the books and see what that would do with Arlene, if she would come out on the side of them, or realizing that she's been too narrow-minded all these years.
"True Blood" Season 5 premieres Sun., June 10 at 9 p.m. ET on HBO.
Calling all HuffPost superfans!
Sign up for membership to become a founding member and help shape HuffPost's next chapter
BEFORE YOU GO