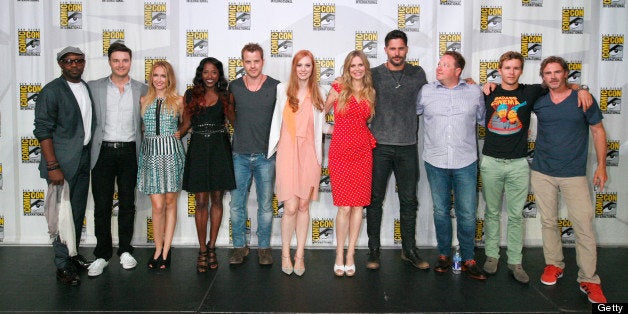 The cast of "True Blood" descended on San Diego Comic-Con to preview the latter half of Season 6, and it looks like our favorite characters will be doing bad things with and to each other in equal measure.
First, the panel opened with an action-packed sizzle reel that featured Sookie and Warlow in Faery, with Sookie insisting that she doesn't want to be attracted to the half vamp/half fae. Another quick shot showed Warlow biting her and another shocking glimpse saw Sookie with blood smeared around her mouth -- could she be trading in her humanity once and for all? Check out the sizzle reel below and decide for yourself!
Cast members Anna Paquin (Sookie), Robert Kazinsky (Warlow), Michael McMillian (Steve), Anna Camp (Sarah), Joe Manganiello (Alcide), Kristin Bauer van Straten (Pam), Nelsan Ellis (Lafayette), Deborah Ann Woll (Jessica), Rutina Wesley (Tara), Sam Trammell (Sam), Ryan Kwanten (Jason) and executive producer Brian Buckner were on hand to discuss what's ahead, including a return to the show's Season 1 roots.
Sookie's Love Life
Paquin agreed that Sookie has had a tumultuous relationship with Bill (Stephen Moyer) -- noting, "One minute it's 'I love you,' then it's throwing plates at your head and 'you're dead to me' -- but declined to confirm or deny whether the troubled couple might reconcile. In the meantime, she has conflicting feelings about Warlow, who professes to have her best interests at heart but who also has a bloodthirsty vampire side at odds with his more gentle fae nature.
"There's a strong part of Sookie which is mistrustful of everyone at this point," Paquin noted of her character's relationship with Warlow. "So while she's developing feelings ... I think she's a little wary but also kind of drawn to him. Sookie does like handsome strangers ..."
Even Kazinsky admitted that Warlow can't be entirely trusted. "He's half fae, which is a creature of light, and half vampire, which is a creature of darkness -- it's a dichotomy, and you're going to see both sides come out." Which side is stronger? "It depends on the time of day and the body's need for blood," the British actor laughed. "You're going to see some gnarly stuff."
Mostly, Paquin is just pleased to see a stronger, more self-reliant Sookie this season. "She's not being anyone's doormat; she's sick of taking whatever from whoever ... She's been more independent and tough and it's been really nice to feel like she's finally learning from everything that's happened to her," she said.
Ch-Ch-Ch-Ch-Changes
New showrunner Brian Buckner promised a slightly different direction for the end of this season and beyond, admitting, "[We hope] you're gonna feel that the show is going to return back to its roots and it's going to be about this group of people living in Bon Temps ... we're going to condense the number of stories we're telling and make it feel like we're coming home."
He also dismissed the notion of adding more supernatural creatures in addition to the show's various vampires, werewolves, fae and shifters. "This show is ultimately about the relationship between vampires and humans and it's about this town, I want to bring it in a little bit, I feel like we've at times hurt ourselves ..." Buckner said. "My hope is to get all these people we love living under the umbrella of one story and one thread, and really make this show about this small town that we've come to know and love."
Pam vs. Eric
The last episode ended with Pam and Eric (Alexander Skarsgard) facing off in a supposed fight to the death inside the vamp camp, and Bauer van Straten refused to spoil how that fight ends. "When I saw that script come in and it ended there, I thought 'I don't know how to win this, against my daddy/maker/taller/stronger/older guy, but Pam is scrappy. The great thing about these writers is that they find so many layers of conflict."
We also haven't seen Pam's reaction to learning that she has another sister in Willa (Amelia Rose Blaire), the human that Eric recently turned to spite her father, Truman Burrell (Arliss Howard). "Pam doesn't share, she doesn't play well with others and she's never had to share Eric before," the actress observed. "We're going to find out about that fairly soon ... There's a very deep bond between Pam and Eric and it's going to be tested this year."
Alcide's Dark Side:
We've seen a different side of Alcide this season, and Manganiello admitted that he's struggled a little with the direction his character has taken in kidnapping Emma and bringing her back to the pack. "I don't like that everybody's upset at my character, but in my mind, I have to justify my character's actions ... I love the friendship between Sam and Alcide, but this little girl just lost both of her parents, and being a packmaster is a bit like being a mafia boss ... I have to do what the cops can't and I had to take her to live with her grandmother."
The star insisted that despite his actions, Alcide is still a good man. " I think it's all those crazy werewolf people that are driving him nuts. He's still a great, nice-hearted guy, he just has a crappy job ... being packmaster is a pretty thankless job, apart from the threeways."
While Jason will be trying to save Jessica from the clutches of Truman Burrell's vamp camp, Kwanten said that his character's main intention is "trying to find out who killed his parents, that's obviously a noble quest. Jason started so low on the evolutionary totem pole, so he could only grow. This season in particular there's a lot more in store for Jason. He gets real crazy, real soon. He likes to think he's Rambo but fails miserably."
As for Jessica, Woll admitted that the young vampire will remain wracked with guilt for killing Andy Bellfleur's (Chris Bauer) fae daughters. "She's gonna have to pay dearly within her own heart for what happened," she said. "It's going to take her a long time to forgive herself for what happened, and we have Andy Bellfleur out there who is very upset with her."
The Many Loves Of Sam Merlotte
Sam moved on fairly quickly from the recently departed Luna (Janina Gavankar), but Trammell pointed out that it's only because "My girlfriends keep getting killed, I'm kind of a dangerous person to be involved in. It's a quick transition this year, but so much happens in every episode ... This new girl, Nicole [Jurnee Smollett-Bell] is very smart and wants to put all the supernatural creatures out there. We're sharing sorrow right now in the hotel."
"True Blood" airs Sundays at 9 p.m. ET on HBO.