Before the cast of HBO's "True Blood" (Sundays at 9 p.m. ET) took the stage at Comic-Con on Saturday night, showrunner Alan Ball came out to unveil a new trailer, filled with sneak peeks at what's to come in Season 5, which is already underway.
In the "True Blood" Comic-Con trailer, which you can watch above, it looks like Sookie wants to become human (and maybe does), Tara is working as a stripper (or a bondage pole dancer), Russell is back and quite thirsty, Lafayette is having a seance, Pam gets thrown across a bar, a war between humans and vampires is coming and Bill sinks his teeth into Sookie in the bedroom. Clearly, the Comic-Con audience was wowed.
After the Comic-Con trailer rolled, "True Blood" cast members Alexander Skarsgard (Eric), Christopher Meloni (Roman), Kristin Bauer (Pam), Ryan Kwanten (Jason), Sam Trammell (Sam), Rutina Wesley (Tara), Joe Manganiello (Alcide), Nelsan Ellis (Lafayette), Deborah Ann Woll (Jessica), Stephen Moyer (Bill) and a very pregnant Anna Paquin (Sookie) joined Ball on stage.
Wesley told the Comic-Con crowd it's an "overall joy" to play "a new baby vampire" on "True Blood" this season, according to HitFix, noting she's gotten to show her "more leathery side." After talking about her new burlesque gig, "Magic Mike" star Manganiello couldn't help but show off his moves, as did Ball, which led Manganiello to throw a dollar at him.
But back to the show. "It's been an incredible journey," Wesley said via Digital Spy later in the panel. "If you'd asked me four years ago, I would never have thought my character would be turned. So it's been terrifying but awesome!"
Is there more to come for Sam and Luna? Sam Trammell stayed tight-lipped about his character after last week's Luna cliffhanger. "You know I can't tell you that," he said.
Meloni talked about the differences between "True Blood" and "Law and Order: SVU." "Trying to figure out what a sex crime is on this show is very different," Meloni joked via EW. "It's an interesting world. I never heard of a were panther."
When a fan later asked him if he would return for the finale of "SVU," Meloni replied, "I'm always willing to consider ... There's no bad blood there, so we'll see it as it comes. I don't know. It's still doing OK, I guess.'
Back to "True Blood" Season 5 ... viewers will find out more about the Stackhouse family. "We're going to learn a little bit more about Michelle and Corbett Stackhouse, what happened to them and the remaining effect on Sookie and particularly Jason," Ball said.
As for sex scenes, Manganiello said, "I sexually eviscerate another character in one of the episodes coming up."
Ball confirmed that in the upcoming sex scenes "all tastes will be satisfied." Besides what goes on in the bedroom, Ball said three romances will happen this season.
And what about the Season 5 finale of "True Blood"? Fans won't be disappointed, according to Paquin:
Since Ball has stepped down as showrunner for Season 6, Moyer and the cast ended the panel by paying tribute to him, as did the crowd.
"If I wasn't so old and tired and so beat up I would do more seasons of this show," Ball said. "It's the most fun I've had in my career."
"True Blood" airs Sundays at 9 p.m. ET on HBO.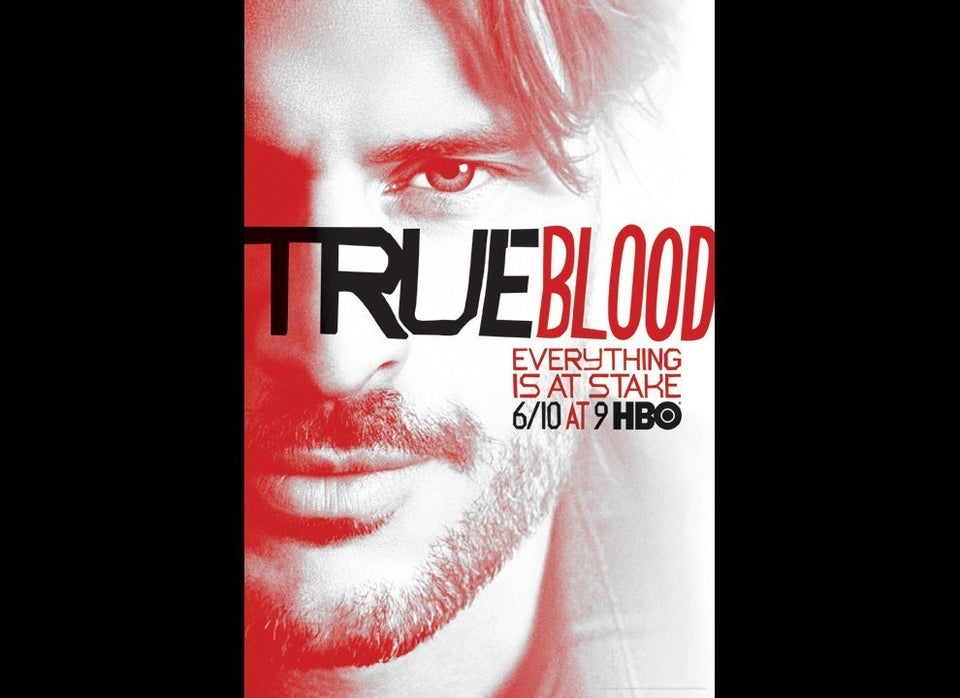 "True Blood" Season 5 Character Posters
Popular in the Community