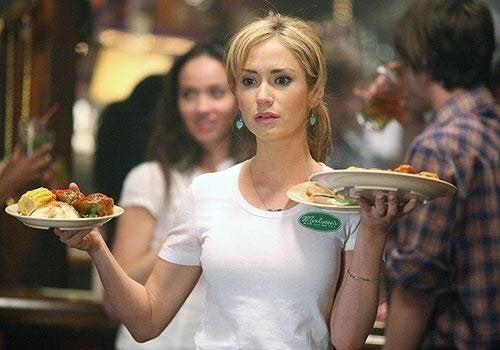 Apparently, the cookbook will feature recipes based on different characters' tastes: think "Sookie's Steamy Crawfish Etouffee" and "BIll's Bite Me Biscuits." Let's hope that, if the book includes blood recipes, it sticks to the style of King Russell's tasting menu... some of those carbonated and organic bloods sounded almost appetizing. And on the human side, Merlotte's provides plenty of possibilities. It's unclear whether or not a Facebook page entitled True Blood Cuisine: The Vampire Cookbook, which currently has five likes, has anything to do with the project.
You wouldn't expect there to be all that much overlap between vampires and cookbooks. After all, the vampire diet is quite monotonous: blood, blood and more blood. But that hasn't stopped profit-hungry cookbook writers from trying to cash in on the trend for vampires. An Amazon search for "vampire cookbook" generates 17 results, including three based on Twilight alone.
So if novelty isn't really possible, the publishers must be banking on the idea that Americans' thirst for vampire products really is unquenchable. But you tell us -- are you interested in a True Blood cookbook?
Popular in the Community