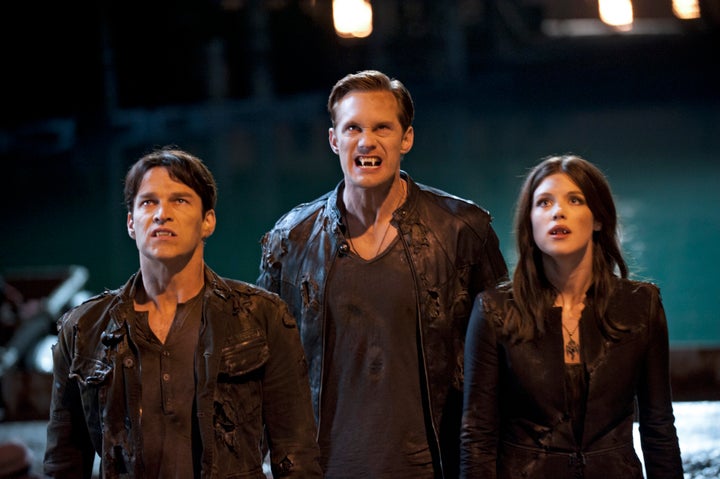 Ever since True Blood hit the air, fans have fantasized about living in the fictional Louisiana town of Bon Temps, and once in a blue moon someone gets her wish. Lauren Bowles has gone from watching the supernatural mayhem from her living room couch to serving burgers at Merlotte's and battling dark forces side by side with Sookie Stackhouse. A screen actress for some time now -- with episodes of Ally McBeal, NCIS, Arrested Development, Grey's Anatomy, ER, Cold Case and tons of others under her belt -- Bowles has stepped up to series regular on one of her favorite shows and she still can't believe her luck.
"The first time I donned the short shorts and the tight Merlotte's tee," Bowles says during our recent phone chat, "I was like, how did I get here? It was amazing. I truly felt like I had to pinch myself. I couldn't quite tell if it was real, that I had arrived and I was working on this show. That was the part that, still to this day, seems surreal to me."
Bowles joined the cast of the HBO series in season three as Holly Cleary, the fair-haired Wiccan single mother who tried to help fellow waitress Arlene rid herself of her unborn child she'd conceived with a serial killer. The spell didn't work, but it set the stage for Holly's pivotal role in season four, as she summoned the dead on Halloween to spirit away the mad medium Marnie before she could kill vampires Eric and Bill.
"At first it seemed like Marnie's the one at the helm here," Bowles recalls, "but I could kind of tell that Holly's Wiccan faith is very much at the core of who she is. But she's still learning a lot, so it was fun to see at the end of the season that she really could go off on her own and take care of business."
And indeed she did, leading Tara and Sookie in the incantation while dolled up in her fairy costume. Bowles is still jazzed about the intense work she got to do with Anna Paquin that strange night.
"To get to finish up the season with Anna was just spectacular," she says of the film veteran, who won an Oscar at age 11 for her work in The Piano. "Someone who's been a child actor, it could go either way -- that they are so entitled and a nightmare, or you go the way of Dakota Fanning or Jodie Foster or Anna, which is that she is just a consummate pro. She's not spoiled; she's in the trenches with everybody. It just makes working with her such a dream."
Bowles says that getting the scripts is when her worlds truly collide. As an actor she wants to know what she'll be doing in the episode, and as a fan she's in True Blood heaven. "I can't believe where they take stuff!" she says. "I'm still waiting for the alarm to go off when I walk on set. Like, okay, fan's infiltrated! Off the set!"
She's also often recognized for her role as the waitress on Seinfeld, getting stopped by strangers calling out, "The finger girl!" "Big salad to go!" "The English Patient!" In an act of "complete, utter nepotism," as she explains, her half-sister, Julia Louis-Dreyfus, got Bowles the role to help her get her SAG card. She'd thought it would be a one-shot deal but ended up on nine episodes. "Larry [David] was awesome," she says, "and he'd be like, you want to do another? And I was like, um, yeah? I think I can tell my babysitting job that I can't show up on Thursday so I can do Seinfeld."
Bowles went on to appear with her big sis on Watching Ellie and The New Adventures of Old Christine, and was cast along with her husband, Patrick Fischler, on an episode of Curb Your Enthusiasm. These days, the sparks are flying between her True Blood alter ego and Sheriff Andy (played by Chris Bauer). After a false start, the two ended up in bed together, got caught by her two teenage sons and wound up with Andy's bare bottom posted on Facebook. Now they're going steady -- but what about Maurella, the fairy that Andy swore allegiance to before having sex with her in the woods? I had to ask Bowles for a hint.
"I will give nothing away," she answers, "because, being a fan -- trust me -- you don't want to know, because it's so much fun. All I will say, coyly, is that if you watch the show and you're a True Blood fan, you know things rarely go smoothly in people's love lives. I will leave it at that, that there are absolutely some speed bumps along the way. But what they are, I ain't sayin' nuttin'!"
REAL LIFE. REAL NEWS. REAL VOICES.
Help us tell more of the stories that matter from voices that too often remain unheard.