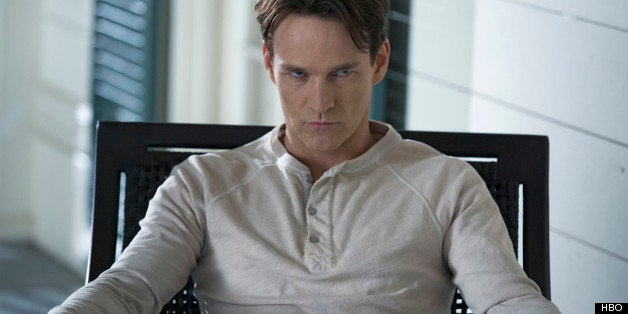 We're mere days away from the bloody premiere of "True Blood" Season 6 (June 16 at 9 p.m. ET on HBO), and according to newly promoted showrunner Brian Buckner, there are changes afoot.
"Everybody loves the show, but actors don't want to play the same scenes anymore, and writers don't want to write the same scenes anymore, and so [we're] literally shifting things up," Buckner told Rolling Stone in a recent interview. "If we can shift the paradigm, and some of the relationships within the show, there are all these sort of new avenues to go down ... So that's the kind of thing that we have to be aware of and get back to a little bit of our soap opera roots and remember that romance matters in the midst of all the plot we do."
Buckner was coy when asked for specifics, but did preview that some of our main characters will mature this season -- while one won't survive the year. "Because Anna [Paquin, who plays Sookie Stackhouse] is changing in her life -– because she's a mother now –- we're trying to make a more grown-up Sookie, a less naive Sookie. A Sookie who knows when she needs help and isn't always saying, 'I can do it myself.' And a darker Sookie, honestly. Someone who's a little bit more eyes-open to the world and self-aware," Buckner promised.
He added, "I feel like we do so much running and killing that we very seldom stop to speak to the importance of life. So we will have an episode this season that's entitled 'Life Matters.' We're trying to remind people that the lives of these human beings and of the vampires here in this small town of Bon Temps, they mean something. So that if we lose somebody, we're going to stop to grieve them, and try to tell the more human side of the supernatural stories we're telling."
The executive producer also previewed that we'll see Steve (Michael McMillian) and Sarah Newlin (Anna Camp) featured "in a meaningful way" this season, something that was confirmed by McMillian in an interview with The Hollywood Reporter: "He's at the center of a lot of violence this season. He's going to be on the receiving end of some trouble, and he's going to be causing some trouble," he said.
Bill (Stephen Moyer) also has his fair share of trouble this year, having consumed the blood of first vampire Lilith in the Season 5 finale and transformed into "Billith," which isn't exactly an upgrade.
"He is out to try and find out what he is and what he can do," Moyer told THR. "He doesn't know. He doesn't know what his powers are; he doesn't know what his purpose is."
Is there hope for Bill to redeem himself? Buckner told Rolling Stone that he's not a completely lost cause, "but his arc during the season, in that first episode, [spoiler alert!] he asks Jessica to make sure he doesn't lose it. He will. He does. But he will find his way back, because Bill has to be Bill. But that fight that's going on between the Bill part of Bill and the Lilith part of Bill, she will win for a little while."
That will, at least for the moment, keep Bill and Sookie apart, and Buckner confirmed that Eric (Alexander Skarsgard) is still part of the equation. "I think [the love triangle] exists –- the tension is there, but I would say that these characters have never been further apart, romantically. Bill and Sookie are still the center of the show. That pull is there, but you can't always have people together."
Most characters would be wise to avoid "Billith" while he's figuring himself out, but we'll see someone else with a connection to the formerly noble vampire make a reappearance in Bon Temps in Season 6. According to TV Guide, Courtney Ford will return as Portia Bellefleur, Bill's great-great-great-great granddaughter.
"How much of Bill is in there?" Ford mused to TV Guide. "Is Bill still Bill? That's the big question mark. I think if she's afraid of Bill, she'd probably be double afraid of Billith. Billith is pretty scary." She'll reportedly return in Episode 7 of Season 6, when someone requires a lawyer in the midst of the insanity.
"True Blood" Season 6 premieres Sunday, June 16 at 9 p.m. ET on HBO.
PHOTO GALLERY
"True Blood"
Calling all HuffPost superfans!
Sign up for membership to become a founding member and help shape HuffPost's next chapter
BEFORE YOU GO