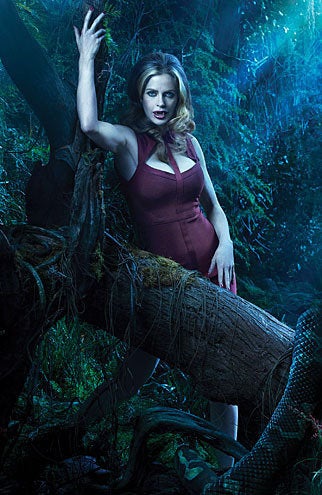 No wonder the vampires are so ripped!
'True Blood' actress Kristin Bauer, who plays Pam, gave an interview to Popeater and talked about her diet and fitness as an actress, and then another interview to Movieline where she said the whole cast diets. Bauer, 36, is also known for being the woman with "man hands" who Jerry dated on Seinfeld.
You were rocking a latex dress earlier this season. Either you have good genes or I need the number of your trainer.
"[laughs] During that first wardrobe fitting, I knew I would have my midriff showing. I thought, 'I need to get serious' and started going to ab classes more regularly."

Is there a lot of pressure to stay thin?
"The other day I realized as long as I'm in this business, I'm going to be hungry. The camera really does add 10 pounds. I'm trying to stay under the weight I want to look like on TV. It's a good incentive to stay slim and is probably adding years to my life... I'm vegetarian, so I live on carbs, but it's always an effort. After any wardrobe fitting, I hit the gym three times more than the week before."
Have they banned carbs from the True Blood craft services table?
They haven't, which is cruel. All the women walk by craft services and keep going. I don't even know why we walk by, we're just torturing ourselves. Alex and Joe, they're trying to add size, but we're all working out like crazy and have diets. Skarsgard seems to be the only one that works out a lot and eats a lot and does fine.
Below is Kristin in June of this year, and below that is a still from her appearance on 'Seinfeld.'



Kristin as Man Hands: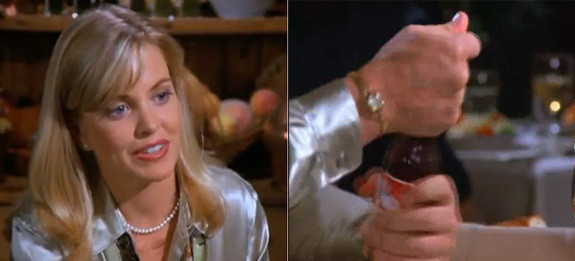 REAL LIFE. REAL NEWS. REAL VOICES.
Help us tell more of the stories that matter from voices that too often remain unheard.