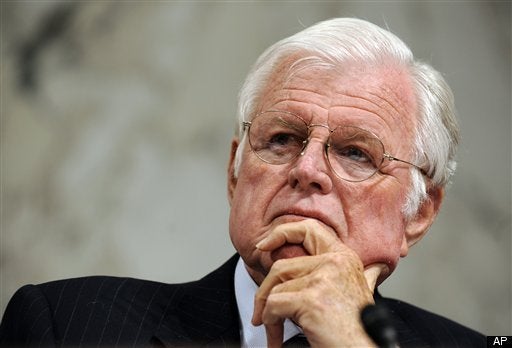 Although our compass often is not true,
we need one not to be misled
by those who try to paddle our canoe
without a compass in their head.
Our lives are voyages that tend to end
in places where we had not planned
to go, but reach, with compass as our friend,
a goal we think we understand.
Ted said awareness of direction would
displace the emptiness inside him;
his compass did not always point to good,
but always having one to guide him
enabled him to see that though he crossed
some bridges he should not have taken,
his compass helped him never to get lost
when he was grievously mistaken.
Inspired by Michiko Kakutani's a review of Senator Ted Kennedy's autobiography True Compass ("Kennedy Recalls His Rough Waters and Still Harbors," New York Times, September 4, 2009):
At the end of his deeply affecting memoir, the late Senator Edward M. Kennedy writes about his grandson "Little Teddy" -- the son of his son "Medium Teddy" who delivered such a heartbreaking eulogy at the senator's funeral on Saturday -- and his difficulties mastering the family tradition of sailing. The senator told the 10-year-old "we might not be the best," but "we can work harder than anyone," and Little Teddy stayed with it, grew eager to learn and started winning races. That, the senator writes, "is the greatest lesson anyone can learn": that if you "stick with it," that if, as the title of his book suggests, you keep a "true compass" and do your best, you will eventually "get there." And that, in a sense, is the theme of this heartfelt autobiography: that persistence, perseverance and patience in pursuit of a cause or atonement for one's failures can lead to achievement and the possibility of redemption. It's the story of how this youngest and most underestimated of siblings slowly, painfully, incrementally found genuine purpose of his own in shouldering the weighty burden of familial expectations and the duty of carrying on his slain brothers' work. He found a purpose, not as they did in the high-altitude pursuit of the presidency but in the dogged, daily grind of being a senator -- of laboring over bills, of sitting through endless committee meetings, of wading through briefing books and making deals with members across the aisle. The resulting legislation -- including the Civil Rights Act of 1964 and the State Children's Health Insurance Program of 1997 -- would help the poor and the disenfranchised and those with disabilities, and win him recognition as one of the foremost legislators in American history.....

In the end, however, Mr. Kennedy was able to write a happy ending to his own life. He fell in love with and in 1992 married Victoria Reggie, whose "acute understanding and love of me" gave him a new sense of stability and tranquillity. He found renewed meaning in his work in the Senate. And he found, in Barack Obama, whom he helped elect, a new incarnation of the idealism and sense of public service he and his brothers had embraced as young men so many years ago. In his last months, Mr. Kennedy says, he found that "simple pleasures fill me with happiness," that gazing out at the sea and his beloved boat Mya left him with a sense of peace. Sailing, he writes, always helped "displace the emptiness inside me with the awareness of direction": "an awareness that there is a beginning to the voyage and an end to the voyage, and that this beginning and ending is part of the natural order of things."
Calling all HuffPost superfans!
Sign up for membership to become a founding member and help shape HuffPost's next chapter